25 Year Award for Enduring Architecture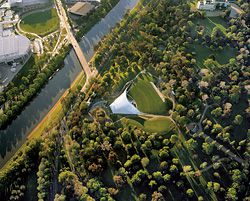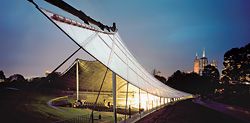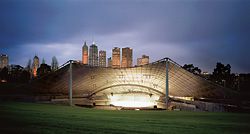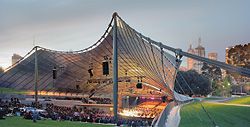 Sidney Myer Music Bowl
Yuncken Freeman Brothers, Griffiths and Simpson, and Gregory Burgess Architect

JURY CITATION
One of the great tent-like suspension structures of the world, the Myer Music Bowl is a clear indicator of the vibrant creative forces active in Australia circa 1960, which were allowed realization to great acclaim.
Conserved and upgraded in 2000, the Myer Music Bowl is a much-loved icon and part of the social fabric of Melbourne and the nation.
The Myer family, inspired by the highly successful public role of the Hollywood Bowl in Los Angeles, decided to fund an equivalent facility for Melbourne. The resulting structure, set in established parkland, was both revolutionary and remarkable. Design began in 1956, led by architect Barry Patten, and construction was completed in 1959. The Myer Music Bowl's suspension system and general form is said to have inspired German designer Frei Otto's subsequent career, most notably the stadia structures of the 1972 Munich Olympics.
In essence the landforms of the site were amplified to create a sloping grassed valley leading to seating sheltered by a draped canopy supported on two giant masts. The canopy comprises a grid of tensioned cables supporting rectangular panels of aluminium-clad plywood. The design owes much to the input of structural engineers W. L. Irwin and Associates.
An extraordinary act of philanthropy, the Myer Music Bowl has permanent seating for 2150 people, with larger events spreading up the grassed embankment and into the parkland and attracting as many as 200,000 people. It truly brings popular culture to the people.
The Myer Music Bowl continues to amaze and intrigue as a major sculptural form beautifully integrated with its site and the surrounding landscape. It remains an architectural engineering triumph perhaps without equal in Australia.

Original project (1956–59)
Architect
Yuncken Freeman Brothers, Griffiths and Simpson—design architect Barry Patten

Redevelopment (1998–2002)
Architect—project team Gregory Burgess, Peter Ryan, Susan Leuner, Sophie Herel, Kate Douglas, Tom Kinloch

Landscape architect
Taylor Cullity Lethlean

Conservation architect
Allom Lovell

Structural, civil, mechanical, electrical and acoustic engineers
Ove Arup

Entertainment technology
Entertech

Quantity surveyor
Donald Cant Watts Corke

Geotechnical engineers
Golder Associates

Building surveyor
Gardner Group

Surveyors
Fisher Stewart

Access consultant
Morris-Walker

Project manager
Major Projects Victoria

Construction manager
Hooker Cockram

Client
Victorian Arts Centre Trust

Photographer
John Gollings


For further coverage see Architecture Australia vol 91 no 1, January/February 2002.