There's a distinct style to the streets of Melbourne's North Fitzroy. With an eclectic mix of light-industrial architecture and early colonial dwellings, this inner-urban pocket has a history of social and economic significance. The diverse assortment of buildings, established in the 1850s and heavily influenced by the Edwardian period, later set the tone for a distinctly varied architectural aesthetic to evolve.
Amongst the quaint, single-storey dwellings and towering red brick warehouse conversions (their characterizing elements contributing to their heritage overlays) sits Engawa House by Black Line One X Architecture Studio (BLOXAS) – an extension to a seemingly conventional and conformist home. The addition, which challenges the original Edwardian structure, is the epitome of avant-garde and is making its own unmistakable mark on this otherwise traditionally conservative streetscape.
The corner location of Engawa House offered a unique opportunity for BLOXAS to develop a distinctive street and laneway frontage in a stylistic contrast to the neighbouring period houses. Multistorey warehouse conversions nearby are also drawn on to prescribe an appropriate scale for the new works. The extension appears as a black box, its stained plywood form carefully revealing itself above the corrugations of the refurbished hipped roof, which seals the original house. Despite the striking contrast to its neighbours, the build is unobtrusive and to the unassuming passer-by could remain unnoticed behind the immediate weatherboard facade. Along the southern elevation the original red brick chimney is retained, as if to cap the existing house and mark its separation from the addition. This reinforces visual connections back to the surrounding brickwork and allows the cladding materials to fold into the corners of the orthogonal chimney. Carefully crafted Victorian ash timber apertures puncture the southern flank, allowing outward views and natural ventilation while fostering impromptu exchanges with neighbouring residents about the agonizingly hot summer temperatures.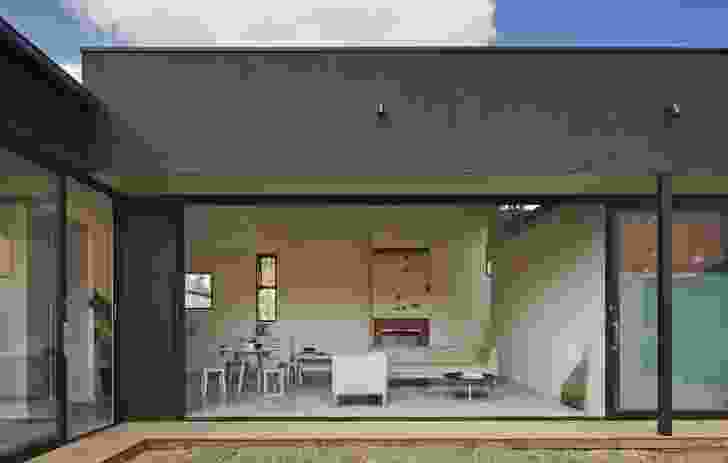 When the clients of the Engawa House (a couple with two children and strong ties to Japan) first approached BLOXAS, their brief was imaginative and conceptual. It described a space that
offered them "a feeling of discovery, by means of internally intersecting planes and layered natural light." Their programmatic requirements included the relocation of a central bathroom,
kitchen, dining and living room, as well as the addition of a main bedroom with an ensuite, and a mezzanine office space that sails over the rooms below and enhances visual and auditory connections between the communal spaces. To efficiently maximize the site's useable area, BLOXAS made reductions to spaces where possible, such as reducing the width of the stair servicing the upper mezzanine and the bedroom below, making it minimal yet comfortably functional, thus affording a larger outdoor area. This sequence of spaces, tucked into the rear of the house's east–west orientation, occupies a smaller footprint than that of the original rear bungalow, and is described by the architect as an insertion within the "carved out" existing dwelling.
With one half of the client partnership originating from Japan and the other having spent time living and working there, Engawa House expresses notable subtleties that reference the aesthetics of that country's distinctive architectural style. Internally, the material palette is considered, pared back and honest, allowing surfaces to become inherently expressive of their form. Externally, there is an uncomplicated rawness; the building's striking form and shade are allowed to age and develop character with time, in the overall context of the street.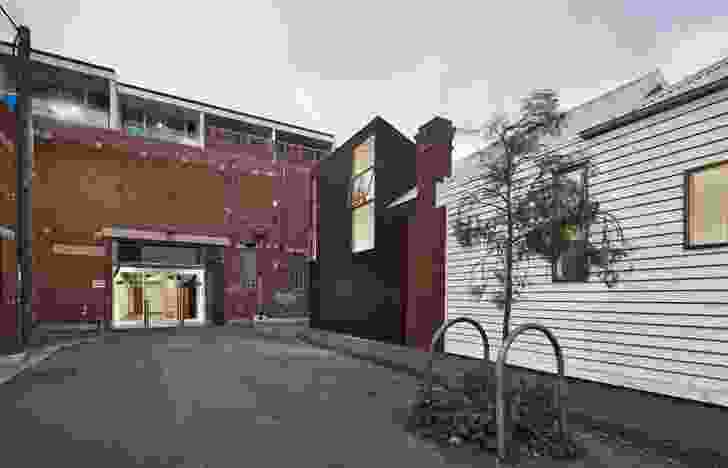 These sensitivities extend beyond the architectural fabric to the engawa, from which the house gets its name. This traditional Japanese element sits under the extension of the eaves and hugs the inner walls that bound the backyard. It acts as a threshold or resting point where people might pause and consider the distinction between outside and in, take off their "Blunnies," or stop for a cup of tea. Functionally, this shallow verandah, set off the glazed sliding doors, acts as a covered walkway that allows the occupants to move between rooms without entering the house. In the context of North Fitzroy, so far removed from the traditional rake or roji gardens it's ordinarily accustomed to, this engawa might appear out of place. But as it floats over the lawn and is comforted by the expanse of red brick beyond, its success becomes glaringly obvious.
Driven by a tight budget and underpinned by a family's closeness, this project has seen BLOXAS use planning restrictions to create a home whose form "contributes to the elevational rhythm" of the street it occupies. Despite its landmark qualities, Engawa House is responsive to, and draws inspiration from, the surrounding period houses and warehouse conversions. It is undeniably bold, with an interior that is considered and sophisticated. For North Fitzroy, it's a fine example of the way modern Australian architecture can be integrated into a conventionally period context. For BLOXAS, it's an exciting sign of things to come.
Products and materials
Roofing

Lysaght Custom Orb Zincalume.
External walls

Austral Plywoods plywood in OSMO 'Ebony' natural timber oil.
Internal walls

Plasterboard in Haymes Paint Interior Expressions matched to Dulux 'Natural White'.
Windows and doors

Victorian ash timber frames stained in satin finish Organoil; JAG Windows double-glazed windows in black aluminium.
Flooring

Burnished concrete slab in a steel-trowelled finish; plywood in OSMO Polyx Oil 'Raw'.
Lighting

XLUX Pixel LED downlights and external surface mounted spotlights; Benty LED wall-mounted uplights designed by Molto Luce.
Kitchen

Caesarstone benchtops in 'Pure White'; splashback in matt white tiles from National Tiles; Bosch dishwasher and stainless steel cooktop; Reece undermount stainless steel sink; Hafele pantry; joinery in Dulux 'Natural White' 2-pac finish.
Bathroom

Caroma Stirling toilets, Cubus Utility wall basin and Cirrus mixer taps; Reece Mizu Soaker bath; National Tiles Belgium Stone Cenere Natural tiles.
External elements

Stringybark decking in satin finish Organoil.
Other

All furniture by Earl Pinto and Ross Gardam.
Source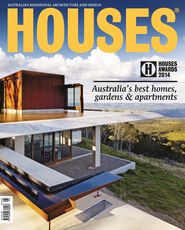 Issue
Houses, August 2014
Related topics