If you follow the news you could be easily forgiven for believing that our most valuable asset is iron ore, coal, uranium or Atlassian. This constant bombardment of market reporting seeks to establish that our country has never been so rich, but it could also be said that we have never been so bad at accounting. We constantly overlook our most important asset – water. We all know that without water there is no life on this planet, but it seems that our media only reports on dam levels or precipitation in a crisis (drought/flood/bushfire) or during events like the Spring Racing Carnival and the AFL Grand Final.
What has this got to do with taking someone's picture? Creative directors Amelia Holliday and Isabelle Toland (of Aileen Sage) and Michelle Tabet have carefully curated a group of eight individuals to form the core of Australia's contribution to the 2016 Venice Architecture Biennale. Each of these individuals has made a remarkable contribution to Australian life and culture. Each of them is an accountant of water. And each of them had to be captured in a portrait that hinted at their complex relationship to the Australian notion of the pool.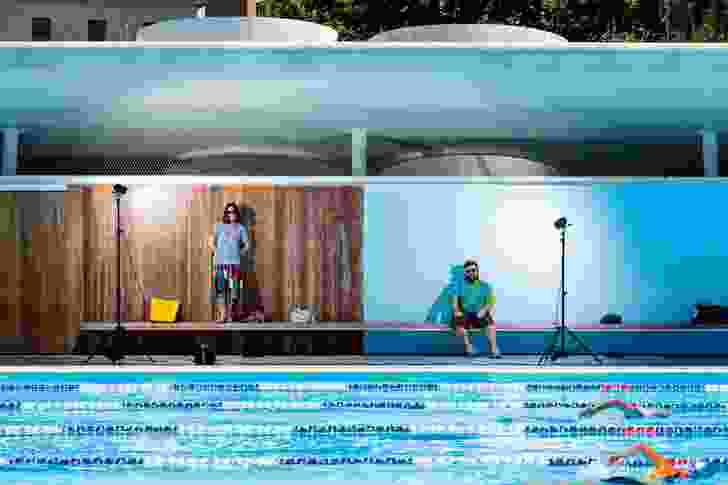 As a photographer and as a traveller I struggled for years to understand our relationships to pools. Why would you want a pool when you live by the sea? Why would you want a pool when you travel to a seaside resort? It may be that only age can bring an understanding of the pleasures of the lagoon bar. But it has taken me twenty years of travelling to some of the driest places on earth to understand the specialness of places where water collects naturally or is gathered deliberately in the making of a pool. When we are near these places something magical happens – I think the deep "fishy evolutionary ancestry" of our brains intuitively knows the value of water.
There is something quite special about photographing people in a real place. The typical studio portrait insists on a harsh scrutiny of a subject's physical features. In the white, grey or black background, there is nothing to distract the viewer and there are few cues as to the sitter's status. Styling, fashion and accessories are the only cultural identifiers that help us locate the subject in time and societal hierarchy. Place them in a real environment, however, and a world of information and relationships can be assumed and presumed. And for this commission, the idea was to place the subjects in a site of their choosing, inviting the viewer into their world.
All photographers have tricks to help the sitter feel comfortable, especially for those outside the selfie generation. I particularly love the stuffed toy monkey or dinosaur that wraps around a camera for kids' portraits. But tricks were not necessary for these portraits. As we talked, the magic of the pool seemed to charm them and they were calm. As was I.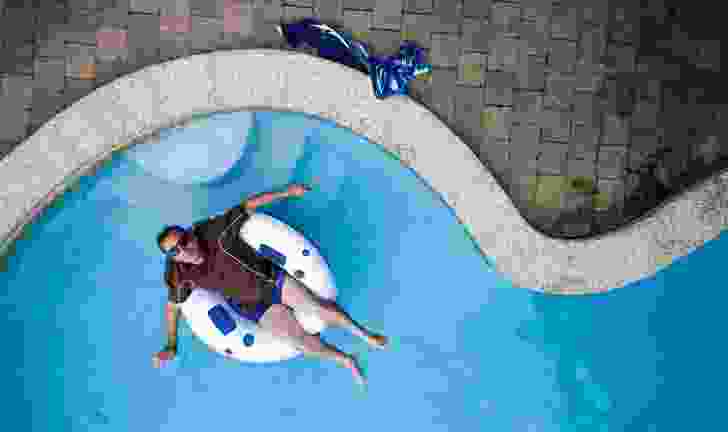 I suspect all twenty-four million of us have stories from the pool; some dangerous, some delightful and some embarrassing. My strongest memories from childhood are of summers spent at the pool drying on the blisteringly hot concrete, picking scabs and surveying the toddler's pool (half a foot deep and centrally adorned with a slippery and insanely dangerous concrete walrus), the middle pool (three feet deep and tiled in the colour of my grandmother's chenille bedspread) and the Olympic pool (a six-foot-deep superhighway of eight fifty-metre-long lanes). We bombed our friends. Did "horseys." Held our breath in testosterone-fuelled underwater dares. The school swimming carnival was my favourite day of the year. After so many school days wondering what Yvette (probably not her real name) looked like in her underwear, I was thrilled when the Catholic school magically introduced a day where everyone could wear their swimsuits – i.e. next to nothing! A day filled with eroticism, nervousness and body self-consciousness. I chipped my front tooth on the pool edge escaping the eyes of a girl I had a crush on. I was wearing the delightfully and unfortunately appropriately nicknamed "dick-stickers." Ah, the pool.
An Australian version of the agora, the piazza or the plaza – our pools are timely environments to capture as portraits of us to send to Venice. The next time your accountant mentions asset pooling, let your mind wander and reflect on your memories of the pool. I hope that these images come to mind, of great and generous Australians who share our national deep and abiding relationship to our most precious commodity and where it gathers in special places.
Source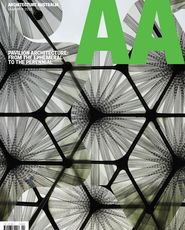 Issue
Architecture Australia, March 2016