It was late Autumn in Melbourne, just after lunch on a grey, brooding Friday, and my thoughts turned to matters cosy. As it happens, this put me on just the right page for a visit to the new headquarters of the Victorian Environmental Protection Authority (EPA), which now occupies a fitout designed by Woods Bagot in the former Carlton United Brewery laboratory building. The EPA's new home is right near the Queen Victoria Market, a great conceptual, if not geographic, distance from its previous accommodation.
Cosiness and homeliness are often discouraged in design schools, but I can't think why - they are as difficult a target to hit as any you might choose. It is even harder to get it right and also be professional and look smart while you are doing it. The team at Woods Bagot seem to have got the mix right, and the result is an organization "rehomed" into a workplace that has all the comforts of home.
To understand where it is now, you need to understand where the EPA has come from. The former office was not one office but many, a series of old-style separate offices spread across multiple floors in two adjacent buildings. There were, apparently, people in what is a relatively small organization who had never met or even seen each other before. The fitouts had been inherited from previous state government departments, and overall the situation was not conducive to wellbeing or organizational cohesion.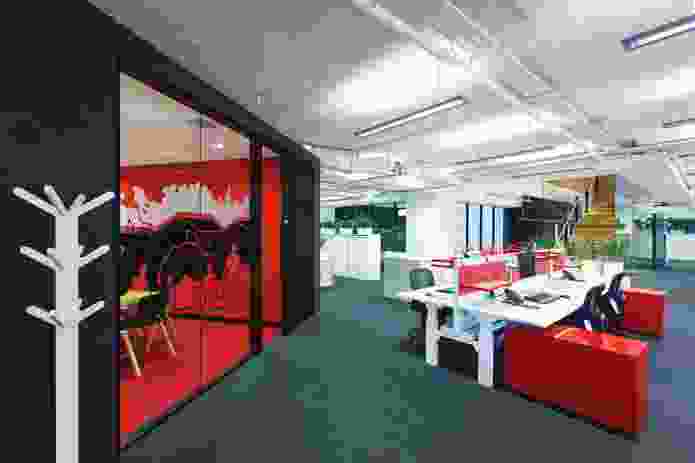 In the new premises they are spread over four floors of the refurbished building, but a handmade timber and glazed stair links all levels, with nice cross-views down through the stair and the new atrium at the heart of the building. The timber of the stair, also used in the foyer floor, is from a chicken farm demolished on the Nullarbor and sourced by a timber recycling merchant. This, like many elements in the job, comes stained with a legible history, and the accumulation of such moments is directed at beginning to build a sense of organizational "history."
The new offices are themed across the four floors, each floor being dedicated to a different story, linked to the specific portfolio of responsibilities of the staff so accommodated. Agriculture, industry, coastal settings and suburbia form the four major themes, but the signature or master theme would have to be the suburban.
There are many homely details in this fitout, and a conscious attempt to give the organization an explicitly domestic scale and points of reference. The choice of fabrics - and there are more than eighty separate fabrics specified in the job - references an Australian domestic setting circa late 1960s. The source fabric was pointed out to me on a lower floor, a patterned extravaganza that the charming Anna Drummond, the designer who led me around, was, herself, astonished the client embraced with such gusto.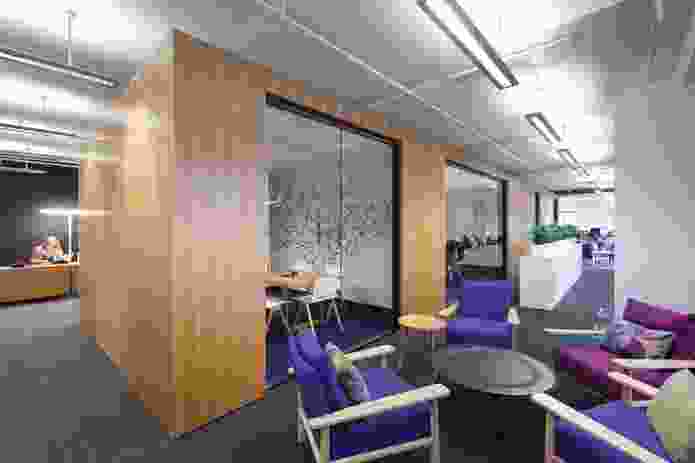 The staff are also enamored of the new kitchens adjacent the open stairs, in the same position on every level. To people from an organization previously honeycombed by individual offices á la Mad Men, such spaces must come as a revelation. The cheerfully painted bentwood chairs in each kitchen were more than half occupied on my visit, the spaces buzzing with informal meetings and cup-of-tea making, just as they are meant to be.
Scattered among the permanent workstations are temporary workstations, informal lounge areas and a plethora of meeting rooms of all shapes and sizes. The designer was keen to point out the low tolerances in the acoustic design: as the EPA is an authority, the workings of justice can be actually carried out on the premises, and the information being managed is often commercially sensitive or legally privileged.
The meeting rooms are designed as house-like banks of rooms with carefully designed acoustic isolation. In fact, the meeting "houses" are built exactly like houses and they look like modernist beach houses: they have floor joists, walls and ceilings framed by rafters, with sheeted roofs. Access is through patio-like sliding glass doors. The acoustic performance is reinforced as a natural consequence of their physical isolation and construction.
Overall, the staff have embraced their new home thoroughly, a result that is no doubt linked to the thoroughness of the initial needs and organizational analysis and consultation that preceded the design. The corollary to this is that the EPA is collecting and monitoring a range of soft metrics taken since they have been in the new premises, measuring factors such as absenteeism and staff illness; it is early days but apparently the figures and trends have completely turned around when compared to records from previous years.
All things considered, this would seem to be a straightforward case of thoughtful design massively improving the (working) lives of an appreciative group of people. Who can argue with that?
Products and materials
Walls

Reception timber cladding is Austral plywood hoop pine from Gunnersen. Soundwave acoustic panel from Corporate Culture. Agrob tiles to lift lobby feature wall from Ceramic Solutions. Horizontal tile to boardroom wall from Artedomus. Laminate from Laminex and Abet Laminati. Optilam Phon Glass and clear-laminated glazing partitioning from Viridian. Paint finishes from Dulux. Timber stain from Wattyl. Finish to internal stair steelwork from Interpon. Bulletin Board feature wall cladding from Forbo. Feature pinboard from Kvadrat Maharam. Stair tread nosing and Tactile Marker from Latham Australia. Skirtings from Sapphire Aluminium.
Doors

Pavilion doors are Austral plywood hoop pine from Gunnersen.
Windows

Glazing film from Reflex Technology. Lidi S4 and Lidi Auto MB blinds from the Lidi Group.
Flooring

Recycled timber is from Nullarbor Timber. Carpet tiles from Interfaceflor. Tretford carpet from the Gibbon Group.
Furniture

M task chair from Stem Industries. Fusion drafting stool and Mondo visitor tables from Chairbiz. Very task chair from Haworth. Signature 301, Signature 202 chair and Web chair from Zenith. Uccio visitors chair and bar chair from Barbera Design. Sillon armchair, Catifa 46 meeting chairs, Patty chair, Stylus table, I.Am turn table and Boardroom coffee table from Stylecraft. Eames plastic chairs, Eames plywood table and Eames Hang-It-All coat hanger, and Norman a Quaine Lulu table from Living Edge. Husl Forum meeting chair from Insitu. Custom timber tables from Schiavello. Luna table and custom boardroom table from Bureau. Archie chair, Nash table, Coast ottoman and cushions from Jardan. Tall Third Leg coffee table and reception coffee table from Mark Tuckey. Thonet ply chair and Tonix Brut from Thonet. Tom Dixon Wire coat hanger from dedece. Viccarbe umbrella stand from Hub Furniture. Tilu coat stand from Feel Good Designs.
Finishes

Marble to boardroom benchtop from Signorino Tile Gallery.
Upholstery

Echo panel to workstation screens and pinboards from Woven Image. Seat fabric to chairs, banquettes and reception lounge from Kvadrat Maharam. Leather upholstery from Contemporary Leathers.
Kitchen

Kitchen joinery laminate from Abet Laminati, Parbury, Halifax Vogel and Laminex. Starfire Colourback glass to splashback from Viridian. Horizontal tile to kitchen splashback from Artedomus. Marmoleum finish from Forbo. Connoisseur sink from Blanco. Scala mixer tap from Reece. Boiling and chilled water HydroTap from Zip. Latrobe trough from Abey. Fridge and dishwasher from Fisher a Paykel. Microwave from Blanco and Panasonic. Sunbeam toaster, coffee machine.
Bathroom

Bathroom wall and floor tiles from Ceramic Solutions. Shower rose from Rogerseller. Scala shower mixer from Reece. Washbasin from Rogerseller. Basin to wellness room from Oliveri.
Credits
Design practice

Woods Bagot Melbourne
Melbourne, Vic, Australia
Project Team

Anna Drummond, Trish Turner, Neha Narayan, Glen Crawford
Consultants

Builder Hansen Yuncken Melbourne
ESD Aurecon
Engineer Aurecon
Illustrator Anna Drummond
Lighting Aurecon
Project manager Montlaur Project Services

Site details

Location Melbourne, Vic, Australia
Category Interiors
Type Workplace

Project Details

Status Built
Design, documentation 6 months
Construction 5 months

Client

Client Environmental Protection Authority (EPA)
Website epa.vic.gov.au

Source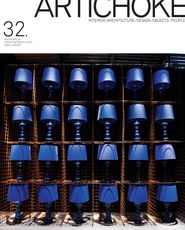 Issue
Artichoke, September 2010
Related topics