The Epping to Chatswood Rail Link Intermediate Stations demonstrate clever movement through contiguous space, in which functional strategies provide architectural opportunities. Elegant glass rooms at street level give no indication of the experiential nature of the journey to follow.
These stations are designed to prioritize the efficient movement of people while maintaining an evocative architectural environment. The entry room is a cleverly balanced, top-lit volume occupied simply by three elements of vertical access: stair, escalator and lift. These elements appear as sculptures within a space which is free of ornamentation, beautifully ordered and reliant only on light and people to colour the architecture.
The entry hall below is an elegant, asymmetrical, double-loaded volume that combines simple but effective scheduling with easy movement through to the centralized, singular, ticketed gates. Access down onto the train platforms is equally direct, with relative reductions in scale as one descends the final of nine levels into the horizontal tunnel zone. Finishes are modified here to reflect the nature of a train environment and the management of a corrosive and fire environment.
The entire project presents a remarkable clarity. There is restraint within the material palette and a clever adjustment of both space and functional finishes as one descends from street to train line, along with a genuinely visionary approach to station management and work environments. This all contributes to a project of unusual competence and beauty that derives its architecture from common sense with sensitive design decisions.
– Jury citation
Source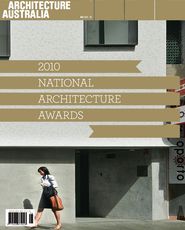 Issue
Architecture Australia, November 2010
Related topics