"I want it all and I want it now!" sings the spoilt Veruca Salt in Willy Wonka and the Chocolate Factory. Well, we all know she gets her comeuppance when she's sent down the chute to the factory furnace, "where all the bad eggs go," according to Wonka. There's no such payback for wanting, and getting, it all at Brisbane's new Esquire restaurant. With its smart twelve-course degustation menus, indulgence is par for the course, and pitching it at just the right level within the physical surrounds is crucial.
Hassell collaborated with owners Cameron Murchison and Ryan Squires (Squires is also the chef) to fine-tune the dining space into the kind of elegant, contemporary environment that matches the clean, pure food. "The design process was very interactive," says Hassell senior associate Stephen Cameron. "They're both well-travelled, and they both like a fairly spare style. Ryan had just spent time in Copenhagen and had a stint at Noma [restaurant]. We decided to strip the place back to the bare bones and create a raw, masculine style of luxury that reflects the crispness and honesty of the food."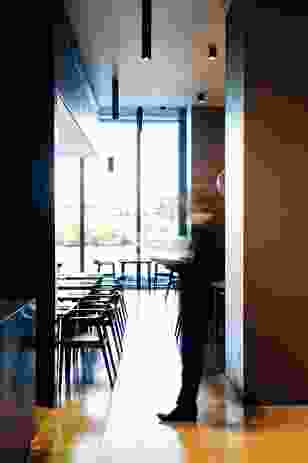 Hassell started with a 425-square-metre blank canvas on the ground floor of an elegant riverside office tower. The site offers views over a planted public courtyard that capture a characteristic twist in the snaking river, and parts of the iconic Story Bridge. Retaining the curved wall of floor-to-ceiling glass was de rigueur.
The wider context is the city's financial district, in the more glamorous end of the town. Finishes like honed Charmont marble, polished concrete floors and sleek steel in a minimalist palette of greys, browns and blacks feel at home here. As Cameron notes, "It's neither too boardroom nor too ladies-who-lunch."
While some preparation and cooking takes place behind the scenes, most of it happens in the theatre of two open kitchens. One is fitted with a charcoal stove of Squires's own specifications. Firewood is neatly stacked on the long perimeter bar table to give the clue that open fire cooking is on the cards. The second open kitchen is a flurry of activity with a team of chefs preparing an exquisite array of rarefied produce, with all the grace and intuition of artists. Designer David Edmonds's ceramic platters in earthy colours and organic shapes complete the picture.
The two "black boxes" of the open kitchens help divide the floor plan into distinct spaces for formal and casual dining, and pre-dinner drinks. The edge section next to the full-height glass wall has a prime position within the space, and a folding ceiling of different heights helps delineate it. A pre-dinner drinks alcove enjoys a more secret spot along the back wall, while casual dining happens bar-side. A private dining room is raised a few steps above the formal area and fitted with ebony timber floors. Walls are detailed in long horizontal strips of timber mouldings, saluting domesticity.
With an environment as clean and crisp as any gallery, collections of carefully curated and revolving artworks look like they were made for it. Entry to Esquire is via an overscaled, black steel portal that signals the spare, clean world of treats awaiting.
Products and materials
Walls

Painted plasterboard. Eveneer timber veneer from Elton Group. Mixed hardwoods, stained. Timber mouldings. Skirtings black anodised aluminium from Australian Aluminium Finishing. Wallpaper to columns from South Pacific Fabrics.
Windows

Silverscreen roller blinds from Verosol.
Doors

Solid-timber-framed glazed pivot doors. Hardware supplied by Barben. Entry portal cladding is folded blue steel.
Flooring

Polished concrete finish by MyFloor. Mixed hardwoods, stained.
Lighting

Classicon Selene suspension lights from Anibou. Flos Tubular Bells and Flos Kap lights from Euroluce.
Furniture

Informal dining banquet upholstered in Metropole from Westbury Textiles. Formal dining banquet upholstered in contemporary leathers Cosmopolitan from Instyle.
Kitchen

Marble benchtops from CDK Stone. Stainless steel benchtops. White tile splashbacks from Classic Ceramics. Eveneer timber veneer shelving from Elton Group. Epoxy flooring from Sexy Floors.
Bathroom

General wall tile, feature wall mosaic tile and Nature Series floor tile from Academy Tiles.
Artwork

Installation by Creative Sight.
Source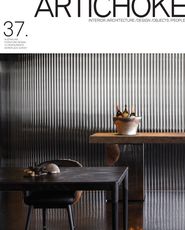 Issue
Artichoke, December 2011
Related topics