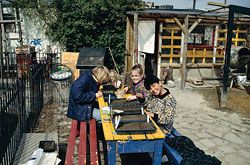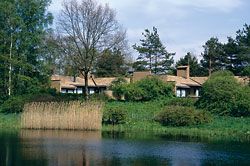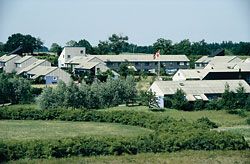 Is denser housing the only answer? Greg Bamford suggests another approach for the future growth of our cities and a new kind of accounting for domestic space.
Across the twentieth century, much of our thinking about housing and cities shifted from emphasizing the benefits of space to pondering its costs. At the beginning of the century, bold ideas for remedying crowded cities – the Garden City and the Radiant City – imagined the city and its functions being set in open space. But relentless suburban and exurban growth in Australia, boosted by affluence and scattered by the car, ensured that by the end of the century the paradigm of the Compact City had found virtue elsewhere. Have we been spooked by sprawl? Has this prevented us making a proper accounting for space?
Consider this possibility. Imagine that a city like Brisbane embraces GOD – garden oriented development. Among other things, the city finds a way of increasing local food production well beyond, say, the level of fifteen years ago when about 2,000 eggs per day came out of its backyards.1 A city-wide network of community gardens, city farms and commercial growers is planned so that households will be within easy reach of a garden and the gardens themselves will have the advantages of collective organization. Most gardens are on the sites of existing dwellings but through subdividing blocks or involving an enterprising social housing provider, the plan provides for no net loss of housing stock on garden sites. Community gardeners are employed part-time as outreach workers and many live on site, in an upstairs flat, with community facilities downstairs. Local growers' markets and produce exchanges spring up, supplementing the few farmers' markets. A fruit and vegetable shop – let's call it The Local Food People – opens, and in a denser suburb the One Kilometre Salad Cafe is launched. The cafe links enthusiastic or landless gardeners with mostly older home owners in the neighbourhood, who provide land in return for all they can eat and the garden infrastructure (and can no longer be accused of under-occupying space). Brisvegas, as the city is sometimes known, becomes Brisvegie.
Alternatively, Brisbane could continue building denser housing on such sites, abandoning even the half-hearted principal green space of the older, much criticized six-pack blocks of flats for a desultory open space, dubbed "the ashtray" by landscapers.
In a recent debate with Sir Peter Hall, John Houghton remarked that "density is a key element of sustainable growth, forcing us to do more with the land we use."2 If we indulge my speculation above, however, Brisbane has found another way to do more with the land in question. The Australian Conservation Foundation identifies food production as constituting roughly half the footprint of a Brisbane suburb.3 This echoes Brenda and Robert Vale's conclusion a decade ago that for sustainability, "the best thing anyone can do … is to grow as much food at home as possible".4 We might also consider food security, nutritional education, inactive lifestyles, worries about community and the satisfactions of gardens. Brisvegas puts additional housing closer to some existing necessities (public transport and local facilities), which may improve with higher patronage. Brisvegie would put the existing housing stock closer to some otherwise distant necessities – perhaps adding flavour and interest to suburban life in the process.
GOD is only a thought experiment, but there are parallels in our existing productive uses of domestic space. Consider, for example, the domestication or deinstitutionalization of care – that is, where households provide some or all of the care that would otherwise fall to government or the private sector, or not be provided at all. Older people live longer and are encouraged to age in place, as hostel or nursing home places are restricted. Hospital patients are discharged earlier or deflected through day procedures. Grandparents care for their grandchildren to meet shortfalls in maternity leave or formal childcare, freeing their own children to keep the wheels of industry turning, and so on. In all this caring, households choose or are forced to make more intensive use of their domestic space, thereby reducing the demand for institutional space and resources. As institutions for children or for people with disabilities or mental illness have closed, the family home and volunteer household have provided much of the space and resources for this caring, thereby releasing the space of the former institutions for other urban purposes, including housing.
On Hugh Stretton's reckoning, households produce a third or more of all the goods and services we consume (in addition to their role in the formal economy as home-based businesses or accommodating employees working from home).5 In the determination of housing densities, therefore, it seems obvious that we need an internal as well as an external perspective. That is, we need to remember the requirements of habitation, and in particular the function of the household economy, as well as trying to ensure the viability of a public transport system or cope with the city's population growth. In a recent Greater London Authority manual, Housing for a Compact City (2003), housing density bands are recommended for the city according to criteria that derive essentially from an external perspective: access to public transport, location (central, urban or suburban) and car parking need. One case study in the manual is Iroko by Howarth Tompkins Architects – part of the development in central London by Coin Street Community Builders. Iroko's site density is 334 habitable rooms per hectare (hrh), yet the bottom of the appropriate band is 650 hrh.6 An ordinary three-storey Brisbane six-pack achieves two-thirds of Iroko's density. Iroko provides no above ground or resident car parking, so the Brisbane six-pack would need only to substitute flats for its ground-level car accommodation to match Iroko's density. So what's going on here?
Coin Street is the miracle on the Thames that has provided affordable housing for low-income south London households, cross-subsidized by the commercial development of its sites, such as the Oxo Tower. Responding to user preferences, Coin Street has put families on the ground, with private or shared outdoor space – large families in the case of Iroko – so its relatively low densities are unsurprising. Coin Street is based on the principle that those who live and work in an area should not be banished to the outer suburbs by redevelopment or the lack of appropriate housing – a principle the manual would seem to support. The inclusion of Coin Street housing schemes is an admission of the need for a better framework for determining densities – whether or not housing densities could be increased in Coin Street or elsewhere in central London to compensate.
In the UK and other English-speaking countries, compact city advocates have often turned to the European city to support a reform agenda on housing density and urban form. But two general points should be kept in mind here, which I will briefly illustrate in the context of Copenhagen. Firstly, the obvious point is that higher density housing types need not be used to produce higher housing densities. Secondly, there is the related point that compact, transit-oriented urban development need not be deployed to produce a correspondingly higher density city. In each case, an important aim can be to retain or generate open space at or close to home.
Taking these points in turn, in Jørn Utzon's well-known courtyard housing scheme for the Kingo Housing Association, his L-shaped house and courtyard is barely fifteen metres square. Kingo is credited with having a significant influence in Denmark on the development of "dense/low housing" – low-rise, attached housing, sometimes with flats and often for families. Kingo's site density, however, is just ten dwellings per hectare (dph). Utzon wanted perhaps 8 dph.7 As a residential landscape, Kingo's success derives from its low-density composition, which is enhanced by the higher-density clusters Utzon's courtyard type made possible. The scheme produced a more than acceptable yield and maximized the shared landscape, in particular to provide a setting for a small existing lake.
Dense/low housing in Copenhagen is typically about two to four times the density of Kingo, however, judging by the schemes published in the Danish journal Arkitektur DK over the past thirty years. But the small footprints of this housing keep site covers relatively low. (The average attached house in Denmark is about ninety square metres, so at two storeys its footprint would be small.8) The open space in these schemes is largely shared, of course, and shared with more households because the density is higher. For households who can live this way, these dense/low schemes offer much of the decent open space of the suburban idyll.
Turning to my second point, consider Ebenezer Howard's diagram for his Social City.9 In this diagram, six garden cities encircle one larger garden city, all connected by transport corridors. The population density of the Social City would be about eight people per hectare (pph), which is comparable to a low-density, evenly spread Australian city like Brisbane or Perth (though with a much smaller population). The seven urban areas of the Social City, however, each have a density of about 50 pph, resembling some European cities. Thus the Social City would be a dispersed city, one that puts residents close to substantial rural and recreational open space but whose urban development is nonetheless transit-oriented and relatively compact. Copenhagen and Stockholm are dispersed cities in the Social City tradition.10 Copenhagen's postwar development has been controlled by its Finger Plan. This was designed to relieve the crowding of the old urban core and house the city's growing population, channelling suburban expansion into five rail corridors or fingers, each separated by green wedges. Accordingly, the population density of the urban core fell sharply in the postwar years and is now similar to inner Sydney, at about 60 pph. An urban renewal program has concentrated on amalgamating small old flats, reducing densities and creating functionally diverse open spaces in the interiors of the old city blocks. Urban consolidation has recently lifted the density of the core, but much consolidation in Copenhagen is on greenfield sites within the finger structure. Beyond the urban core, densities drop away along the fingers to within the range of established Brisbane suburbs, from, for example, that of an inner suburb like New Farm at 40 pph down to 20 pph for outer suburbs like Zillmere or Jindalee, and even lower.11 In the Arkitektur DK sample, blocks of flats across metropolitan Copenhagen are typically between two and seven storeys (though some are taller), with, in general, relatively low plot ratios and site covers. Almost half the schemes appear to be around the density of a six-pack or less, and most of the remainder would not reach the intensity of development that is now common in a "principal centre" in Brisbane like Indooroopilly, which is seven kilometres from the city centre.
In summary, Danish appetite for open space is at least as evident, in both the housing and urban form of Copenhagen (as well as in survey evidence of what residents value), as is any compact city feature.
"British cities," Houghton claims, "must densify or die". If that's true, we might as well give up now in Australia. Whatever new densities we build to, the task will remain that of making our dispersed cities more resilient. In any event, building to higher densities in Australian cities need not entail plundering existing open space, private or public, nor abandoning principles of good housing form, as Peter Myers pointed out in Architecture Australia back in 1992.12

Greg Bamford is a senior lecturer in architecture at the University of Queensland.

1. Australian Bureau of Statistics, Home Production of Selected Foodstuffs, Australia, April 1992 (Canberra, 1994).

2. John Houghton and Peter Hall, "Debating Density: Dense Materials or Black Holes?" Town and Country Planning 77 (April 2008), 176–83.

3. Australian Conservation Foundation, Consumption Atlas. http://www.acfonline.org.au/consumptionatlas/.

4. Brenda and Robert Vale, "The Autonomous House: A Model for Suburban Sustainability" in Janis Birkeland (ed.), Designing Eco-Solutions. Proceedings of the Catalyst '97 Conference (Canberra: University of Canberra, 1998), pp. 22–28.

5. Hugh Stretton, Economics: A New Introduction (Sydney: UNSW Press, 1999).

6. Greater London Authority, Housing for a Compact City. Parts 1 & 3, 2003. http://www.london.gov.uk/mayor/auu/publications.jsp#hcc.

7. Mogens Prip-Buus (ed.), The Courtyard Houses (Hellerup, Denmark: Edition Bløndal, 2004).

8. Statistics Denmark, Statistical Yearbook 2004. Construction and Housing. http://www.dst.dk:80/HomeUK/Statistics/ofs/Publications/Yearbook/2004.aspx

9. Ebenezer Howard, Tomorrow: A Peaceful Path to Real Reform (London: Routledge, 2003).

10. Peter Hall and Colin Ward, Sociable Cities: The Legacy of Ebenezer Howard (Chichester: J. Wiley, 1998).

11. Peter Næss, Urban Structure Matters: Residential Location, Car Dependence and Travel Behaviour (London: Routledge, 2006). Australian Bureau of Statistics, 2001 Census of Population and Housing.

12. Peter Myers, "Seeking the Section" in Architecture Australia 81, April 1992, pp. 22–25.