The inaugural World Architecture Festival took place in Barcelona last year. Three delegates – Peter Johns, Peter Ho and Daniel Palmer – respond.
PETER JOHNS
Barcelona/birmingham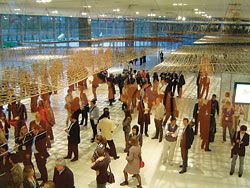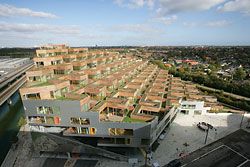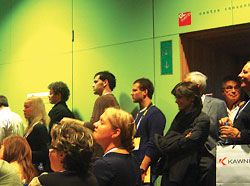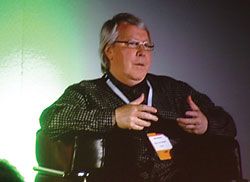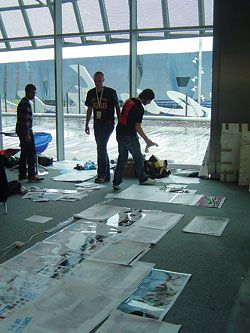 If you had parachuted into this "festival" blindfolded, and not been accosted by the heavy security, you'd have had a hard time guessing you were in Barcelona – until you tried to order a coffee in the cafe. Catalan influence and participation was nonexistent. You might perhaps have thought that you were in Birmingham. The World Architecture Festival was scheduled immediately before the RIBA's annual conference, also in Barcelona and run by the same British publishing empire, emap. They own The Architectural Review and Architects' Journal as well as the WAF brand. World Architecture™ will be British for a while yet.
The organizers and speakers were ageing British blokes and their close friends and the lingua franca was English. But someone had to organize the inaugural event, and I'm glad they did. Support ran high among the delegates for the simple but new concept – get architects together from around the world to meet and learn from one another. And compete. The awards made this more than a conference, though "festival" oversells it. Drab surrounds and gloomy skies didn't help.
The surrounding blandness seeped into some of the seminars, which were too general and had speakers with not much to say about the topic at hand. The "speaker, respondent, questions" format needs some tweaking. The respondents I saw took little notice of what had gone before them and launched into their usual slideshow, changing a few words to suit the theme, bookending it all with a paragraph about education, landscape, sustainability or whatever they were supposed to be talking about. It could get interesting at the question stage, but the time allowed was short and in some cases it was cancelled completely: "We don't want people asking Lord Foster what type of breakfast cereal he eats."
The plenum speeches were equally dull. There was Wolf Prix (Coop Himmelb(l)au) going through forty years' worth of slides and making the occasional inflammatory remark to enliven proceedings, then Norman Foster talking about … I forget.
One large room contained a labyrinth of the two hundred and something long-listed entries to the awards, each with two A2 panels. Lord Foster was surprised that everyone used the same graphic layouts and that it was hard to tell which category a building belonged to – he could not tell the civic architecture apart from the shopping centres. I was surprised by how hard it was to pick which continent each building was parked in. Regionalism is a bit sick. Oddly enough, the PTW entry for the Beijing Watercube was hung above an entry for the same building by their Chinese partners. Only the PTW version was short-listed and later commended – PTW called their cube the Yin to Herzog and de Meuron's Yang.
The heart of this festival was, surprisingly, in the jury presentations. The idea of architects humbly presenting their works to a peer jury was a novelty for most of the participants (and juries), so these were varied and inconsistent sessions. Eight rooms warmed up as people squeezed in to see big names panicking as they went over time. In the finals knockout, Wolf Prix went right on talking about his BMW Welt; he wasn't stopping for any beeping contraption. Eventually he did stop, with a parting curveball to the timekeeper: "I am right and he is right and we are both incorrect." Then The Smiths boomed into the emptying room: "You shut your mouth / How can you say / I go about things the wrong way?"
Bjarke Ingels (BIG), young rock starchitect, was almost mobbed. There wasn't enough oxygen in the room as people heard him present "Mountain Dwelling", an apartment block spilt down the side of a car park building. Ingels is an extraordinary showman and dazzled the jury and crowd with his rapid-fire talk, wit and Scandinavian accent. He tracked BIG's progress to the final, unlikely design in such a way that it seemed plausible, even inevitable. They won the category, the chair of the jury saying they thought the building was "full of problems" but that they'd never seen such enthusiasm.
The first WAF took place a couple of weeks after the Australian dollar collapsed, along with a good chunk of the world's business. This was noted by Charles Jencks at the final chitchat, "We've had excessive decadent architecture for fifteen years, produced by a runaway economy." Now we are in for something different. Foster suggested it would be a move from fashion to survival, but Charles leapt on that. "Green is apple pie rhetoric. Architecture is not just solving problems. [Sustainability] makes an ideology out of a problem."
Sustainable architecture was the elephant in the convention centre. There was talk on stage of hairshirts, open-toed sandals and "tin-pot windvanes", suggesting a level of disdain. Airconditioned glass houses were applauded in the jury rooms. I saw two of the three green seminars; both were lacklustre and quieter than the "Height" seminars. John Denton had to respond to Ken Yeang's talk about sustainability, but Yeang didn't show up so Denton was left to cover all bases and field questions, rather uncomfortably as this really isn't his bag. He followed the line of the Australian Institute Awards – all award-winning architecture should be sustainable, therefore green buildings should not be singled out or need to broadcast their credentials. No yellow wind turbines, please, it should all happen under the hood. Denton admitted that they were dragged towards sustainable building methods "kicking and screaming". In the next seminar Mark Beattie from Davis Langdon was kicking less. They're working hard to measure accurately the embedded energy in construction. It takes a few centuries for a new energy-efficient building to make up the environmental cost of its construction and prospective tenants want to know the figures now. Demolition and new build may be frowned upon as a luxury in the decades ahead.
All up, a worthwhile event suffering a few teething problems. It's going to grow and it was a privilege to be at the first one. Maybe get a few more non-Anglos on board next time round, I think they'd be keen. And address the elephant.

Peter Johns is a director of Antarctica and maintains www.butterpaper.com.
Peter Ho
sustainable futures
What are the architectural lessons to be learned from energy and sustainability? As the world tools up to incorporate energy-efficient equipment and to reassess habits of consumption, the World Architecture Festival looked into the climate change of the profession. Along with the seminars and presentation of exemplary projects by their architects, the exhibition of the diverse projects entered for the WAF Awards was a place to measure the status of sustainability ideas.
For architectural spectators, the festival raised the contrast between building performance design strategies and competing conceptions of ecological place making. While it is important to measure efficiency, what are the delights in a sustainable future?
The first seminar raised the attitude that sustainable architecture is not a new idea – it's just what architects do! Historically, the profession continues to learn and adapt to the built environment. John Denton presented the Manchester Civil Justice Centre, winner of the 2008 RIBA Sustainability Award. With the craftsmanship of a boatbuilder or sail maker, Denton Corker Marshall orchestrated a building form to celebrate its relationship with the wind conditions of Manchester. Building orientation and form minimize wind lag and funnel air movement. A cross-section through the tall building demonstrated the three-dimensional understanding of integrated natural ventilation. This type of building requires a building maintenance manager with the skills of a sailor, required to perform the daily ritual of opening and closing flaps to deliver fresh air efficiently to all public and private parts of the building. Closer to home, at a residential scale, the same architects have finessed a similar detail in the Wilson House – the delightful opening action of a narrow, hinged door to become a window to harness the fresh air and to frame the natural landscape. In response, Raj Rewal elaborated on the lessons of climatic responsibility learned from Le Corbusier, demonstrating how Le Corbusier's brise-soleil concrete sunshading and protected courtyard typology formed expressive shadows to create cool and comfortable environments in the work of his practice in India.
Another approach, not overtly articulated at the festival, promotes the idea that sustainable architecture is a metaphor for identifying with nature. This is described as an eco-aesthetic by architectural academics Simon Guy and Graham Farmer in their paper, "Reinterpreting Sustainable Architecture: The Place of Technology". At WAF, Olympic stadiums of the past, present and future displayed some of these qualities. Of course, most of these purpose-built stadiums have already outlasted the event they were designed for. In separate presentations on the Watercube, John Bilmon of PTW, Tristram Carfrae of Arup and Chris Bosse of LAVA discussed the packed soapy bubble facade made from ETFE foil pillows, whose organic quality is enhanced as the sunlight refracts off the foil surface and illuminates the interior. Learning from Frei Otto's still-standing 1972 Munich Stadium, this technology was used to produce a giant greenhouse to trap solar energy and to maintain a constant temperature varying from that offered by the extreme Beijing climate.
An eco-aesthetic may also find expression in the consumption values of society. Can trash be reinvented into treasure or into a campaign of awareness about rubbish creation? When considering the total life cycle energy of these types of stadiums, Megan Ashfield of HOK Sport explained that the embodied energy used to produce them is greater than their operational energy usage. HOK is designing the forthcoming 2012 Olympic Stadium in London, whose facade will be a curtain. Like a replaceable billboard poster, it will display event-specific artwork. Learning from industrial design, the curtain will find a future life as the fabric for a carry bag and other types of souvenirs.
Identifying with vegetation and the natural world, the WAF Energy, Waste and Recycling category winner was Landscape Restoration of the Controlled Rubbish Dump "La Vall d'en Joan", Spain by Batlle & Roig Architects – a project that restored biodiversity to a rubbish tip. For educational purposes and display, they catalogued rubbish collection in a gabion construction.
Landscaping softens the intensity of the built environment, making it less artificial. Where the majority of housing is high-rise living, communal sky courts increase the liveability of a city. "In a high-rise tower, where do you go to catch your breath when you have had a bingle with your wife?" asked Richard Hassell and Wong Mun Summ of WOHA from Singapore. In their seminar, they demonstrated climatic responses for high-rise building in tropical environments. Prolonged high temperatures affect the health and welfare of city environments, creating what are known as urban heat islands. Temperatures are increased by consistent direct and reflected sunlight bouncing off curtain wall facades. Heat is slowly released from the thermal mass into the city. The thirty-six-storey Newton Suites apartment tower designed by WOHA uses a variety of facade sunshading devices including awnings, screens, sky courts and vertical plantscapes. Hanging garden concepts have been around since Babylon. Vertical plantscapes can mitigate the effects of urban heat islands by blanket-shading thermal mass surfaces and by evapotranspiration cooling. They can also reduce the effects of wind tunnelling, phytoremediate toxins from the air and provide seasonal changes of colour and scent. Usually hanging gardens on high-rise buildings are challenged by technical and financial constraints. It is physically possible to support and water hanging gardens, but fire separation between floors, plant dieback and maintenance of the vertical plantscapes cause technical difficulties. Hassell and Wong explained that the tropical environment enabled vigorous growth. While operating as a shading device, the wall is designed as a public zone rather than part of the apartments and maintenance is shared by the servants of the apartment owners.
In achieving a sustainable end, all of these projects exert a direct relationship with their form and material representation. The Mornington Centre by Lyons offers an alternative. Highly commended in the WAF Health category, this project does not mimic nature. Instead, super-sized faux wood grain is created from coloured brickwork – a more resilient representation of the original wood. This building also creates a blueprint for comfort for an increasingly ageing population.
What are the lessons learned from energy and sustainability? Lord Norman Foster reminded the festival that the profession of architecture was a minute percentage of the international building industry and even less of the global economy. While architecture demonstrates best practice in increasing building performance, architects continue to use precedent and to develop new ways to express and celebrate the delightful qualities of our natural environment.

Peter Ho is the design principal of PHOOEY Architects, which received a High Commendation at the World Architecture Festival Awards for the Children's Activity Centre at Skinners Playground.
Daniel Palmer
impressions from the outside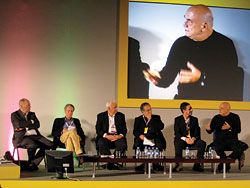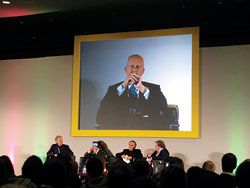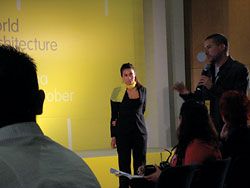 "If you do shit at home, you'll do shit abroad."
Massimiliano Fuksas

A juried competition comprising three days of presentations by 200 short-listed architects, a parallel seminar program and a series of keynotes, plus 2000 delegates in that most architectural of cities, Barcelona – it was hard not to be impressed by the ambition and scale of the inaugural World Architecture Festival. Positioned by its English brainchild, editor of The Architectural Review Paul Finch, as a celebratory event – "a tribute to the global production of the architectural sector" – but held in the uncertain shadow of the global financial meltdown, the event had the self-conscious quality of coming after a rush of sometimes decadent building. Finch chaired most of the seminar sessions, chatting like a jovial TV host with panellists on Corb club chairs.
With Lord Norman Foster as the patron saint, the festival was practitioner-led, leaving theorists and historians thin on the ground. Sadly, the competition was presented in generic displays – entrants were given the typical two A3 boards – but there were a lot of good buildings among them (including an astonishing number of art museums). In a panel session Charles Jencks spoke of "marginal differentiation" and a "confusing pluralism", spurred by his visit through the foamcore forest of categories. Software-driven wavy roofs were prominent and a curated display, Height, underscored a boom in tall buildings.
For a non-architect, the rhetoric was even more fascinating than the buildings, offering insight into the vocabulary of architecture today. The seminar tagline, "between possibility and responsibility", echoed through panel sessions on globalization, sustainability, Olympic architecture and height. Notwithstanding inevitable lapses into lazy humanism, the presenters were generally articulate – expressive language seems to be far more important for architects than artists, owing to their different client relationship – though I was amused by jargon such as "embodied energy", "high-performance facades", "vertical transportation" and "super-graphics".
Despite the festival's title and its cosmopolitan location, the seminars were overwhelmingly stacked with Brits. Even John Denton, in a characteristically modest speech, was asked to speak about the Manchester Civil Justice Centre. And although place was routinely fetishized as "the true client", our location in a convention centre was strangely apt; the city of Barcelona was largely irrelevant. Indeed, the British bias gave the sessions on architectural globalization an occasionally absurd quality. Even more problematic, of the sixty members of the international jury, only eight were women. By contrast to that pitiful thirteen percent, the glamorous assistants – in matching air-hostess-like uniforms of black suits and yellow scarves – were one hundred percent female. Apparently the world of architecture needs its own Guerrilla Girls.
Likewise, although nods to the public realm were ubiquitous, public-interest architecture was marginal. A session on city peripheries turned up barely concealed snobbery in the form of a Hollywood-style, aerial-view trailer of Brazilian favelas and talk of architects as "therapists of urban suffering" – with little nuance and no irony.
But in spite of what I see as limitations, numbers alone indicate that the festival's celebration of diverse forms of design and authorship struck the necessary chord with the architectural profession, its core audience. Meanwhile, rock star performances by Wolf D. Prix, Will Alsop and Massimiliano Fuksas injected irreverence into the proceedings. Alsop's rejection of Foster's pious call for local collaborators, along the lines that "when you are abroad you should be more … British", even became something of an accidental motto.

Dr Daniel Palmer is an art critic and lecturer in the Theory of Art and Design at Monash University.