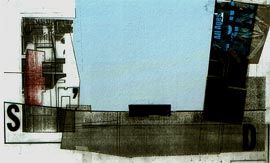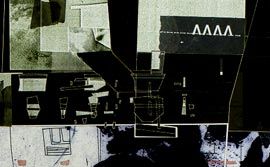 Yung Ho Chang is one of China's bestknown younger architects. Atelier FCJZ, which he founded with Lijia Lu, has been widely published and awarded. Chang was in Perth recently to give the Robertson Memorial Lecture, during which he elaborated his idea of "micro-urbanism" via a series of finely crafted projects.
In an ambitious attempt to shift the usual model of the international star flying in, giving a lecture, and flying out, Ruan Xing organised the Beijing/Perth Urban Forum.
This aimed to generate dialogue between Yung Ho Chang and local practitioners, and to establish a ground for ongoing urban discussion within Perth. In a more general way it acknowledged that architects trained in Australia now go on to work in a wide range of cultural and physical locations – both familiar and otherwise.
Chang began with a parable. "Once upon a time there was a country where the market economy was going full gear, while the state ideology was supposedly in conflict with such economic practice, but actually they supported each other." He was, of course, referring to China. He went on to reflect on how one might practice in such a situation, suggesting that in order to not "fall into the routine of consumption and production, or to set architecture still as the priority of architectural practice", one needs to resist the ideology of commercialism, while also being critical of neo-Marxism. A critical practice, he suggested, is the only way forward. For Chang, this involves a series of questions: What is contemporary Chinese architecture? Can it exist without the contemporary Chinese city? Can a small practice take on urban issues without large commissions? Can a single building reflect the idea of city? How small can a city be?
And so on. Such questions have no direct answers. Nor did Chang suggest that they should or could, be answered. For him, architecture is a practice of generating questions and investigating possibilities.
There was something hopeful about this strategy which sees architecture as both a site of ongoing negotiation, and a reflective, critical practice, and which assumes that a small practice can make a difference. For me, further questions arose from the work.
How do these buildings, which engage with ideas of the urban, reinflect the city? What is their broader urban effect? What could Australian practices undertaking huge urban projects in China learn from them?
The next day, at the Beijing/Perth Urban Forum, four quite different Perth practices responded to Chang's ideas through short presentations of their own work.
CODA Studio, observing that Perth is built on speculation, produced a "minor", speculative reading of the inner city. A gritty, affectionate, up-close mapping resulted in a compelling collection of images which were "curated" and collaged into myriad "hybrid projections". This process identified a range of "character traits" for further architectural exploration. A level of urbanity, often thought to be missing from Perth, was revealed.
Jones Coulter Young took the whole of WA as a potential urban site. Urbanism here stretched from sustainable development on the ever-expanding city fringes to WA's abundance of wildflowers. It was sobering to realise the extent of the forecast sprawl. As Greg Cowan later asked about the wildflowers statistics, "What do we as architects do with this information?" Blacket Smith reminded us that the suburb is perhaps Perth's defining urban condition. Their Shenton Park project generates an internal density not from program, but from the obsessive articulation of detail. A determined tectonic density leads to a density of experience and a sense of expanding space. What might such an approach offer for thinking about urbanism?
What of the suburb?
Spowers deployed "micro-urbanism" to discuss the program and articulation of their new Chinese consulate. But one of the more fascinating things about this project is its lodgement in the midst of East Perth – a development that presses the need for debate about just what kind of city Perth wants to be. On a former industrial area close to the city, East Perth is mostly filled with sub-postmodern apartments and project homes squeezed up into terrace houses. Here and there one stumbles across Architecture. Many architects have been involved, but few seem happy with the results. What was it to build an elegant enclave in such an environment?
Unfortunately questions of this kind were not teased out in the panel discussion. Ruan Xing had framed the forum around three questions: What is urbanity in Perth, in Beijing, or in general? Urbanity: imagination or urban fabric? What role can architects play in the cities of the twenty-first century?
Like Chang's, these are huge, unanswerable questions. There is everything and nothing to say. One way to approach such questions, and to give discussion focus and bite, is to engage with specific material – such as that presented by the architects.
Undoubtedly this was the intention, but it did not occur. It was, to a certain extent, hijacked by Necdet Teymur declaring that the city and architecture are complex things, and that it would be improper to speculate about the work presented without knowing it fully. This complexity is indisputable, but it is not an excuse to say nothing. As Chang and CODA had both shown (in different ways), speculation and proliferating questioning can be a very productive modes of engagement.
James Donald had begun the panel with a complex, layered understanding of the city and subjectivity, drawing on film and the writing of John Rajchman. But there were too many statements from other panellists that architects should not want to control everything. We all know that. Architecture moved on from deterministic thinking, and the critiques of it, some decades ago. They did not need to be re-rehearsed.
In the end it seemed there were too many panellists with too little to say, and too few with a particular knowledge of Perth's urban development. Panel discussions are tricky things. Their unpredictable nature is both their risk and their potential. But they also need room to breathe. Time constraints meant that this one never really got going, leaving the architects, the audience and at least this panellist frustrated.
It has, however, had ongoing effects, with Keiran Wong of CODA organising responses in WA Architect. In naming his review "SMLXL", Wong invoked contemporary ideas about urbanism (specifically those of Rem Koolhaas) that were absent from the forum.
He also described the smalltalk of many of the panellists as no better than polite dinner-party conversation. This is accurate.
But I harbour the hope that Perth's real architectural dinner parties are now actively and vigorously debating urban questions, and that robust discussion will soon spill over again into the public realm.
Despite frustrations, the conjunction of Chang's talk and the Beijing/Perth Urban Forum was important and admirable, both in its commitment to generating links between local practitioners and high-profile speakers, and in its commitment to debate.
Chang described "micro-urbanism", as a direction or attitude, rather than a systematic approach. For me, this sense of architecture as an open-ended process of enquiry was more interesting than "microurbanism" itself. It offers a model of activity which acknowledges that architects are always operating in provisional situations, and that this might itself be productive. This seems much more compelling than older paradigms of problem solving. Perhaps this is precisely what architects do have to offer the city – an ability to negotiate complex, changing situations in fluid, thoughtful ways.
Justine Clark was on the panel of the Perth/Beijing Urban Forum, courtesy of Curtin University of Technology