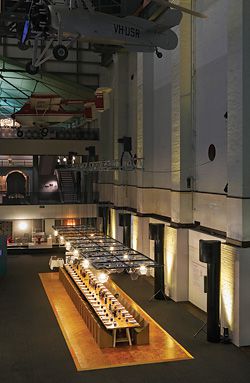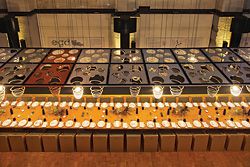 Heidi Dokulil discusses the recent installation by Tribe Studio at the Powerhouse Museum.
As design festivals, both local and international, gain unprecedented attention, spurred on by an eager audience of designers, the excitement is increasingly being matched by countries with a growing need to focus on events with cultural integrity that help develop identity and goodwill.
So, with the rise and rise of the festival, what can we expect to see during Design Week in London, Tokyo, Shanghai or Sydney, and what role can they play for governments, cities, designers and the general public? Should they provide the catalyst for a change in thinking and develop a platform for ideas to be shared openly? Are they a way for countries to share knowledge inside and outside the region, a way to connect with their local community, or are they a place for emerging and established designers and manufacturers to launch a new product? The answer is all of the above.
Eat Green Design (EGD) was first launched in 2008 at the State of Design Festival in Melbourne on the back of an idea that had been bouncing around in founder and creative director Cilla Maden's head since 2007. As the name suggests, EGD is about food, sustainability and design. It is both an exhibition and a venue for breakfast or dinner, accompanied by discourse centred on sustainability.
"I was Sustainability Victoria's industry liaison officer and working with government grants for designers," remarks Cilla. "I felt that sustainability had to be viewed holistically and not in isolation. Everything we do has a flow-on effect so it was important to cover as many layers as possible. EGD became a really good way to demonstrate that."
This year's event, hosted in Sydney at the Powerhouse Museum, was multilayered. The exhibition included a range of sustainable products by local designers and featured dining chairs, crockery and cutlery that, although part of the installation, was also there to use. The space was cleverly defined by a suspended system of lighting, artfully created by Hannah Tribe of Tribe Studio. Holding the event inside an existing venue comes with its own set of design issues, and Hannah's resolution was both simple and ingenious. A feeling of intimacy was created by a long sheet of suspended plywood, laser-cut in circular patterns to form "hanging springs" for lights to peak through. Food was organic and biodynamic, and a diverse range of speakers made for some engaging discussion.
"The exhibition is an important focus for the event; it is paramount to focus on Australian designers working with sustainability," reiterates Cilla. "The exhibition also gives designers an opportunity to promote products for sale via the EGD website and to receive rapid feedback about products. I send this information back to the designers, to let them know if what they are proposing is truly necessary in the grand scheme of things."
EGD is not a static design show for quiet contemplation and lofty ideals. It is practical in a friendly, vocal and democratic way. A nice excuse for a social gathering that brings ideas together across a table and over a meal. It's all about breaking bread with an interesting group of thinkers – furniture designers, publishers, scientists, art directors, gardeners and writers – who talk not only about what sustainability means, but how they are actively dealing with the problems in their own backyard.
In the first year Cilla worked with Melbourne designers including Justin Hutchinson and Dhiren Bhagwandas, restaurateur Paul Mathis, and Kel Dummett from Sustainability Victoria. This year she commissioned designers Arthur Koutoulas and Oliver Smith, architect Hannah Tribe, and Jared Ingersoll of Danks Street Depot. Speakers included all of the above, as well as Katie Patrick, the founder and publisher of the Green Pages; Nick Ritar, the co-director of Milkwood Permaculture Farm; and Matt Perry and Ben Peacock from Republic of Everyone. Talks covered Catering to our Future, the Importance of Creative Thinking, and ECO's Young Guns.
"Many people worked behind the scenes to make EGD possible," enthuses Cilla. "All gave freely of their time … Our discussions revealed some surprises about the differences between what is going on in Sydney and in Melbourne. Melbourne seems to be doing more of the doing and Sydney more of the talking from a sustainable perspective. Sydney has some great plans for change and it would be amazing to see some of those changes happen."
So, do design festivals provide an important platform for discourse on sustainability? "Yes, absolutely," remarks Cilla. "The point is to address sustainability by example, to help influence a shift in mentality. Designers are integral to this. After all, they are creating and influencing our purchases and lifestyles. They need to stop designing for the sake of design. They need to really become accountable for what they are producing, and they need to start educating their clients to become more accountable for their choices also."

Heidi Dokulil is a director of The Parcel Group.