Photographs Ross Swanborough Photographic.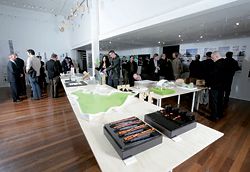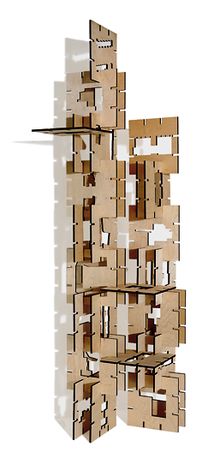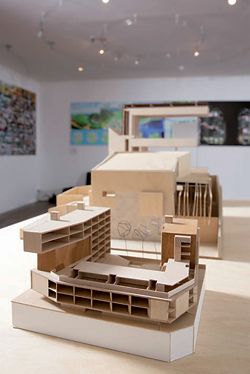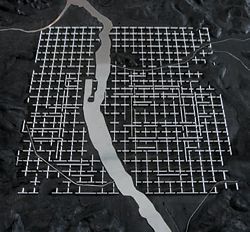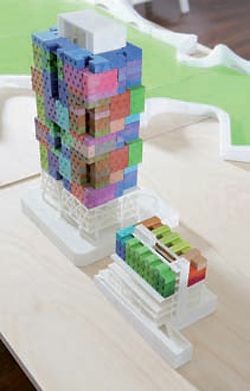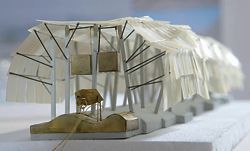 The Perth stage of New Trends of Architecture provided an opportunity for a symposium reflecting on the relevance of these developments to Western Australia.

Perth is expanding and changing. Local architects are creating rigorous and confident architecture that draws on the circumstances presented by the Western Australian cultural and environmental situation. As a result of this commitment to research and performance, New Trends of Architecture in Europe and Asia-Pacific 2006–2007 is in Perth. The travelling exhibition is the fourth in the New Trends series. Designed to showcase the work of emerging architects, it is a celebration of architecture that uses the works of selected architects to describe a general direction in which architecture is seen to be developing or changing.
A weekend symposium was organized to generate discussion around the works and identified themes. The first day focused on the exhibitors' work, which was presented by the international and Australian architects featured in the exhibition. The second day was titled "Global intelligence, local development" and comprised a series of presentations and panel discussions, each focusing on specific issues relevant to Perth's current development. Organizing and supporting partners were Form Contemporary Craft and Design; Office of the Government Architect; the RAIA; Iredale Pedersen Hook Architects; East Perth Redevelopment Authority; Department of Housing and Works, Government of Western Australia; and Mirvac.
The Government Architect, Professor Geoffrey London, began day 1 by introducing speakers and providing some contextual background to the issues facing architecture and urban design within the super-drive economy of Western Australia. Keynote speaker Donald Bates of Lab opened philosophically, discussing the idea of attaining knowledge by participating in the world, in its spatial, formal and cultural construction. His preference is to use architecture as a catalyst to mesh cultural activity within the city, and thereby instigate states of becoming. Adrian Iredale, Finn Pedersen and Martyn Hook talked about their practice and how they go about resolving the entanglements of pragmatics, social and environmental concerns, and poetics in projects that range from suburban backyard renovations and remote Aboriginal community works to urban social housing.
Ricardo Flores and Eva Prats from Barcelona showed how they bind projects into being through a close connection between drawing, modelling and building. Their incessant process demands that architectural thinking be compressed within the act of drawing and that this drawing always refers to something bigger, the idea and process of making architecture. Sean Godsell demonstrated how his work is entwined with ideas about Australia and its location in South Asia, his interest in the colonial verandah, Japanese spatial conceptions and the necessary pragmatism of the bush mechanic. His work is an evolving experiment in material, light, first principles and the thoroughly considered project. Yoshiharu Tsukamoto of Atelier Bow-Wow used a series of exquisite domestic projects to discuss the reality of creating a poetics of working and living space within Japan's compressed suburbs.
Minsuk Cho of Mass Studies showed how an informed fluid design process is used to generate architectural outcomes that legitimately participate in the rapid and implausible expansion evident in Korea and other urban concentrations. Bjarke Ingels of Danish practice BIG described how cross-fertilization of ideas is used to guide an architecture more concerned with evolution than revolution. BIG is politically proactive and uses architecture to incite discussion and debate. Kerstin Thompson gave the final presentation. As a way of wrapping up, she used a series of themes to connect cultural practices with the influences (and burdens) of landscape that help to shape her architectural projects – landscape as figure, architecture as topography, spatial territories, and the landscape/architecture continuum.
Day 2 was more discursive. The same participants, with the addition of Chris Maher, Professor Richard Weller and Ross Donaldson, debated the relevance of the various "new trends" to the reality of architectural and urban growth in Perth. Four compressed sessions were held across the day. The topics were: Integrated City – new patterns in urban fabric, From Expression to Experience – how cities interpret local culture, The House that Perth Built, and Future Tense. General tendencies were elaborated on, including the dissolving of boundaries between public and private, contradictions in themes of sustainability, the stimulus that can be provided by studying human behaviour, and experimenting with evolving forms.
The list goes on and provides a constructive starting point for ongoing discussion. However, it should be noted, following Donald Bates' call for participation of architecture in the daily practice of city building, that it is now essential that the huge clout embodied in the organizing and sponsoring bodies extends out from the symposium. These organizations can advance architecture and urban design in Western Australia by actively structuring and supporting a nexus between government, the private sector and universities to build a cultivated future for this place.


Dr Stephen Neille is a senior lecturer in architecture at Curtin University of Technology.