A RECENT SYMPOSIUM GENERATED CROSS-CULTURAL EXCHANGES BETWEEN AUSTRALIAN, CHINESE AND INTERNATIONAL PARTICIPANTS AS THEY CONSIDERED THE ROLE OF 'PLACE' IN ARCHITECTURE. PAUL HOGBEN REPORTS.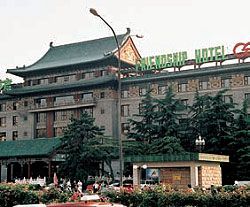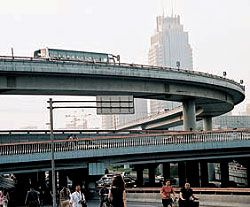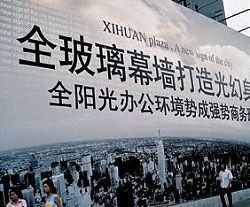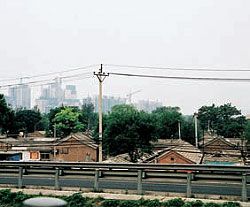 TO TAKE PAUSE amid the haste was one of the aims of the Topophilia and Topophobia symposium. Organized as a joint venture between the University of New South Wales, the China Architecture and Building Press, and Southeast University in Nanjing, it was held in the campus-like grounds of the Beijing Friendship Hotel in early June. The haze of summer had started to settle in, giving the air a brownish tinge, and Beijing's construction boom was evident all around. Participants were invited to discuss habitation as a continuing ambivalence between the love of place – the land we occupy and live on – and an aversion to it. The conference convenors (Xing Ruan, Joseph Rykwert and Huang Juzheng) used the terms topophilia and topophobia to characterize this relationship, especially as it might be applied to twentieth-century architecture and urbanism. It was an ambitious theoretical and discursive proposition: the key terms were not easily translated into Mandarin; the cultural and geographical parameters for discussion were left open; the dynamics between speakers, hosts and audience were unknown; and certain clashes in scholarly technique and perspective were likely to surface in unusual ways.
The plenary sessions were a disparate range of theoretical, polemical and descriptive presentations. Yi-Fu Tuan, Professor of Geography at the University of Wisconsin-Madison, spoke about the way the built environment has traditionally reflected and enforced a consciousness of time, questioning whether skyscrapers in the modern city represent a desire to cover up the evidence of human cycles of time and transience and to defy our own finitude. Jean-Louis Cohen (New York University) and James Weirick (UNSW) addressed the urban context of modernist buildings and projects, with Weirick arguing that the indifference to place that is commonly associated with machine-aesthetic modernism needs to be reassessed as most canonical works are, in fact, based on a complex relationship of building to site. Comparing three twentieth-century art museums, Peter Kohane (UNSW) demonstrated how emotionally charged domains can be created within flowing, expansive space. The question of what constitutes a feeling for place was the topic of Joseph Rykwert's talk, "Love and Hate". He dwelt on the ancient Roman term locus amenos (agreeable place), an important concept in understanding how people construct their own habitat. Italian architect Vittorio Gregotti argued for a less oppositional approach to that implied in the theme, putting forward a conception of architectural design as "dialogue" in which a local community can productively and genuinely engage with outside influences. This was to be seen in history, but the current dominance of "excessive subjective expression, backed up by an equally excessive importance of public and private marketing" holds, in his opinion, a grim future for architecture.
Local and global expression were central to the presentations of Zheng Shiling (Tongji University) and Xing Ruan (UNSW). Zheng Shiling spoke about contemporary Chinese architecture in which traditional Chinese elements were combined well with modern forms and construction (Skidmore Owings & Merrill's Jinmao Tower in Shanghai) and examples of "gaudy architecture" in which this was not the case (Beijing West Railway Station). Xing Ruan described modern Chinese architecture through the perspective of the education of different generations of Chinese architects. He argued that early twentieth-century modern architecture in China could be seen as "redefined kitsch". The more recent attachment to figurative fantasies in architecture (for example, Paul Andreu's National Grand Theatre in Beijing and Herzog and de Meuron's Olympic Stadium) have lesser interpretative potential than work from local architects such as Yung Ho Chang,Wang Shu and Liu Jiakun, who carry the expectation of "place identity" much further than the earlier generation of modern Chinese architects.
London-based architect Eric Parry then turned the discussion to a collected contemplation of actual urban context (such as street squares and crossings) as the determinant of form and civic gesture, as seen in his buildings in Findsbury Square and Cambridge. Mark Randall, director of David Chipperfield's Berlin office, hinted at the peculiarities of working in China – being commissioned for a residential project outside of Hangzhou his office had been asked to "deliver a design that is as European as possible". "As possible" is the telling phrase, for what it says about bridging European architectural practice with Chinese market preferences, client demands and, not least, technical and constructional execution.
In addition to these presentations, the symposium included forums involving the keynote speakers, Chinese architects and developers, an afternoon of research papers, a visit to the Commune by the Great Wall, and an exhibition of architectural work by young architects in Asia.
While suffering from the difficulties of discussion via translation, and the somewhat disjointed nature of topics, the symposium did offer a range of avenues through which the meanings of habitation and place in modern architecture and urbanism might be examined further: studies of human territorial psychology, psychoanalytics, the notion of sensuous correspondence, nationalism, the influence of architectural and property marketing, the creation of heterotopias, educational frameworks, heritage conservation, and politico-economic systems of land use and control. These last two issues were major concerns for several of the local delegates. It reminded the Western speakers that genuine theories of place in China will not be born through well-intentioned academic reflection, but from political struggle and gain. Historical knowledge, however, can be used as a tool in this struggle.
The symposium also revealed a number of practices through which Western architectural theory is received and consumed in China. An economy of image reproduction seemed to determine the receptivity of discourse. For example, projections of buildings were quickly and frequently photographed by the audience (mostly local architecture students). Interactions between speaker and audience, both inside and outside the auditorium, was largely mediated by the production of images (symposium catalogue, exhibition opening, press coverage, photoshoots). As symposiums of this kind become more regular in China, with international figures being flown in for brief appearances, learning to speak and critique through this exchange will be a vital means for making an effective contribution to discourse about architecture in that country.
PAUL HOGBEN IS A LECTURER IN ARCHITECTURE AT THE UNIVERSITY OF NEW SOUTH WALES. HE WAS INVOLVED IN ORGANIZING AN AFTERNOON OF RESEARCH PAPERS DURING THE SYMPOSIUM.