In a thoroughly modern and increasingly disenchanted world, are transcendent experiences in art and architecture still possible? Andrew Broffman reflects on the lyrical and, at times, visceral work presented at this year's regional architecture conference.
From the top floors of Townsville's taller hotels, the view to the craggy granite monolith of Cutheringa (Castle Hill) is spectacular. But it is the sounds of the city below – the hammer of construction work, the shouts of evening revellers and the fall of rain on the pavement – that impress the visitor. And as the humid air presses against the skin and the sea-salt sky teases the tongue, one is reminded of beach-side holidays.
The Australian Institute of Architects' 2016 Regional Conference, Evoke, likewise appealed to our senses. Creative directors Lindy Atkin and Stephen Guthrie of Bark Design Architects curated a strong panel of Australian and international architects to explore architecture's capacity to conjure memory, to tease sensuality, indeed to evoke a more visceral response to the formal visual tropes of form and function.
In a high-velocity presentation that blasted through his portfolio of retail architecture, Rodney Eggleston of March Studio shouted his love of material, craft and spontaneity. His self-described "obsession with unpacking and stacking" and with building systems that suit kit-like methods of construction has evolved through numerous commercial commissions. His studio's retail work for skincare brand Aesop has allowed him to explore multiple relationships between material and space, crafting and re-crafting timber, metal, fabric and cardboard to create unique and jewel-like interventions. Carved from otherwise mute commercial tenancies, these sites become their own whimsical eco-systems, consciously removed from the visual noise of the urban streetscape and offering instead unusual worlds for the retail experience.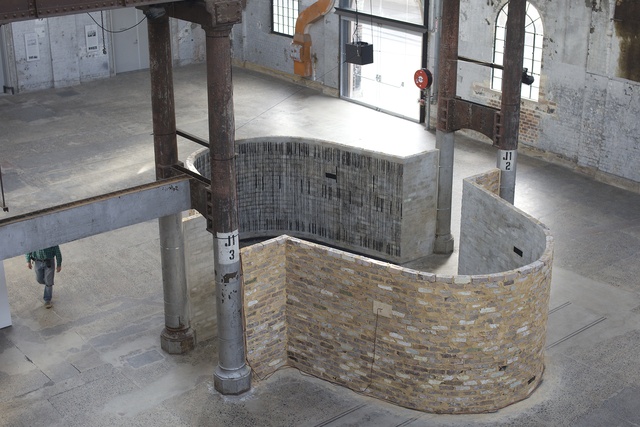 Artist Robyn Backen surveyed her engaging range of public art installations under the theme of "Art and Life" and in the context of her opening challenge: "What is the difference between an artist and an architect?" Is it perhaps, as architect Maya Lin has suggested, that one is a poet and the other a novelist? Backen's own "whispering works" including Rice Talk in Japan (2003), the international collaboration of Nomanslanding in Scotland, Sydney and Germany (2015), and Whisper Pitch at Carriageworks in Sydney (2012) showed us the possibilities of a decidedly visceral and entrancing approach to sound, memory, space and occupancy.
The "Place and Spirit" session included Tim Hay of Fearon Hay Architects, who discussed his firm's Auckland International Airport project, Te Kaitaka or "The Cloak," in which conventional forms and methods of construction are masked by a subtle wrapping of the building's exterior. Stitched steel-mesh screens and a green roof have been gently draped over the facade, softening the harder exterior of a steel and glass meeting space while creating a nuanced sculptural response. From the practice's "curation" of the owner's timber collection at Forest House to the exploration of what Hay calls "moding" at the Mountain Retreat in Central Otago (a building that "gets lost in the shadows of the trees"), Fearon Hay's is an evocative architecture that sits comfortably with Hay's own poetic descriptions.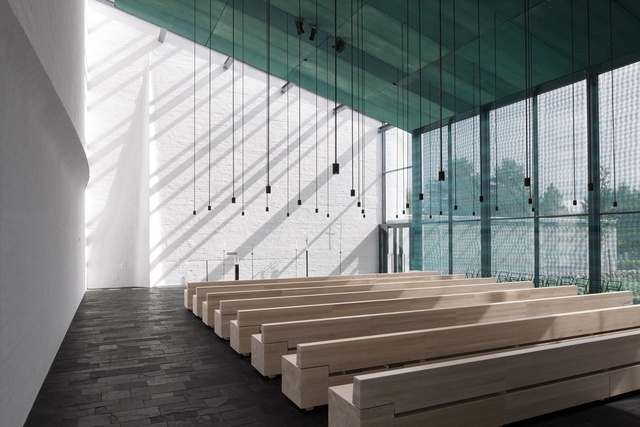 Anu Puustinen of Avanto Architects was a revelation. Her opening photograph of a frigid winter swim illustrated the name of her firm – "avanto" means "hole in the ice" in Finnish and is the name for the culturally popular ice swim – and its philosophy of creating environments that evoke emotions. Avanto's work is committed to spaces of spirit and ritual. The plan of the Chapel of St. Lawrence in Vantaa – a place for funeral ceremonies – traces the movement from courtyard to lobby to chapel, each space signalling a ritual transition from public place to private sanctum. The material palette is beautifully considered: slate stone floors, bagged brick walls, patinated copper ceilings, forged door hardware, crafted glass and white oak timber joinery come together to create a protective space that invites one to locate memory and embrace grief. Puustinen described the ritual movement through the Loyly Sauna in Helsinki in much the same way: the journey through spaces, levels and temperatures inscribes an experience of cleansing for the mind, body and spirit.
Australian landscape architect Kate Cullity from Taylor Cullity Lethlean joined Shimul Javeri Kadri from SJK Architects in India to offer two engaging presentations on the theme "Landscape and Poetry." Cullity's gentle and relaxed survey of her firm's work was framed by the recurring themes of narrative, the cultural and social ecology of site, the site as found, material presence and collaboration. From her descriptions of the practice's projects, typified by mesmerising forms of abstraction and order, to her humorous "pee stop" photos of landscape in close proximity, the audience was left wanting more as time ran short.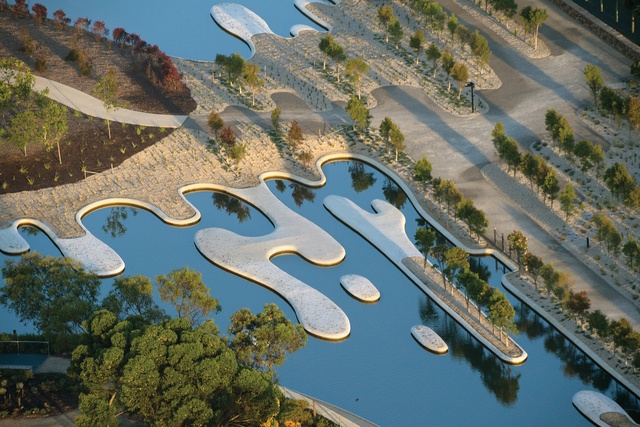 Javeri Kadri spoke of her love of Mumbai, "a city that got everything wrong but is still a wonderful place." She examined a range of traditional architectural forms that continue to underpin her work today, and her survey of the influences of modernism in India included the work of Le Corbusier, Charles Correa and Louis Kahn. She lamented what she called "1990s Punjabi Baroque," the apotheosis of colonisation, "when a culture has lost its beauty." The images she shared were like an enticing travelogue of India: the country's vernacular forms, rich history and complex religions formed the backdrop to a catalogue of details and elements, from streets, entrances, lights, colours, facades and openings to materials and technologies.
Renowned Japanese architect Kengo Kuma was the last of the conference speakers. In "Sensing Space," Kuma covered a range of his practice's projects, including museums, residential work, civic developments and bathhouses. His moving story of a formative visit to a Bruno Taut house framed the context for his own nearby Water/Glass house. Kuma concluded his presentation with sobering words in the wake of the earthquake, tsunami and Fukushima nuclear disaster of 2011: "Steel and concrete do not survive. We must instead return to the humbleness of earlier times."
The Evoke conference posed questions that have assumed a particular resonance in recent times. In a thoroughly modern and increasingly disenchanted world, are transcendent experiences in art and architecture still possible?1 Evoke affirmed the promise of a sensual architecture, one that appeals to memory in the places we inhabit.
In this year's Evoke, and 2013's Spirit of Place, led by creative director Stephen de Jersey, the Australian Institute of Architects has shown a deep commitment to regional architecture and the celebration of the local. These captivating and inspiring conversations have allowed for a thoroughly meaningful interrogation of ideas. As Evoke has shown, the view may be grand, but it's the sound, the taste and the smell of a place that will entice us to return.
1 Jeffrey L. Kosky, Arts of Wonder, (Chicago: The University of Chicago Press,  2012).