Produced by Hayball, Exchange: Collaboration, Convergence, Conversations functions as both architectural manifesto and contemporary overview of the Australian architecture firm. While seductive publications have become tools of promotion and legacy building in our profession, this book also provides a more critical and intriguing insight into the motivations and social ramifications of architectural practice in Australia.
The subtitle of the book immediately alludes to this more nuanced approach, identifying three key themes: collaboration, convergence and conversation. From here the book sets out to frame issues that have been developed and grappled with over the course of thirty years – issues that Hayball can now say are formative of its practice. These are listed as "The Rise in Apartment Living," "Transforming Education," "Site Responsive Design," "Future Housing Directions," "Creating Successful Places" and "Australia in the Asian Century." Instead of the typical taxonomy of an architecture firm told through the conventions of time lines or program, this format sets up a series of arguments framed by short essays, contributions from different stakeholders and project descriptions. Emphasis is placed on contextualizing these themes in terms of local conditions, programmatic history and contemporary scenarios in governance and social change.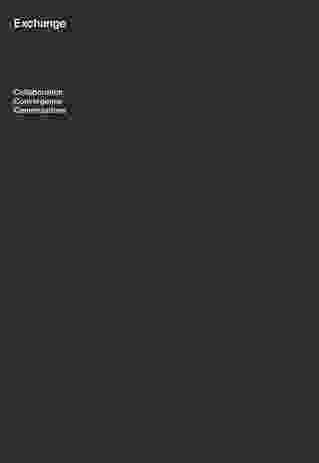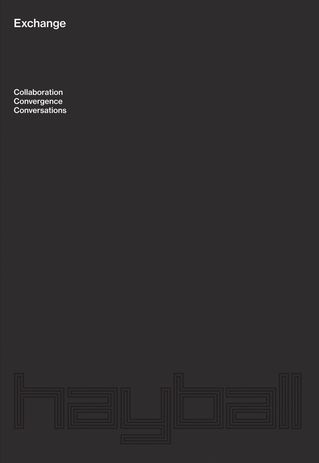 What is most interesting about this book is that it endeavours to chart the wider causal relationships that shape the built environment. This situates Hayball as a conscientious participant in the greater story of urban transformation, rather than a radical forerunner of such change. (The fact that architects are never simply solo activists for this kind of large-scale urban change never seems to preclude proclamations to the contrary.) Hayball's ongoing commitment to research and academia is highlighted in the book, with a rousing introduction by Professor Shane Murray. Like so many monographs, Exchange sometimes reads like a litany of self-congratulation; however, collaboration is central to the firm's process and this is shown not simply by naming consultants, but by framing their contribution at an equal weight to the built form itself. Architectural practice is acknowledged as a relational set of individuals exploring, developing and facilitating the completion of a built project. In this way the education section – clearly the core area of the firm's practice – is explored in an essay by Hayball director Richard Leonard as well as perspectives from an education consultant, an interior architect, a school principal and a student.
Initially one of my main frustrations with Exchange was its quite astonishing lack of architectural drawings. With only a few exceptions, communication is limited to text and photographs of finished projects. Without the detail of drawings or even spatial diagrams, there is little evidence to back up the book's explorative thinking and the claims that are made in the text. This is amplified by the critical importance of the issues being discussed and the reader's desire to understand the subsequent spatial responses. An example of this is an exploration of the development of apartment typologies in Melbourne that charts the expansion and contraction of domestic inner-city living. How has contemporary planning evolved from Best Overend's exquisite Cairo apartments? How does the shifted hierarchy of domestic spaces work in a contemporary Australian apartment? Do we really need bedrooms at all? (It is interesting to remember that bedrooms are markedly absent in the minute apartments of both Overend and Roy Grounds.) After such a clear articulation of the transformations in apartment living, this reader was left hankering for greater architectural innovations than simply the moveable partitions we can see in Hayball's interiors.
This does, however, point to the book's intended audience. Rather than simply seeking an introverted dialogue within the profession, it looks outwards to engage multiple aligned and interested parties. By this I don't mean it serves as merely a promotional brochure for future clients (though I'm sure it functions as this as well), but that it is a reflective document that articulates the contemporary thinking and practice of Australian architecture. It feels as if editorial zeal has cut short both texts and whole sections, giving clear preference to areas such as education over site-responsive projects, but this does keep the content fairly brief and therefore highly readable. So while lacking in more rigorous architectural analysis and detail, this slim book aims to engage readers, if not fully satisfy them. In the introduction, Shane Murray prophetically writes that architects must avoid the individualistic mentality of The Fountainhead's Howard Roark and instead become strategic design thinkers who are "effective agents for achieving comprehensive social and environmental sustainability." Exchange documents an Australian firm that is actively pursuing exactly that.
Exchange: Collaboration, Convergence, Conversations (Hayball, 2013, 136pp)
Source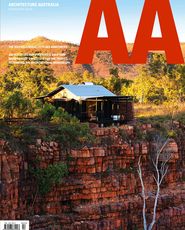 Review
Published online: 3 Jul 2014
Words: Sam Spurr
Images: Peter Clarke, courtesy of Hayball
Issue
Architecture Australia, March 2014
Related topics