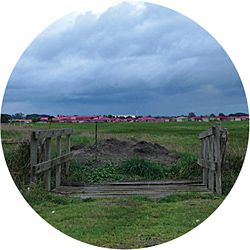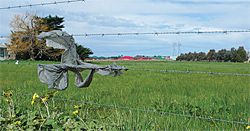 Yesterday morning I was given a present by one of my RMIT international students. He was a very young Chinese man from a small town outside Shanghai, an undergraduate student about to begin at least five years of architectural study here in Melbourne. In truth I only advised – helped – him once; nevertheless, my advice was evidently appreciated. And so it was that on his second visit to my office he arrived – shy, very slight, with scratchy English and scruffy black hair, carrying a large, flat parcel wrapped in newspaper and bound with thin strips of red handmade paper. A gift. And suddenly I'm embarrassed. Embarrassed for my previous impatience, for receiving a gift for doing my job, and then embarrassed for what is revealed when I lay bare my gift. Underneath those folds of newspaper, there in a worn timber frame, looking out at me, is an elaborately embroidered Chinese woman, her face brightly flushed with red make-up and a knowing expression. Black eyes and hair styled and contrasting against that white and red skin. She holds a fan against her long, flowing dress that arcs up against a backdrop of swirling, finely stitched yellow and green threads. Needless to say, it's quite something.
"Do you like it?" he asks.
I'm not so sure, I think. But I say, "Yes, it's very beautiful! Thank you very kindly."
Flashing through my mind is more than a decade of design enculturation, a privileged architectural discourse of which I am part that favours more or less a set of particular things and aesthetics. Quite broad, agreed, but refined, certainly of good taste – from the minimal and modern to abstractions and expressionism, from the avant-garde and postmodernism to more recent explorations of a mannered type of neo-regionalism or vernacularism. Varied it may be, but somehow certain things, aesthetics and cultures don't fit so easily into its relatively inflexible parameters. And certainly this picture – with its flashing colours, textured, handmade and stylized – is not so easily accommodated.
I find myself looking at it with a growing unease – something is confronting about the fact that I feel obliged to hang the picture immediately in my office. I'm aware some people will see this as bad taste. And while we – the academy – would like to think of ourselves as accepting, broadminded, cross-culturally well versed and well equipped, I'm not so sure we are.
My experience of working across and, indeed, between cultures has been mostly with architects and students from South-East Asia. And while there is substantial cultural and ethnic difference within South-East Asia itself, that difference is not so stark as that between Australian and South-East Asian. Something of the event I've retold – something beyond the picture, something of that young boy who sat so quietly in my office looking at me too long, waiting, waiting for something I didn't know what to give – confronts those differences. And yet for the international student and myself, difference is our common ground. The student's challenge to make comprehensible a language, a culture, an educational system so radically varied from his or her own cannot be underestimated. And by turn our responsibility to ease and make legible – and bearable – this foreign system and educational paradigm is substantial. This piece is not about international students' integration into RMIT or, for that matter, Australian universities generally, but rather aims to raise issues observed from my experience that shed light on working across cultures, but also on issues and complexities that are, to my mind, of relevance not just at the international scale but also at the local. Profound cultural difference – just plain difference – exists within Australia itself, between one socioeconomic group and the next, one suburb and the next, from neighbour to neighbour and, dare I say it, between one class and the next.
Misunderstandings, misrepresentations – point-blank non-comprehension occurs not only between one culture and the next, but across all spectrums of society. For the family living on Melbourne's periphery, at Cranbourne, Broadmeadows or even further afield, the reality is if they aren't actually speaking a different language, they may as well be – particularly when it comes to design, aesthetics and the culture of architecture. This is not just about issues of taste and education but of power and access – of power to be heard, to participate in a forum, to exchange ideas. And in a climate where architects and planners are increasingly being asked to consider issues of sustainable urban development and more appropriate models for housing and large-scale developments, this clash is an issue. The situation is made even more difficult given we live in an economy that favours the volume building industry – the Metricons, AV Jenningses and the like – for the production of the population's housing. Well known and lamented is the difficulty for the architect to contribute in any large-scale, significant way. There isn't the market nor the political or cultural impetus to support much-needed architectural contribution.
Conversely it could be said that architects could do more to alter the way in which they approach the market, the government or the problem. Perhaps shifts in practice models are needed, greater consultation with the market itself, using or employing other marketing and economics specialists. Indeed, for the most part, more active working across cultures! Sure, some examples can be found with individual practitioners – for example, Chris Barnett at Third Skin, or the Monash Architecture Studio (MAS), or Bent Architecture with its socially and environmentally sustainable developments, to name a few. But by and large, the experience of being in these rapidly developing outer suburbs is 99 percent depressing. Mile after mile of relentless, homogenous, unsustainable development with little or no amenities, terrible public transport systems and little or no community recourse is downright disturbing. And the streetscapes themselves: a competing vista of over-scaled, bulbous brick homes, each with flabby, outmoded planning and poor orientation thinly veiled in mock-period-style aesthetics.
There is more to be discovered in the realities of working across cultures. Over several years working with international students – and students generally – I have found that the strategies that result in relaxed, engaged, communicative learning are ones where both parties – educator (or architect) and student (or client) – approach the task as an exchange. In this scenario, students are invited to participate and share experiences, while the educator, who provides a secure platform from which to learn, experiments and applies knowledge. This creates a forum where the particularities of each culture and project are given room for expression. Both parties engage in a process that inherently acknowledges and accommodates difference. As I sit here writing, my appreciation of my silk lady grows, the detail, the colour and glittering ornamentation a relief against the starkness of my office – of my little pizza box.
Source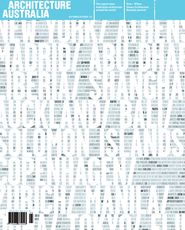 Issue
Architecture Australia, September 2010