Photography Carla Gottgens.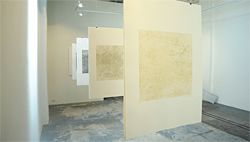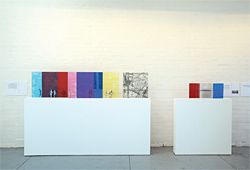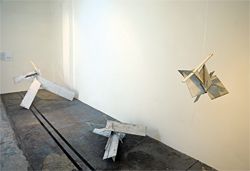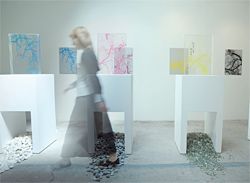 Hélène Frichot explores the nature of Chelle Macnaughtan's (De)bordering Indeterminacy.
What happens to critique when the critic is located in intimate proximity to the work? The creative work here reviewed from the standpoint of close vision: I am pressed against its surface as I survey it, and I have travelled much the distance of its realization. Yet I am always, necessarily, merely a chaperone, and I still do not yet understand the full scope and implication of the work. Chelle Macnaughtan's bordering Indeterminacy presents an immaculately interconnected series of design research projects that have been undertaken during her candidature as a PhD student the School of Architecture and Design, RMIT University. am her first supervisor. Focused musician Michael Fowler, who practised for hours every day for some weeks in order interpret and perform a realization of Chelle's text score Voix on the opening night, is her second supervisor. Between the two of us, between the disciplines of architecture music, we attempt to offer guidance and advice, and empt adversarial attacks. Still, this problem of close vision in the way. It affects our capacity for clear and distinct thought, and yet at the same time it suggests that disinterested critique is suspect. Whatever your distance from the work, whether you are close up or far away, you must enter into some sort of relationship, even forge some contract with the work, if you hope to offer any kind of comment on it.

Some years ago now, when Chelle first showed me her series of etchings, 74'56"(Space in the Sound of Architecture), thought I recognized her project as being derivative of Daniel Libeskind's Chamber Works: Architectural Meditations on Themes from Heraclitus (1983) and similar unbuilt or unbuildable architectures of the imagination. What wild and evocative constellations of barely recognizable drawn fragments swept into furiously calm arrays that confound space even more exhibitionthan a Piranesi etching! I began with the default position of what I could immediately comprehend, and wondered why Chelle was reiterating Libeskind. I am still coming to terms with the superficiality of my first, presumptive reading. The twenty-seven etchings that compose 74'56" (nine of which are exhibited at Red Gallery) are neither spatial nor temporal, fast nor slow, clear nor obscure. Instead, they are a performance in etched notations that borrows from both architecture and music, and sonorously fades from sooty blackness to pale, yellowed white, inviting us all the while to meditate on the sound of architecture. The notations are drawn from a sound recording of Chelle wandering through Libeskind's Jewish Museum in Berlin. Music notations – some borrowed, some bespoke – are assembled with fragments taken from the set of conventional architectural drawings that describe the Jewish Museum. Despite the appearance of quiet disorder in Chelle's drawings, the marks are positioned on the page according to a set of exact instructions developed from indeterminate procedures.

Across her suite of eight major and three minor projects die have been cast, even numbers have been chosen out of a hat, Chinese yarrow sticks have been thrown, dates have been gleaned from the footpaths of Paris and, importantly, John Cage's techniques of indeterminacy, such as using the I Ching, have been explored and employed (her practice in large part develops from research into Cage's work from the mid 1950s onwards). Chelle painstakingly pursues analogic algorithmic processes that subtly dismantle her authorial role, but without the convenience of a computer to hastily complete her task. Her signature is erased and reinstated iteratively as she asks in the same breath, what is the sound of architecture and what is the architecture of sound? Her work oscillates across the interval of these practices toward a state of beatific stillness.

Chelle's creative work operates across what she calls a terrain of negotiated exposition between architecture and music. This is no transdisciplinary feint to make the institution happy, but a practice that developed out of years of experience in both disciplines. In keeping with her circumscribed techniques of indeterminacy, her work has often responded to contingent encounters in the form of chance invitations to create. Chelle has collaborated with Philippe Genty and Mary Underwood, famed theatre director and choreographer of Compagnie Philippe Genty, who asked her to compose a set of choreographic scores using the notations from her earlier 74'56" project. Recently deceased American dancer, choreographer and lifelong companion to John Cage, Merce Cunningham, was also intrigued by her work and a speculative stage was made for his company and exhibited in New York. In addition, Chelle's work is internationally recognized for having contributed to John Cage scholarship.

In questioning signature, authority, différance, the sensation of listening and the nature of the open work, Chelle also finds support in the philosophical thought of Jacques Derrida, Jean-Luc Nancy and Umberto Eco. While the exhibition is the culmination of her research for the purposes of her PhD, the work is inherently open. One project has led into another, and a journey of presences and absences has been taken across the collected works. These ongoing journeys can be tracked back and forth across the gallery floor as works reflect each other in carefully choreographed arrangements. The etchings of 74'56"(Space in the Sound of Architecture) venture the reverse question of AI (Sound in the Space of Architecture), a collection of reconfigurable aluminium panels based on the hertz values of a Cage notation. L'Étre en Vol draws its notational resources from 74'56" to offer Genty's performers a choreographic score. Les Saisons continues the relationship with Genty and suggests, through incomplete architectural details, a collection of multi-configurable transportable performance spaces. And the intertextual correspondences continue. Les Saisons is also the final major project and maps sidereal constellations across the life itineraries of earthbound journeys. It circles through the seasons and the elements as it engages in the dynamics of quiescence, creation, preservation and destruction, each given its sonic register through the sound of different stones crunching underfoot.

Chelle tells me that toward the end of his life, Cage would wander around with a satchel full of printed sheets of matrixes of numerical combinations related to the I Ching, from which he could draw his indeterminate instructions should he be invited to perform. Chelle has also been travelling for some time now, pacing herself, suspending, slowing down and speeding up, with a matrix of projects and theoretical reflections from which her practice will continue to burgeon. We await her culminating performance in an interval of sonorous stillness.