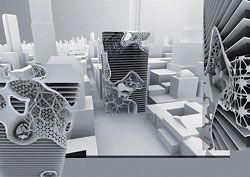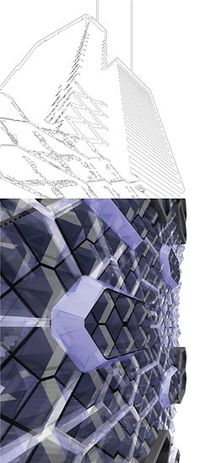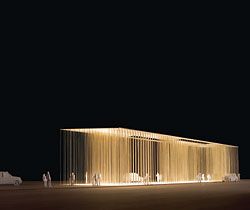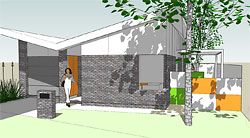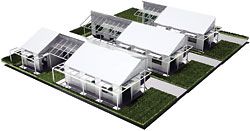 Eugenie Keefer Bell reviews a recent exhibition of new work by young architects with a Canberra connection, which provides an optimistic outlook for the future of the profession.
Architecture Week had an early start in the national capital. On 23 October, the Front Gallery and Cafe opened The New Push, a selected exhibition of unbuilt works and works in construction by emerging architects associated with Canberra. Included were project and text panels by Carmody Groarke (Kevin Carmody and Andrew Groarke), Obelia Tait, Danny Griffin, Will Eastlake, Gibson Judd + Associates, Supermanoeuvre (Dave Pigram and Iain Maxwell) and Kokkugia (Jonathon Podborsek, Roland Snooks and Robert Stuart-Smith).
Kenny Lemire transformed the tiny gallery space with an ingenious construction of environmentally friendly X-Board that supported the exhibitors' presentation panels, with just enough room for the opening night guests to slide past one another. The New Push wasn't in this spot for long, moving a few days later to the more spacious Canberra Centre for the duration of Architecture Week.
For some exhibitors, Canberra was the foundation of their engagement with architecture. Daniel Griffin recalled his sense of elation when emerging from his first architecture lecture with Professor Stephen Frith. Recovering from a potentially crippling disease at the time, it was the start of his first three years at the University of Canberra. His premonition of "rightness" was well founded: after completing his studies at RMIT, he was recently awarded joint first prize in the Colorbond Steel Student Biennale Travelling Exhibition. In his current exhibition project, Tower Malapropos, Griffin interrogated notions of public space, especially the juxtaposition of apparently disparate activities – a brothel, youth hostels and a mosque – set in close proximity in central Melbourne.
Others came to the national capital after completing university studies. Nathan Judd moved to Canberra in 2002 and in 2007 established Gibson Judd + Associates, simultaneously teaching at both the University of Canberra and Canberra Institute of Technology. His exhibition panels include a National World War I and World War II Memorial entry for the open international competition, in which Judd draws on an abstracted language suggesting concrete bunkers and armadas of combat vessels. Butterfly House, a commendation-winning ACT small-block housing project, asserts the potential of affordable, gracious design, while Survival3, a proposal for the 2008 London Design Fair, is a mass-produced, flat-packed, 2.3-cubic-metre cube providing a relatively secure working and living environment in emergency conditions.
Supermanoeuvre, founded by Dave Pigram and Iain Maxwell in 2006, is a collaborative practice which has already exhibited in Australia, the UK and USA and was represented at the 2008 Beijing Biennale. Dave completed a Bachelor of Architecture degree at the University of Canberra, followed by a master's degree at Columbia University, while Max is currently doing graduate work at the Architectural Association's Design Research Laboratory. Both have taught at the University of Canberra and have been invited jury members in Australia and abroad. Supermanoeuvre's exhibited projects, Protosynthesis and Trabeculae, further its research into the capacity of generative models to develop novel architectural forms. Their integration of complex "nets" into a multi-storey building fabric is dynamic and provisional, anticipating future possibilities for a re-imagined urban setting.
The London-based practice of Kevin Carmody and Andrew Groarke (Carmody Groarke) is connected to Canberra through Carmody's first-tier studies at the University of Canberra prior to completion of second tier at RMIT. Only eighteen months after its establishment in 2006, Carmody Groarke was named the 2007 BD Young Architect of the Year. They were awarded second place in the international design competition for the new National Library of the Czech Republic in Prague, with a crystalline building which distantly recalled Mies' 1921 design drawing for the Berlin Friedrichstrasse Skyscraper Project. Also exhibited were two first-place competition entries, currently under construction. The Sheffield Festival Centre new build and refurbishment of an original warehouse is a restrained massing of rectilinear forms, counterpointed and relieved with multi-floored vertical fins. On a much smaller scale, but also in a distinctly urban setting, is their Osnaburgh Street Pavilion for Regent's Place, London, due for completion in 2009. At the end of Soane Street, their 250-square-metre "forest" of eight-metre-tall steel rods suggests a copse of ornamental trees, while a golden canopy delineates an area of both passage and pause. This poetic work, shimmering in sunlight and transforming into a glowing lantern at night, will be a jewel-like intervention into the public realm.
The dynamic young practitioners represented in The New Push offer an optimistic view of the future of architectural practice. They suggest the flexibility, adaptation and imagination much needed for rapidly changing global conditions.

Dr Eugenie Keefer Bell is a senior lecturer in architecture at the University of Canberra.