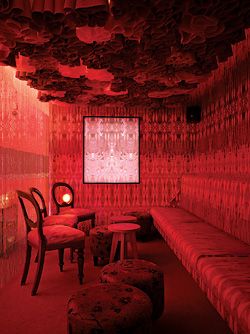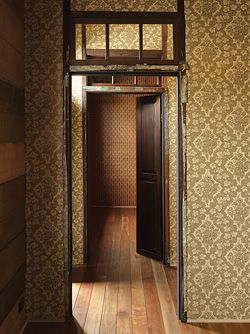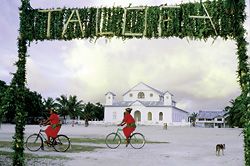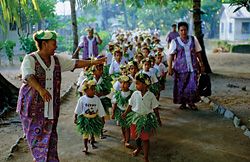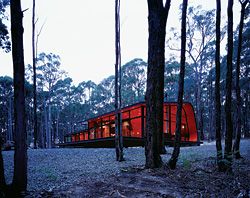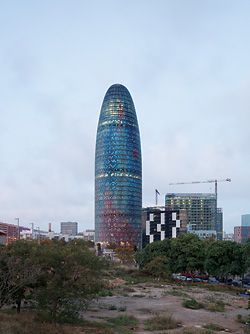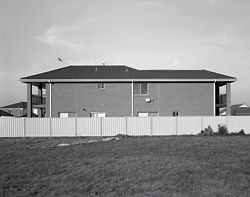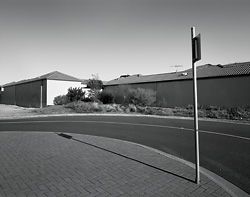 Naomi Stead considers the exhibition by Peter Bennetts, Recent Architecture Photography.
Peter Bennetts' exhibition Recent Architecture Photography was hung in the central atrium of Sun Studios, a converted warehouse in Sydney's Alexandria. This is a long, high, top-lit space, divided into bays by timber portal frames, with a cafe at the end featuring a conservatorium-like array of hanging plants. The photographs were hung on the side walls, stretching the length of the busy space, available to be perused as people came and went from the reception, the studios and the equipment rental store and stopped for coffee. All this bustling movement was in marked contrast to the photographic images, which have a remarkable crystalline stillness.
I'm told that to the trained eye, the visual style of individual architectural photographers is immediately recognizable. Bennetts' work is often characterized by a "straight-shooting" perpendicular angle, usually with a viewpoint at eye level, frequently in an ordered, orthogonal, one-point perspective, and always without artificial lighting effects or theatricality. The exhibition features only the architectural work, but Bennetts' portfolio (found on his website) is large and diverse. It is fascinating to examine the portraits (Jean Nouvel, Peter Cook, Greg Lynn and Bill Henson, among others), the advertising work (including part of Tourism Victoria's iconic "Lose Yourself in Melbourne" laneways-and-red-string campaign), the architectural heritage images, and especially the "reportage" or social documentary.
This last body of work seems most personal to the photographer, and can be seen as a kind of mutely eloquent activist practice. For the past ten years, Bennetts has been travelling to the islands of Tuvalu in the South Pacific. This scattered nation of low-lying coral atolls is expected to be one of the first to be obliterated by rising sea levels. Already cyclones and extreme weather are beginning to swamp the islands, and their ten-thousand-strong population is likely to have the dubious honour of being the first climate-change refugees. Bennetts' photographs of these people and their culture have been published in book form by Lonely Planet, and the images – of festivals and buildings, fishing and swimming, of ordinary, everyday island life – have a sharply poignant quality. Not that the photographs are sentimental, and the Tuvaluans themselves are reportedly adamant that they will survive their dispossession and remain strong as a nation. But still, there is a sense of imminent change and loss in these photographs, for all their light and colour. Bennetts says that he regards the Tuvalu work as his life's calling, that he intends to be there "when the last person is airlifted off with the waves lapping at their feet."
Bennetts is a thoughtful man, quietly spoken and intent. For an established, successful and widely published photographer, he still seems mildly amazed at his own good fortune. "It's not every day you get to drink a glass of wine with Jean Nouvel," he says, describing the benefits of the job. "I feel incredibly privileged – you get to travel the world, meet amazing people, spend time in people's houses; you get to make comparisons between the work of different architects …" The list goes on. Of course there are also discomforts and difficulties as well, especially for a photographer who prefers to work without artificial lighting, and who thus occupies the ends of the day, the gloaming hours at dawn and dusk. He describes, amusingly, the strange inevitability with which a delivery truck will arrive and park casually right in front of the building you are photographing, just at the point when the light conditions that you have been waiting for since before dawn become perfect.
Bennetts says he fell into architectural photography partly because he found himself surrounded by so many architects, including his wife, Rowena Hockin. Perhaps it also had something to do with the milieu of Melbourne, where he is based and which features in much of his work. "Melbourne breeds architectural photographers, like maybe nowhere else in the world," Bennetts says. This has to do with a vibrant architectural culture, he says, but also the technical excellence necessitated by the changeability of light and weather conditions – you really have to be on your toes to get the shot. In this sense it perhaps also helps that he works quite "lean", without a lot of paraphernalia and gear, using only a digital camera handmade in Switzerland.
The images in the exhibition were grouped in loose clusters – a series of towers, a series of interiors, abstracted views of building exteriors as well as classic overall frontal views, and the triptych When on a Winter's Night a Traveller, a collaboration with Matej Andraz Vogrincic. Within these groupings there are several standout images, individually and also as juxtapositions. The decadent scarlet boudoir of Cassandra Complex's interior for New Gold Mountain contrasts with its neighbour, the spare but highly patterned interior of the heritage Singapore Cottage, restored by RBA Architects and Conservation Consultants. This pairing is carefully curated – Bennetts points out that each of these projects is indirectly about the history and legacy of the gold rush in Victoria, with its boom and bust waves of immigration. Another image striking in its rich colour is of Jesse Judd Architects' Wheatsheaf House, the lush red of its interior glowing in the grey-green and black of its twilit eucalyptus forest site. Of the international projects, the image of Ateliers Jean Nouvel's Torre Agbar in Barcelona is remarkable, with the sleek, slick tower appearing to rise from a weedy and rubbish-strewn vacant lot. But in all of the exhibition, the most thought-provoking and perhaps disturbing images are the least visually beautiful, and certainly their subject is not high-style architecture. The only black-and-white images in the show, they demonstrate the outer-suburban daily reality of a large proportion of Australians. This batch of sobering ugliness, at the back of the exhibition, shows that here is a photographer who can take more than just a gorgeous picture. He can also observe conditions in the built environment and present them as images, silently but pointedly, in order to make us think.

Dr Naomi Stead is a Postdoctoral Research Fellow in the Architecture Theory Criticism History group at the University of Queensland.