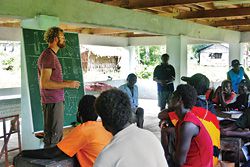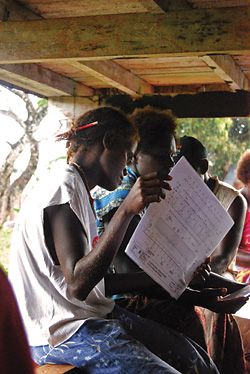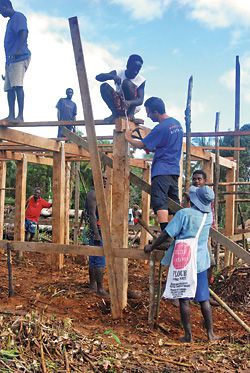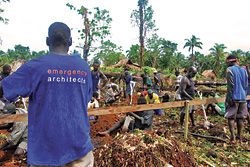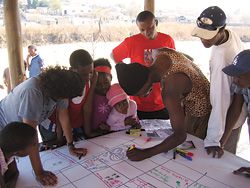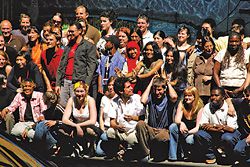 Lucy Moloney reviews a recent joint exhibition at Sydney's Customs House, which explored how architects might make a difference.
The public realm has benefited greatly from the work of architects, yet without a substantial shift towards more socially engaged professional practice, their impact will remain limited where it is needed most. This was explored in a recent combined exhibition by Emergency Architects Australia (EAA) and Global Studio at Sydney's Customs House, which showed how Australian architects, students and other design professionals, including international teams, are lending a hand by helping to improve the lives of slum dwellers and rebuilding in disaster zones such as the earthquake/tsunami-struck Solomon Islands.
The City of Sydney's Customs House Manager Jennifer Kwok should be commended for the multidisciplinary program, which often activates this very central public space with contemporary architecture. Rewind to the 2008 exhibitions Bruce Rickard & the Sydney House and Sustainable Sydney 2030, or consider the still-running installation Green Void by LAVA (Laboratory for Visionary Architecture) and the two exhibitions under review here.
Emergency Architects and Global Studio provide challenges to "practice as usual". The exhibition delved into the who, what and why of both organizations over thirty panels. Emergency Architects is a global, independent, not-for-profit organization based in Australia, France and Canada. Since 2001 it has fielded operations in nineteen countries, facilitating the work of almost 900 architects from around the world in aid of populations affected by disaster. The exhibition profiles work from Emergency Architects' Australian operations, which began in 2005, and includes assisting with emergency relief and reconstruction programs in Pakistan, the Solomon Islands, Sri Lanka, East Timor and Aceh.
Featured in the exhibition is EAA's remarkable response to the devastating Solomon Islands tsunami/earthquake of April 2007, where over 140 schools were destroyed or badly damaged. It shows how an organization can work organically with a community to learn their priord their skill sets and respond to their procedures for reconstruction. It showcases the construction workshops for earthquake-resistant structures, which were held in seventy villages; the development of a set of standard building designs and cutting lists, to be used by local communities for school reconstruction; and the staged construction of the Ngari Community High School. This project now has further funding and at the time of writing work was to begin in April 2009 to complete the remaining classrooms, dormitories, administration facilities, ablution blocks and teachers' houses before September 2009.
The Global Studio, an innovative "think and do tank", grew out of the United Nations Millennium Project Task Force on Improving the Lives of Slum Dwellers and was developed by the University of Sydney, Columbia University and the University of Rome – La Sapienza. Working across disciplines and institutions, with local government, aid agencies and communities, Global Studio has sought to develop new modes of education that can help practitioners address social exclusion and urban poverty.
The exhibition displayed projects which, in three countries over four years (2005–2008), have brought together over 450 students, academics and professionals from more than thirty countries and fifty universities, half of them from developing countries. Students from twelve Australian universities have taken part, with keen support from SONA. Global Studio has led several People Building Better Cities conferences in tandem with a ction-based workshops to develop propositions and strategies in communities such as Zeyrek, Istanbul; Vancouver's Downtown Eastside; and Johannesburg's Marshalltown, Alexandra and Diepsloot. The exhibition highlighted the continuing program in Diepsloot, where Global Studio is working with residents to improve water management through innovative landscape design, to insulate shacks, to transfer skills and generate jobs and, through design, to help develop local communications, arts and culture.
According to Dr Anna Rubbo, Global Studio's Convenor, a key objective is to enable design professionals to assist people in disadvantaged communities to be "the agents of their own development. It's worth taking note of [Bronislaw] Malinowski, one of the founders of the ethnographic method. As design professionals we have to come down from the 'verandah' and into the slums to understand what matters."
The exhibitions at Cus toms House sought to explore the subject through the eyes of those working in the field, with varying means across various regions. Historically, the less fortunate have benefited from a culture of pro bono services made available by the medical and legal professions. The growing engagement of the architectural profession with socially responsible work in disadvantaged and disaster-struck communities is challenging the image of architects being available only to the corporate or wealthy client. On our own doorstep, there has been an overwhelming response from the profession, including EAA, to the Victorian bushfire disaster, with offers of support and involvement in the Built Environment Bushfire Support Roundtable of government and industry. This is intended to establish a broad partnership to provide coordinated and ongoing services. Like philosopher Peter Singer's recent book, The Life You Can Save: Acting now to end world poverty, these two exhibitions offer a platform for further action by design professionals and educators to emerge and evolve.

Lucy Moloney is a Sydney-based architectural writer and design research consultant.


The joint Emergency Architects Australia and Global Studio exhibition showed at Customs House, Sydney, 10 December 2008 – 8 February 2009.

The Emergency Architects Australia exhibition also showed at the State Library of Queensland and is available to tour. For more information or donations go to www.emergencyarchitects.org.au.

The Global Studio exhibition is also available to tour. For more information and future tour dates in North America and Europe see www.theglobalstudio.com