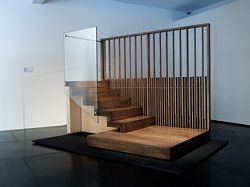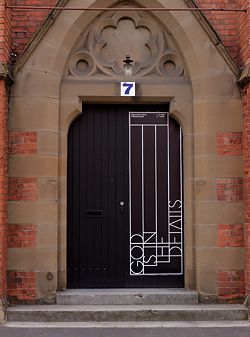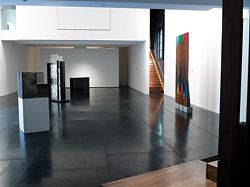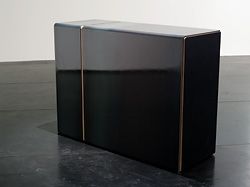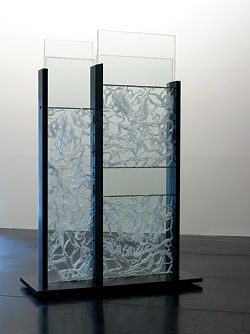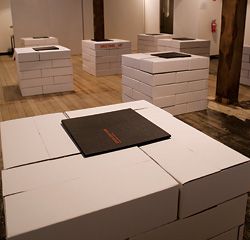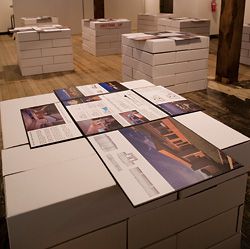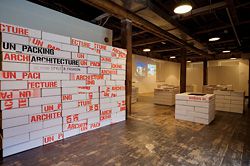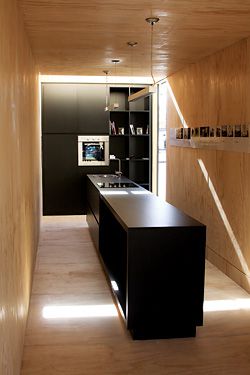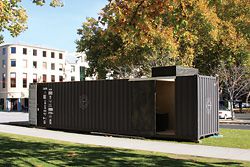 John Ancher considers three recent installations in Hobart – God is in the Details, Un_Packing Architecture, MODV 2.0.
Design Island is an annual Arts Tasmania project with design industry involvement. This year the event was staged from 1 to 10 May around the state. Design Island promotes Tasmanian design and designers through exhibitions, workshops and talks – some officially organized, others spinning off through private initiative. Fifty-one designers were represented in 2009, a year that featured architecture as never before.
This article reviews two architectural exhibitions, God is in the Details and Un_Packing Architecture, and MODV2.0, a prototype for affordable housing mounted on the Salamanca Place lawns. All three projects received funding through arts@work industry showcasing grants.
God is in the Details: Architectural Thresholds explored the idea of finely crafted and intricately considered architectural details comprising functional sculpture. One might hope to see prototypes not yet fully resolved exploring new possibilities. Alternatively, a well-resolved construction detail already pioneered successfully might be further refined into a piece of architectural jewellery. Both these approaches use the built "detail as sculpture" concept to explore or develop design opportunities, beyond any frustrating constraints imposed by clients.
The exhibition displayed five freestanding "sculptures" in the superb gallery space of Detached, a converted nineteenth-century church in Hobart's Wapping development. Terroir's concrete ramp and galvanized steel pipe handrail design, also in the show, is an external working addition to the building. Curators Peta Heffernan and Sarah King provided the six exhibitors with a lucid exhibition brief. In Sarah King's concluding words, "It has been left to the architects to choose the building detail. (We hope to be shown) where … a fragment of architecture has come to embody a larger idea so well that it is worthy of singling out."
1 + 2 Architecture's exhibit, intended to investigate an early learning centre's "facade treatment", explored stained colour options on three identically abstracted panel segments. For this low-cost facade treatment detail to work convincingly, more than attractive colour harmonies needed to be investigated. Functional fit was ignored. This "sculpture" was meant for frontal inspection only.
Forward Brianese + Partners' translucent screen, described as a prototype exploring the generation of "dynamic properties within a static facade", was linked to a new dance/drama studio in a Hobart high school, due for completion in 2010. Here, strips of recycled plastic milk containers were placed in swirling patterns between two sheets of glass in a segment of a glass walling system. Having no front or back, this exhibit worked well as a sculptural object, but was it a clever exhibition piece or a serious architectural prototype?
Morris-Nunn & Associates offered a deep window detail for a private chapel. Steel plate thick as the hull of a battleship lined an exaggerated internal masonry reveal. A sill "spider gap" between steel and glass was clumsy. God in the detail here was circumstantial.
Dean Baird and Karryn Irwin provided a segment of a mild steel and Formply reception counter, in which they explored the difficulties of working decoratively with mild steel bent on a tight radius. While this "detail" was a legitimate prototype for an engineering firm's reception counter, it lacked formal interest as a sculptural exhibit.
Maria Gigney's segment of an internal stair was the reconstruction of a successful detail, taken from a Gigney house completed in late 2008. This functional sculpture (you could mount the stair a metre up) was striking as an exhibit and impressively resolved. Interior architecture as furniture. Not a prototype but a signature Gigney staircase capable of adaption to most sites. Maria Gigney's stair took the "God is in the Details" brief seriously.
Terroir's Detached Entry, an installed addition to the church, was an exhibition piece apart. It is a skilfully contrived design, which manages the difficult architectural act of fusing intellectual rigour with contextual fit. Had it been possible to move Terroir's handrailed ramp inside, the show would have benefited considerably.
While God is in the Details generated interest in the resolution of full-size construction details, it never reached its potential as a display of artworks ("detail as sculpture"). Also disappointing was the show's lack of presence. Five separate unevenly lit pieces in the cavernous interior of a converted church failed to do justice to a noble space.
Un_Packing Architecture: Beyond Style + Fashion was exhibited in the Commissariat Store, Hobart, an 1820s outbuilding of the Tasmanian Museum and Art Gallery. It was a collaborative undertaking on an unusually large scale, with a curatorial team of Karryn Irwin, Helen Norrie, Dean Baird, Fred Ward and Mathew Hinds.
Karryn Irwin's successful grant application stressed the exhibition's aim – to convince the public that architects play a vital role in realizing the built dreams of their clients. Helen Norrie, lecturer in architecture at the UTAS School of Architecture and Design, involved seven M.Arch. students in the exhibition's production through a design research unit.
Once the grant had been obtained, three months remained to invite the participation of selected architects and seek the responses of their clients. Fifteen architectural practices exhibited twenty-one buildings. The M.Arch. students mounted material submitted by the architects in black folders with opening flaps, allowing an intelligible project "story" to unfold (including client comments and architects' statements). They added explanatory diagrams of the building's evolutionary development where "needed". UTAS tutor Mathew Hinds contributed interpretive sketches for most projects. When closed folders were opened, the flaps unfolded in sequence. If the text blocks were read communication was engaged. Perusing the images alone denied a viewer understanding of intent and response.
In the Commissariat Store's extensive open space, all the uniform closed black folders were mounted on white carrot box plinths of equal (table) height. Stencilled titles indicated exhibition zones: sleeping out, meeting up, living in town, adding on, above the city, beyond the city, in progress. The exhibition featured buildings of residential scale, an impressive array of Tasmanian architecture from the last decade.
Architectural communication was aided by wall projection, in two locations, of exhibit images flicking through continuously. Aiding business communication, architects made their cards available to visitors who liked what they saw.
Un_Packing Architecture set out to be a more intelligent show than the awards. The organizers' starting point was that panels of wall-mounted architectural images intended to establish celebrity status (the awards) always fail to communicate to casual viewers the full extent of the architect's role. Convincing the public that employing an architect is a smart move has fundamental importance to the survival of the profession. So Un_Packing Architecture had worthy aims. Unfortunately no comments were recorded from the show's visitors.
Two vital components were missing from the exhibition: a catalogue and architectural models. A short time frame counted against the provision of models. But the M.Arch. students could have produced a catalogue as a requirement of their design research unit. A catalogue is the most effective vehicle to promote an idea because it is investigated in depth after the show. A noble idea force-fed to casual viewers in an exhibition format can be annoyingly deterministic. Open the folders, read this panel first, peruse these images, read here next, et cetera.
Architectural models communicate to the uninitiated through fascination. An exhibition setting out to convince the public about the vital involvement of architects in the production of special buildings must play the fascination card.
Quoting from Room 11's explanatory text, MODV2.0 "is a lower cost housing system … intended as a tool for urban consolidation. We are not making a house in a container, we are making a container (system) to live in."
MODV2.0's physical presence was a single converted shipping container mounted on the lawns of Hobart's Salamanca Place. You entered a kitchen space extending to a living area where a window wall replaced the container's metal end, an example of what was elegantly possible in the container conversion stakes.
The big transformation idea was presented on display panels over one ply-lined container wall. By joining and adapting multiple containers in various combinations, Room 11 hypothesized that it is possible to create houses of many types and infill housing of virtually limitless arrangements over multiple levels. The advantages were numerous: cost savings, quick construction, productive use of waste urban space, reduced environmental impact and recycling on a grand scale.
Anyone investigating the display panels during a cramped visit to the container would have been intrigued by Room 11's hypothesis. As with Un_Packing Architecture, the lack of both a catalogue and architectural models is regrettable. MODV2.0 was created to promote a big idea but a site hut lacks the sleight of hand to play that vital fascination card. What happens next and next and next will determine how far Room 11's momentum will propel their big idea.

John Ancher is an architect, artist and former lecturer at the UTAS School of Architecture and Design.

God is in the Details exhibitors:
Morris-Nunn & Associates, 1+2 Architecture, Forward Brianese + Partners, Dean Baird and Karryn Irwin, Maria Gigney, Terroir.

Un_Packing Architecture exhibitors:
1+2 Architecture, Birrelli, Forward Brianese + Partners, Jaws Architects, Leigh Woolley, Matt Williams Architects, Megan Baynes & Tom Bailey, Morrison & Breytenbach Architects, Morris-Nunn & Associates, Poppy Taylor, Preston Lane Architects, Room 11, Stuart Tanner Architects, Terroir, Travalia Leplastrier.