Photography Nacasa & Partners Inc.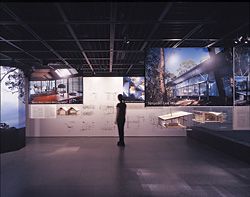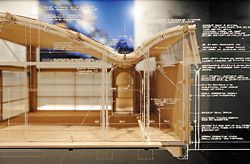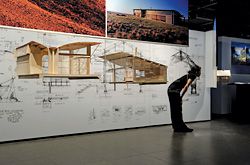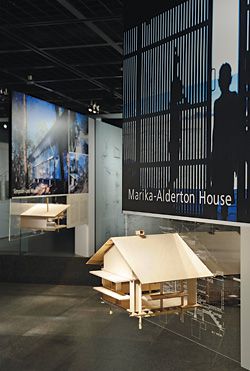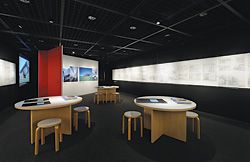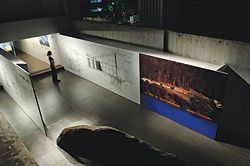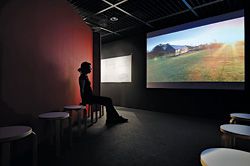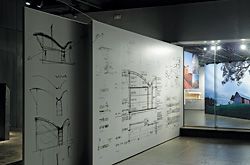 Louise Noble reviews a major exhibition of the work of Glenn Murcutt at Gallery Ma in Tokyo.
Thinking Drawing / Working Drawing is a major exhibition of the work of Glenn Murcutt shown recently at the prestigious Gallery Ma in Tokyo. Although extensively disseminated through publications, this is the first time that Murcutt's oeuvre has been presented in an exhibition of this scale. Gallery Ma initiated and funded the exhibition, assembling a curatorial team comprising Professor Tom Heneghan and Shoko Seyama of the University of Sydney, and Maryam Gusheh and Catherine Lassen of UNSW. The gallery is also an architectural publisher (Toto) and a two-volume catalogue was commissioned to accompany the show.
Situated on the third floor of an otherwise unremarkable office building in the lively Roppongi district, the space of the gallery surprises. It opens onto a courtyard reminiscent of a Zen garden, elegantly connected to an upper level by an external stair and walkway. The design of the exhibition makes use of this arrangement to create a lower level with models, photographs and sketches extending into the courtyard space and an upper level devoted almost entirely to original drawings in the manner of a study. Edited versions of two documentary films on Murcutt provide an additional resource for a Japanese audience generally less familiar with his work.1 The exhibition catalogue echoes the split-level organization. The separate volumes allow a space for reflection between the extensive photographic documentation of the thirteen selected projects and the drawings that describe their genesis.
Murcutt sees architecture as "a path of discovery" and the emphasis on drawing in the exhibition heightens our understanding of his methods. As Beck and Cooper have previously noted, "So successfully have the building's functional, environmental and iconographic objectives been woven together that the outcome has a sense of inevitability, as though the architect intended how these things would be resolved and had envisaged them from the start. Yet examination of Murcutt's working method shows a slow, rational approach. Nothing is assumed. He searches to discover the inevitable."2 Such is the power of the photographic images of his work that one can mistakenly assume to be familiar with the projects. By exploring Murcutt's "thinking through drawing", both the exhibition and the publication dismantle our preconceptions of his work, allowing other, more subtle readings.
The lower level of the exhibition space surveys the Boyd Art Centre and four houses, providing an effective means to compare typological strategies and to see the architectural dialogue between projects. One such example is the cantilevered fins and bed bays first developed in the Marika-Alderton House, which are redeveloped at a public scale as grouped bed boxes in the Boyd Art Centre. Murcutt does not generally use models as part of his design process. He prefers a range of drawings – plans, small perspective sketches and sections, particularly at a scale of 1:20, where projects appear to evolve architecturally out of the same section studied in several iterations. Each of the houses exhibited on the lower level – Marie Short (1974–75), Bingie Point (1982–84), Simpson-Lee (1989–94) and Marika-Alderton (1991–94) – is presented as a sectional model morticed into a suspended acrylic sheet onto which the section has been etched. This creates both an engaging display for the public and a clever allusion to Murcutt's working method. The upper level "study" presents original drawings of the Walsh (2001–2005), Marie Short/Glenn Murcutt (1974–75/1980) and Murcutt–Lewin houses (2000–2003). Sets of working drawings and sketchbooks are displayed on tables, inviting visitors to browse at leisure. This focus on construction drawing is a rarity in architectural exhibitions and requires both time and attention. The exterior skin and the multiple operable layers so typical of his work are meticulously detailed, often at scale 1:2, demonstrating rich invention and the clever adaptation of standard parts and materials.
While Murcutt famously works alone, his drawings also index his relationships and collaborations with clients, engineers, builders and partner Wendy Lewin. It is particularly significant that throughout his career, Murcutt has only worked with two engineers, Dick Taylor and subsequently Dick's son James. In an interview published in the catalogue, James Taylor elaborates on the notion of structural lightness in Murcutt's architecture. He describes Glenn's mastery as creating "the appearance of lightness" in his work through understanding how sizes of beams and columns might feel "right" for spaces combined with skilful connections and detailing. "It becomes important to see how windows and their tracks and slides can be integrated into beam lines." Relationships between structure, internal and external skins and systems are integral to the refinement of his buildings.
One cannot fail to be impressed by the sheer volume of work drawn by the one hand, tangible evidence of the individual and the time spent in both thinking and making. In forty years of practice, Murcutt has designed over 500 buildings. A substantial collection of his work is now held in the State Archives of NSW and it will be interesting to observe how the scholarship surrounding his work evolves as greater interest is drawn to the records of his production.
The dual tome publication accompanying the exhibition is an invaluable resource, which I hope will be available in Australia. The first volume comprises extensive photographic documentation of each project and is accompanied by drawings, permitting a thorough understanding of the buildings in relation to their context. The second is devoted solely to original drawings describing the buildings in their detail and materiality and favours legibility of the documents over graphic style. This uncomplicated and very useful format allows one to study Murcutt's work in multiple ways without an overly interpretive veil. Murcutt and the curatorial team contributed perceptive essays to the publication in addition to succinct descriptive texts. Publishing drawings in this manner has been unusual in Australia since perhaps the late 1980s, with the Details in Australian Architecture series by Roger Pegrum and Alan Ogg's Architecture in Steel: The Australian Context, both published by RAIA Education. Gallery Ma/Toto has a strong educational focus to its production, which is evident in the exhibition publication. Re-presenting Murcutt provides an opportunity to reflect on the architectural drawing as a place of enquiry and how this might engage with contemporary media.

Louise Noble practises architecture and urban design in Brisbane and is a regular contributor to the national architecture media.

1. Touch the Earth Lightly by Peter Hyatt (1995) and The Tin Man by Catherine Hunter (2002).

2. Haig Beck and Jackie Cooper, Glenn Murcutt: A Singular Architectural Practice (Melbourne: Images Publishing, 2002), 31.