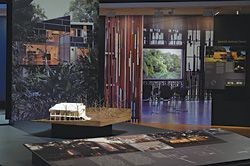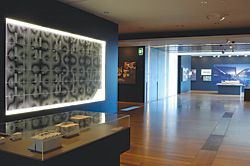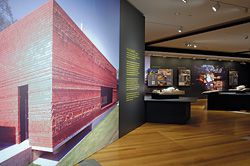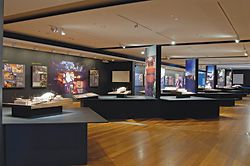 Identity and architecture. Naomi Stead reviews Place Makers: Contemporary Queensland Architects at Brisbane's Gallery of Modern Art.
It began with a seal. Or maybe it was a sea lion. At the opening of the exhibition Place Makers: Contemporary Queensland Architects, as Anna Bligh, state premier, stood on the Gallery of Modern Art concourse delivering a rapturous opening speech, we latecomers hovered at the back beside Michael Parekowhai's sculpture The Horn of Africa. Depicting a glossy black life-size seal, balancing an equally glossy black life-sized grand piano upended on its nose, it maintains an impossible feat of balance, defying gravity with a manner both effortless and insouciant. Craning unsuccessfully to see the speaker, I returned instead to contemplating this seal and idly wondered: who here was performing the most virtuoso trick? Was it the premier, producing a cheer from the crowd with her line that "art, architecture and design are just as important as scientific endeavour" as she simultaneously and invisibly balanced the state's mineral prosperity on one finger? Or was it the gallery, flush with the success of its new building and two blockbuster exhibitions, seemingly achieving the impossible balance of popular success and high art without dropping either? Or was it the exhibited architects, juggling all the disparate and desperate constraints of contemporary practice, and still managing to produce a series of fine architectural constructions, now rewarded with inclusion in this major exhibition? Well, they were all virtuoso, really. But perhaps there were also more tricks at play here than first met the eye.
Describing herself as "the proud occupant of a Queenslander", Bligh noted that "we are in fact the only state that has a house named after us". The exhibition was opened by the premier not only because it was an A-list cultural event, but because the government was also the show's major sponsor, through the Department of Tourism, Regional Development and Industry. The export of minerals is reported to have delivered the Queensland Government a $259 million windfall in 2008–2009. One thing is obvious: delighted and perhaps surprised by the success of their new gallery, a smart premier and her smart, cashed-up political machine have looked around, have seen that architecture is something that Queensland does both well and distinctively, and have recognized the benefits of backing it. It is also clear that if architecture is to be of maximum value to tourism, regional development and industry, then it should be both identifiable and autochthonous – an architecture that captures specificities of "place".
With the Asia-Pacific Triennial, begun in 1993, the Queensland Art Gallery was ahead of its time in recognizing the importance and value of contemporary art in our region. Could it be that it is also leading the way in elevating architecture to a popular art, the well-understood subject of general appreciation for an educated and discerning populace?
The exhibition is clearly a major milestone in Queensland, and national, architectural culture – Tony Ellwood, the gallery director, writes in his catalogue foreword that Place Makers is "the largest exhibition of contemporary architecture ever staged in an Australian art museum". The catalogue, which includes essays by major figures in local history, theory and practice, will also surely prove enduring as a comprehensive survey of contemporary practice here. Some of the projects have already been widely published – Donovan Hill's iconic C House and Andresen O'Gorman's Mooloomba residence, among others. Nonetheless, both exhibition and catalogue will be an important record and reference for their breadth, broad audience and appeal, and for the lesser-known buildings and practices revealed. The works show a vital formal diversity. Curator Miranda Wallace picks her way deftly through the difficult territory of identity and architecture in an erudite catalogue essay, which argues that "for all that we may object to the cliché of a 'Queensland school', the fact remains that the vernacular building traditions that developed over the past 200 years in this region still possess sound design principles and practicality, which many contemporary architects are both inspired by and choose to respond to." Wallace's curatorial selection is lively and sharp, with only one or two jarring notes including Gabriel Poole's Castaways Beach House, which has always seemed to me a bizarre building.
I had a moment of vertigo, when pondering one of the models and realizing that here was a model of a regionalist building within an exhibition about regionalist buildings within a gallery which is itself a large regionalist building – Lindsay and Kerry Clare's GoMA, itself included in the exhibition, acts as both container and contained. There is something a little overwhelming about such a hyper-regionalist mise en abyme, an effect further reinforced by the dominant aesthetic of the buildings displayed, with their highly articulated assemblage of many detailed parts.
But equally, some of the highlights of the exhibition don't subscribe at all to the traditional slatted timber and tin material palette, including m3architecture's inventive brick Micro Health Laboratory and the moiré wall of their Cherrell Hirst Creative Learning Centre, a scale model of which is installed on one wall of the exhibition. The work of newish firms such as Owen and Vokes and Bark is also a welcome addition. Other projects are old favourites, including Elizabeth Watson Brown and Peter Skinner's St Lucia House, which has always seemed to me the exemplification of the subtropical ethos – the house as a platform for a pleasurable, languid, reflective life.
The models in the exhibition are glorious. Strikingly intricate and detailed, pristine in their white card and balsa splendour, they are like elaborate hors d'oeuvres – so delectable and intricate that I can't help thinking of cake decoration, the kind of spun-sugar confection you'd like to snap off and eat. If the traditional Queenslander was a genuine vernacular, something like peasant food, then the haute cuisine version on display here is so refined it is almost unrecognizable.
It is often said that architecture doesn't lend itself well to exhibition, that apart from the delicious models, an architecture exhibition is much like a menu without the meal – elaborate and alluring descriptions that only make you hanker after the actual thing. More than this, the strict conventions of commercial architectural photography can render a building strangely lifeless, and make an exhibition little more than a magazine blown up large and stuck on walls. It is true that the design of Place Makers is nothing to scare the horses, with its large photographic panels lining the walls of a long room divided lengthwise with a line of models. But there are also attempts to enliven the architectural work here, with the inclusion of some working models and the use of film – a series of silent slow tracking shots rolls us through many of the buildings. An original pencil drawing of Rex Addison's Taringa House and Studio seems amazingly arcane, a beautiful but firmly historic artefact. It was not until my second visit that I discovered a smaller back room where Ian Moore's Air Apartments and BVN and Troppo's Lavarack Barracks were tucked rather obscurely away.
The full title of the exhibition intriguingly refers not to Queensland architecture but to architects – the regional emplacement of the architectural author is as important as that of the buildings, it seems. This makes me wonder about the work that Queensland architects are doubtless doing in Abu Dhabi, Shenzhen and Sydney, not to mention the work of architects from elsewhere who are building in Queensland. But of course the looming thing in the exhibition title is "place makers" itself. This will stick in the craw of some – those who see "place" as overburdened with ideology. Linked to a mythopoetic idea of architecture as true outgrowth of a "spirit of place", a direct response to minutely observed particularities of local climate, site, topography, materiality, building tradition and so on. This is effectively a metaphysical notion, held as an article of faith. Whatever your position on this, it seems to me that the exhibition is certainly about environment, perhaps not only in the romantic way. Indirectly, it is as much about minerals of place as spirit of place, about blunt economic prosperity and surplus as much as the pleasures of a replete humanist environment.
The Melbourne academic Paul Walker has written, in a critique of Kenneth Frampton's notion of "place" within his broader theory of critical regionalism, that "the sharpest differences between any two architectural cultures … are not to be explained by climate or topography or any genius loci but rather through their different institutional and political contexts, their different social and cultural histories, their different fictional landscapes".1 As a response to and manifestation of one of Queensland's most seductive fictional landscapes, Place Makers is highly revealing. This is an exhibition of lovely pictures and models of lovely buildings, beautiful places, gorgeous environments fitted closely to their very fortunate occupants. But like much of contemporary architectural practice, both the exhibition and the work is rich in every sense of the word. In her introduction to the catalogue, Premier Bligh writes that South East Queensland is expected to grow to four million residents by 2026, necessitating some 575,000 new dwellings. The irony here is painful, as it is not architects who will meet this need. The vast majority of these new residents will not be housed in beautiful, bespoke, boutique architect-designed buildings like those in this exhibition, but rather in airconditioned brick-veneer spec-built houses, poorly sited, poorly serviced by public transport, in new land releases of arable land on the outer reaches of the outer suburbs.
Exhibiting architecture in an art gallery may thus be a regrettably true expression of its place in society. Available to the general populace for looking but not touching, institutionalized in the sheltered environment of state-supported funding, it would be the sign of a thoroughly marginal practice, unable to address the pressing social and infrastructural problems of the contemporary world. Cast as a beautiful but futile enterprise, valuable as an ideal more than a practice, it would find no place in the world except as a consolation, an aspiration, a branch of good-life real estate. The problems of the exhibition are not at all the fault of the architects represented, nor of the curator or commissioner or gallery. They are the problems of the profession much more broadly, here brought to a sharp point. But let's hope that we are, in the end, still something more than trained seals.

Naomi Stead is a senior lecturer in architecture at the University of Technology, Sydney.

1. Paul Walker, "Kenneth Frampton and the Fiction of Place" in Shifting Views, eds. Andrew Leach, Anthony Moulis and Nicole Sully (Brisbane: UQP, 2008).