Scrapbooks, films, models and photographs came together in a recent exhibition celebrating the life and work of Harry Seidler.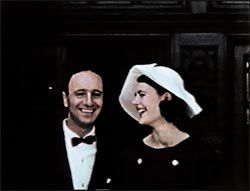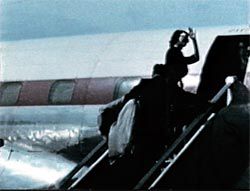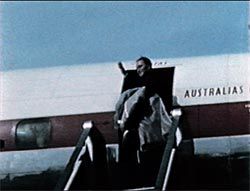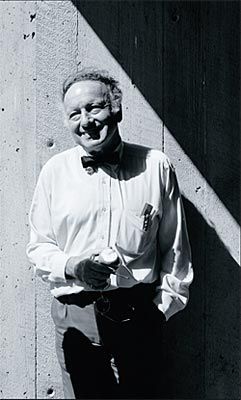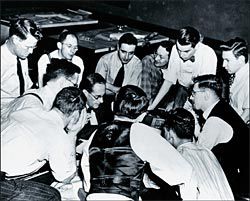 Harry Seidler: a tribute celebrates the life and work of Harry Seidler, who passed away on 9 March, 2006. Curated by Jacqueline Urford, the exhibition was a collaboration between the Royal Australian Institute of Architects (NSW) and the City of Sydney and was held at Sydney's Customs House. Models, plans, photographs, films and scrapbooks chronicled the local and international achievements of a unique architect.
Three underlining themes can be drawn from the exhibition: the celebration of Seidler's practice of architecture, his engagement with society and his collaborations with others.
Seidler profoundly understood Modernist ideals, in particular the Bauhaus teachings, and the exhibition documented his early influences, including his architectural education at Harvard University under the supervision of Walter Gropius.
Thirty-one seminal projects were presented in large-format panels, chronologically ordered – Seidler's first architectural commission in Australia for his mother, Rose Seidler House (1948–50); the commercial and residential buildings through the 1950s and 1960s, including Australia Square (1962–1967) and Thredbo Ski Lodge (1962); Seidler's landmark office buildings from the 1970s and 1980s, including MLC Centre Sydney (1972–1978) and Capita Centre Sydney (1984–1989); and works from the 1990s through to the present, including Riparian Plaza, Brisbane (2000–2005) and a commission in progress for the Emu towers in Perth. The exhibition also made it clear that, throughout his career, Seidler punctuated his commercial output with individual houses.
This is a diverse array of architectural works, with varying scale, typologies and locations. The selection reinforces Seidler's production of consistently high quality buildings over his 50 years of professional practice, and exemplifies his fundamental principles and approach to architecture.
These include an understanding of structure, technology, composition, geometry, climate, environment and function. The works demonstrate Seidler's knowledge and understanding, and his commitment to creating dynamic, fluid architecture with logic and purity. In Pix magazine (August 29, 1953) he argued that "view, sunlight and air are important in modern design". These are simple sentiments, yet Seidler's work is underlined by an intrinsic desire to improve the human condition and to produce a built environment that responds to the aspirations of society.
Seidler's work has often polarized the community, as is evident in the many newspaper articles exhibited within the scrapbooks. These are bound reproductions of seven volumes, containing international and Australian newspaper and magazine articles, letters and lecture notices dating from 1949 to the present. The scrapbooks effectively present Harry Seidler's engagement with architectural, political and social issues. They catalogue the public debates regarding his work and his commitment to furthering the discussion about the built environment. They also suggest Seidler's enthusiasm for debate around his own work. For example, the design proposal for the redevelopment of McMahons Point in Sydney still evokes passionate argument, particularly Blues Point Tower, completed in 1961. In his legendary frank manner, Seidler describes the tower as "like a shag on a rock" in one of the four short films commissioned for the exhibition.
The scrapbooks also display Seidler's dedication to the profession, particularly in relation to significant architectural issues.
For example, he was an outspoken supporter of Danish architect Jørn Utzon after his dismissal from the Sydney Opera House project in the 1960s. Seidler also recognized the social dimension of urban development, including the vital importance of publicly subsidized housing and of town planning that fosters community spirit. In an article on display from Voice magazine (February 1953), he says, "the art of living is being lost in this crowded hotch-potch that we call a city".
The exhibition broadly acknowledged the importance of collaboration throughout Seidler's career – most notably his mentorship under Walter Gropius, Josef Albers and Oscar Niemeyer, and his involvement with many architects, including Marcel Breuer, and with artists, engineers, authors, academics and photographers. The design of Australia Square in Sydney was an opportunity to exhibit the craft and skills of structural engineer Pier Luigi Nervi, lighting engineer Edison Price, architect and artist Le Corbusier and artists Joan Miro, Victor Vasarely and Alexander Calder within one major architectural commission.
Australia Square was undertaken by Lend Lease Corporation, headed by Dick Dusseldorp. Seidler's collaboration with Dusseldorp secured planning approval for this controversial and radical project – Sydney's tallest building at the time.
Seidler continued the close collaboration with Dusseldorp and completed many significant projects for Lend Lease, including the MLC Centre in Sydney.
But Harry Seidler's greatest collaboration was with his wife, Penelope Seidler. It is evident from the exhibition that she made an enormous contribution to the practice.
The scrapbooks, films and photographs, which Penelope Seidler lent to the tribute, indicate both a successful partnership in life and her contributions to the growth and success of the practice.
Seidler's methodology and principles are important for understanding his work.
He described his approach as gesamtkunstwerk, in which the architecture aims to be a totally integrated work of art.
The exhibition would have been strengthened by a greater acknowledgment and explanation of this approach to allow the viewer to understand the processes behind the completed works.
The space accommodating the exhibition resulted in a disparate arrangement over several levels within the newly refurbished Customs House. This diminished any concise reading of the content and reduced the legibility of the works read as a whole.
Harry Seidler: a tribute was a retrospective providing a broad understanding of a highly awarded, internationally recognized, celebrated architect who possessed an unrelenting passion, knowledge and love of architecture. Seidler's influence on the Australian built landscape over the past 50 years is without comparison; his voice will continue to resonate in our cities through his completed works.
Source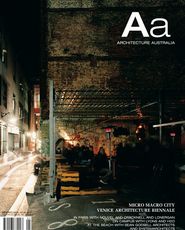 Issue
Architecture Australia, September 2006
Related topics