DENMARK'S LOUISIANA MUSEUM INVESTIGATES JØRN UTZON'S OEUVRE WITH A CELEBRATORY MULTIMEDIA EXHIBITION OF MODELS, IMAGES, OBJECTS AND ANIMATIONS. REVIEW BY ANNE WATSON.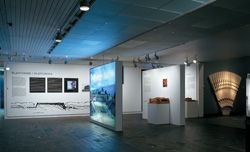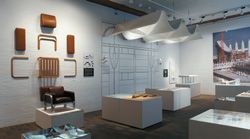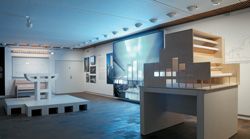 THE LOUISIANA MUSEUM is well worth a visit for travellers to Denmark, even without its current Utzon exhibition. Situated between Copenhagen and Helsingør in a stunning landscape setting looking across the waters of the Øresund towards the Swedish coast, its permanent twentieth-century art collection, dynamic programme of exhibitions and concerts, excellent restaurant and design and book shops attract many visitors.
Jørn Utzon: the Architect's Universe is the most recent in a series of design and architecture exhibitions at Louisiana including a hugely popular retrospective on Arne Jacobsen in 2002 and smaller shows devoted to Gehry, Foster, Henning Larsen and Renzo Piano. But the Louisiana Museum has special relevance as a venue for the Utzon exhibition. Just ten kilometres south of Helsingør – site of the Bennelong Point-like Kronborg Castle promontory around which Utzon sailed innumerable times in his youth – its unique setting expresses an interplay between nature, water, art and architecture that mirrors Utzon's own lifelong aesthetic journey, his architectural universe.
Developed by Louisiana curator Kjeld Kjeldsen and his team in close collaboration with Jørn and son Jan Utzon, the 1,200 square metre exhibition occupies a number of interlinked galleries. The exhibition is structured according to several themes including Platforms, Additive Architecture and Growth. As these subjects and the title suggest, the exhibition is not just about Utzon's buildings and projects – it also explores his inspirational sources, his creative and working methods and the principles that have defined the trajectory of his unique design aesthetic.
Far from being a conventional architecture exhibition, this show has set itself the more difficult but rewarding task of exploring the mind of the architect himself. Films, videos, 3D animations, models, mock-ups, furniture and lighting as well as photos, sketches and drawings create narratives that encourage visitors to experience both the complexity and the consistency of Utzon's world. This holistic, multimedia approach, only made possible by drawing on Utzon's own collection, has the added benefit of reducing the need for lengthy explanatory texts. Thus, for example, the first section of the exhibition, a general introduction to Utzon's life and influences, includes models of his own houses on Majorca as well as botanical plates, models of boat hulls and excerpts from his travel films.
While the exhibition is devoted to an investigation of Utzon's entire career – from his Hellebæk house, 1952, to Can Feliz on Majorca, 1994 – the Sydney Opera House, as is to be expected, is the show's focus. The multimedia breadth of the exhibition creates a visual dynamic that works particularly well in the double-height gallery devoted to the Opera House.
In keeping with its "Platforms" theme, this section also incorporates a central stepped podium, creating vertical as well as horizontal movement through an almost monumental space that is more "environment" than gallery.
Models form the focus of the Opera House narrative. Sydney has contributed three models to this section: Utzon's competition model (1957) from the Sydney Opera House Trust and an Arup wind-test model (1961) and sectional model (early 1966) from the Powerhouse Museum. Giant-scale Max Dupain photographs, reproductions by the Swedish company Höganäs of the tile lids and an impressive, dramatically sculptural wooden model of the roof shell pedestal, as well as a big screen audio-visual presentation of Opera House photographs by David Messent and others, bring to life a building that many Danes may never experience.
One of the highlights of the Opera House section is an elegant suspended wire and fabric model from Utzon's own collection demonstrating the spherical geometry of the shell roofs.
This combination of objects and models with large-scale imagery is also successfully deployed in adjacent galleries where Utzon's sublime Bagsværd Church (1968–76), the Kuwait National Assembly (1972–82) and a magical project for the subterranean Jeita theatre in Lebanon, as well as the architect's under-recognized furniture designs, are explored.
For a change of pace visitors can relax in one of Utzon's Aurora chairs and enjoy Pi Michael's beautiful 1994 film on Utzon, Clouds. And if you don't buy the reasonably priced catalogue associated with the exhibition, at least bring home Louisiana's mineral water bottle cleverly enhanced with one of Utzon's Opera House sketches!
ANNE WATSON IS A CURATOR AT THE POWERHOUSE MUSEUM, SYDNEY AND IS CURRENTLY DEVELOPING AN EXHIBITION ON THE SYDNEY OPERA HOUSE FOR LATE 2005.
JØRN UTZON: THE ARCHITECT'S UNIVERSE
IS ON UNTIL 29 AUGUST.