A RECENT EXHIBITION SKILFULLY COLLATED A RICH ASSEMBLAGE OF DRAWINGS AND PHOTOGRAPHS, CAPTURING THE SPIRIT AND VIGOUR OF BRISBANE'S DOMESTIC ARCHITECTURE OF THE 60S. REVIEW BY ELIZABETH MUSGRAVE.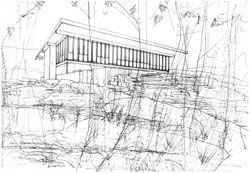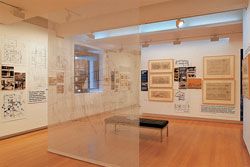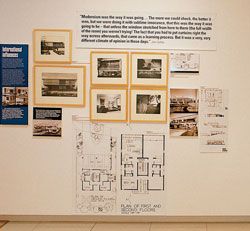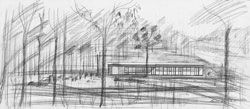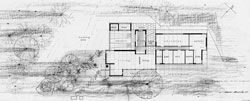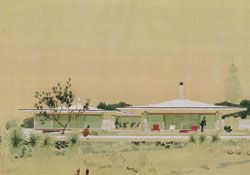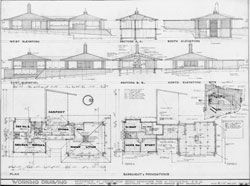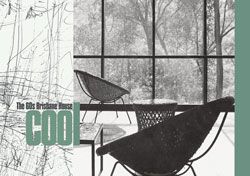 COOL: THE 60S Brisbane House, an exhibition held recently at the QUT Art Museum, documented a slice of local architectural history through the work of a select group of practitioners. Some might argue that the slice was too thin, but, in gathering together a collection which included original rendered presentation drawings, working drawings, blueprints and sketches, in addition to photographic images, and presenting them in a variety of formats, the exhibition and its catalogue very successfully conveyed the vigour and confidence of practice in 1960s Brisbane.
In exhibitions, modes of production are often subordinated to photographic images of the completed work. At Cool it was drawings that caught the eye, and that more than anything else made this an exhibition for architects. The most significant drawings were framed behind glass and given equal footing with photographic images, which themselves were alternatively framed or mounted on gaterboard and composed in groups. In other instances, plans and sections were scanned onto vinyl sheet material and simply pinned to walls. And dominating all was Maurice Hurst's perspective drawing of the Frost House (1965), printed onto translucent fabric and hung as a space divider.
In addition to the original drawings of the Frost House, the exhibition included rendered drawings by Neville Miller of his Piesse Flats (1964), pencil and ink drawings of the Roe House (1963), also made by Maurice Hurst while at Lund Hutton Newell Black and Paulsen, and ink drawings with colour washes made by Robin Gibson while in the office of Theo Thynne and Associates.Working drawings by Steve Trotter (Schafer House, 1962 and Mathers House, 1964), Maurice Hurst (Frost House, 1965) and Geoffrey Pie (Pie House, 1966) hung with developed design drawings by Graham Bligh, Steve Trotter, Peter Heathwood, Neville Miller and Robin Gibson. Each contribution revealed something of the architect's hand and way of working. Indeed, the tiny space of the Tom Heath Room in which the exhibition was (very appropriately) hung barely contained their energy.
These drawings reveal rigorous working habits. They also present a remarkably coherent body of work, evidence of, if not a school of thinking, at least an agreed set of principles finding expression in a distinctly local idiom. (The case for a school may be optimistic.
[nobr]Off-the-record[/nobr] stories indicate intense but productive competition.) Many of the photographs and drawings were volunteered from private collections and archives. Many exhibits were being seen for the first time in forty years. For historians the exhibition contained the unexpected. For those practising at the time, the drawings in particular were a touchstone of people and events.
The staging of this event is the result of a collaboration of many and was dedicated to the memory of Maurice Hurst, who passed away last year and whose absence was felt in the full-height printed screen. The exhibition was curated by Tracey Avery and Peta Dennis and designed by Bill Haycock; the catalogue was edited by Tracey Avery, Peta Dennis and Paula Whitman and was published by the QUT School of Design and Built Environment. Both were underpinned by research undertaken by Peta Dennis for the completion of her undergraduate thesis. And despite introductory essays by Professors Jennifer Taylor and Philip Goad, which provide context for 60s Brisbane, the most significant contribution is that of Peta Dennis.
Her documentation of material is thorough. It is developed thematically with emphasis on the influences of International Style Modernism, climate and material rationality and is enlivened by quotes and anecdotes from interviews with practitioners.
What is alluded to throughout, rather than spoken of, is a sensibility that binds drawings and photographs – and that is cool rather than coolly detached. Design has given voice to this sensibility. It finds its expression in the ordering of the exhibition, an assemblage which evoked the collaged conference poster produced by architecture students for their 1967 student conference. It also finds expression in other apparently minor decisions.
The catalogue's cover features a Harry Sowden photograph of the interior of John Dalton's Wilson House (demolished 2002). An interior photograph absolves editors of the responsibility of choosing between the works of a select group of architects. However, this choice is insightful. Sowden's photograph reveals the thinning down and opening up of the edge of living spaces, the play of light and shadow, of horizontal and vertical elements read against the forestscape beyond. It underscores the real contribution of the 1960s to architecture – a delight and confidence in working with the idiomatic, attributable in part to an easygoing willingness to keep exploring the potential of the local modern to provide ways of living. The results are fresh, assured and definitely cool.
That the Cool project was limited in its scope is not a weakness. True, significant works by architects such as John Railton are not accounted for. Moreover, the exhibition contains itself to houses in Brisbane.Works on the north or south coasts, the hinterland or the far north are not addressed. Rather, in limiting its scope and being thorough in its execution, Cool provides positive impetus for further investigations to take place.
ELIZABETH MUSGRAVE IS AN ASSOCIATE LECTURER IN ARCHITECTURE AT THE UNIVERSITY OF QUEENSLAND.