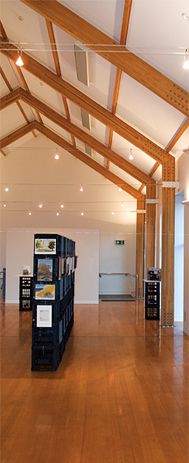 Musing, art and activism. Judith Abell discusses the recent exhibition held as part of the campaign to save Hobart's 10 Murray Street.
In 1995, I stood with a string of other architecture students along the St Georges Terrace hoarding of Council House in Perth. We each held part of a long banner upon which was printed "Save Council House" in bold capitals and yelled its contents to passing cars. Few of us had known about the protest before our visit to Perth, but we all happily climbed on board, seeing the demolition of the iconic 1960s building as absurd, given its obvious architectural qualities.
Fifteen years on, a remarkably similar battle is being waged in Hobart. Once again it is a David-versus-Goliath-style tale, with a small band of like-minded individuals gathering to lobby against the demolition of the State Government Offices, 10 Murray Street. Its approved demolition is part of the Parliament Square Redevelopment and the group is taking the planning decision to appeal in June, assisted by a number of relevant, pro bono professionals. As an adjunct to the legal process, the group, lead by Briony Kidd, has staged an exhibition entitled Please Don't Let Me Be Misunderstood, offering any person the opportunity to respond creatively to the building, with the sole criterion that it be A4 sized.
Designed by Hobart practice Hartley Wilson and Bolt, 10 Murray Street was completed in 1967. David Hartley Wilson – Kidd's grandfather – took the project to completion, working with the design of Dirk Bolt. The building is one of few multi-storey examples of the postwar International style within Tasmania and in recent years other local buildings from this era have suffered its proposed fate. The building's distinctive, gridded, concrete frame, bold form and restrained material palette are central to its attraction for those fighting its demolition. For its detractors, it is seen to be out of scale, insensitive to its heritage context and too expensive to refurbish, arguments all used against Perth's rescued and now revered council building.
A very open, un-curated exhibition has produced diverse results, with entries from emerging and established artists and designers. Approaches range from the purely aesthetic to the pointedly political, although I'm most taken by those applying humour to the debate. In Rory Lefroy's cartoon, Clever Kind Man (a thinly veiled premier) and his sidekick Green Streak (Nick McKim) each decide, respectively, not to save the building because it won't win votes and it isn't a forest. Kati Rule and Lisa Radford's ironic collaboration displays two photographs of a 1960s op shop shelf filled with examples of crockery that were once discarded but are now desirably retro. Adam Walker's natty flat-pack version of the building allows purchasers to make a folded miniature, "just in case". Tending toward a poetic approach, Helen Wright and David Keeling each depict a form of dreamscape, with the building respectively ruin and ghost.
With an exhibition design using the building's nickname – "the milk crate" – as the display method, a side exhibition revealing the background and linked events including city walks and a forum, the lobby group has done much with little to bring the issue to light in a creative way. While I struggled a bit with the aesthetically eclectic results and wished that a few more entrants had stretched the boundaries of the A4 criterion, it is clear that an exhibition environment like this offers the possibility to muse on an issue, understand the background and see how it is affecting others. As such the group has offered the opportunity for slow contemplation as an intelligent alternative to a petition under the nose on a busy street.
Judith Abell is an architect, artist and writer based in Hobart.