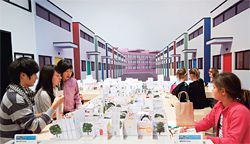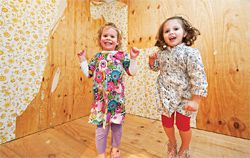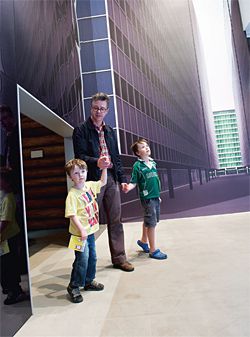 Junior art fans are invited into a confusing and compelling high modernist urban environment in Callum Morton's latest installation. Naomi Stead takes a closer look.
Callum Morton is an artist unusually concerned with architecture.
The connections within his own personal history are well known: that he studied architecture at RMIT in the mid 1980s before moving to fine arts; that his father is an architect who worked on Moshe Safdie's Habitat '67 project for the 1967 Montreal Expo, leading to Morton being born in that city; and that he was born on the day of Le Corbusier's death. It's a fateful story. And sure enough Morton's work is replete with references to architecture, ranging from witty quotations from the high modernist canon in model and visual form to scale reconstructions of ordinary buildings where extraordinary things may or may not have happened, strangely subversive architectural renderings, and installations featuring hotel corridors, cellars, bunkers, ruins – a whole world of uncanny enclosures. But despite having built a significant reputation and a life's work around architecture, Morton himself is ambivalent about his own place within the discipline, stating in an interview with Rosemary Hawker in 2007 that "I've never, ever thought, at any point, that I could make any contribution to the field of architecture at all." Such a statement may be surprising but, as Hawker argues, it is perhaps an indication of the contested idea of medium in contemporary art – Morton does not believe WORLDthat architecture is a medium for art, nor that it sits within the arts at all.
"It operates entirely differently in the world," he says. Hence, while his work might take buildings as a starting point or frame of reference, his is an art standing outside of architecture, looking in.
All of this makes an appropriate introduction to Ghost World, Morton's recent commission for the Children's Art Centre at the Gallery of Modern Art in Brisbane. The installation is a kind of tasting plate of Morton's favourite architectural devices, familiar from his earlier work.
A large-scale, immersive installation as part of the centre's ongoing mission to engage children with contemporary art, the work is constructed as a street faced by almost-full-size house and shop facades. Some of the shops are enclosed but for the signs and sounds of strange things happening inside. A strip window high in the facade of the Correctional Centre, for example, reveals the flashing coloured lights of a disco accompanied by relentless pumping pop music and the screams and laughter of children, while the window of the Fire Station shows a video loop of the room within slowly filling up with debris-filled water. Other shops along the street open to highly unexpected spaces beyond. The Chapel is a dark jungle space festooned with plastic foliage, the growl and screech of tigers and monkeys accompanied by animated red and yellow eyes blinking on screens around the walls. The TAA Travel store opens onto a hall of mirrors, while the Bank, with its grand facade of symmetrical faux marble, opens onto a derelict interior of broken plywood, peeling wallpaper and a floor that vibrates and rumbles loudly as you stand on it. Even more strikingly, you pass through the blank dark-glass curtain wall of the Anon Corporation's tower headquarters only to find the interior of a rustic log cabin, complete with deer antlers, hurricane lamps and wood stove. At each end of the "street" a large digital image – of a high-rise city at one end, and a housing development at the other – extends the space visually, in receding perspective. The whole show is thus interactive in the sense of being full of sensation and spectacle and the thrill of the sideshow alley, but there are also programmed activities where visitors young and old can work at creative exercises, such as designing their own house or shop facade and inserting it into an urban grid.
Morton is no stranger to large commissions. He built a 1:50 model of the whole of Safdie's Habitat 67 project at the National Gallery of Victoria in 2003; as Australia's representative at the 2007 Venice Art Biennale he made Valhalla, an even larger scale model of his demolished childhood home re-imagined as a ruin; and Melbournites will be familiar with his Hotel, a twenty-metre-high faux building set in a paddock beside Melbourne's Eastlink Freeway. This work is described by the artist as a "giant folly", something like a "strangely de-scaled prop that has escaped the theme park or film set", and Morton describes much of his career as the construction of a "parallel built universe". Another category of work is reconstructions of ordinary places in which (more or less) extraordinary things happened – for instance, a scale model of the St Kilda garage where AC/DC's Bon Scott once lived (Accademia, 1998) and the cabin in which Le Corbusier spent his last days before drowning at Roquebrune-Cap-Martin (Cabanon and on and on …, 2002–03). There is also a consistent play with architectural techniques and conventions, particularly that of scale – Gas and Fuel is a model of Melbourne's now demolished Gas and Fuel towers, made at 1:34 scale, "thirty-four being the years [the building] was alive".
In his artist statement for Ghost World, Morton describes two starting points for the installation. The first was a recent family trip to the Victorian Wimmera, where he observed small country townships on their way to becoming ghost towns, their depleted populations leaving abandoned shops derelict along the main street. This leads him to a connection with the 1974 spoof Western Blazing Saddles, where the citizens of Rock Ridge have to build an exact stage-set replica of their town nearby, in order to trick an evil politician intent on knocking it all down. In Ghost World, Morton links these two sources, one cinematic and the other from actual life, to "build a forgotten fantasy town for EXHIBITIONkids with a main street lined with shops, a bank and a museum". The key difference from its sources, however, is that the Ghost World town is modern – bearing distinct similarities to the Stuttgart Weissenhofsiedlung, or Le Corbusier's workers' housing estate at Pessac.
This emphasis on high modernist style is a common feature of Morton's work, and several writers have interpreted it as a critique of the failed utopian aspirations of modernist architecture, since it sets out possibilities for banal, frightening or violent lives led in such buildings.
For example, International Style, 1999 is a scale model of Mies van der Rohe's Farnsworth House, shrouded in curtains, with lights and the sounds of a lively party emerging from inside, giving way to a woman's voice saying "Don't you dare touch me!" followed by gunshots, shocked silence, then the sound of the party gradually taking over to run through the loop again. The Farnsworth House also appears in the series Local +/or General – a set of digital images of modernist masterpieces transformed by global commercial enterprise – where it is remade as a 7-Eleven store, while the Eames house appears as a Home Depot outlet and the Rose Seidler House as a McDonald's restaurant. There are obvious inferences here about the way high modernist ideas of collective social good have later been flattened into a style, an aesthetic shorn of ethics and made available for corporate appropriation. In Ghost World too we see a sly commentary on the commercialization of the art world – you duck through the low doorway of what is labelled as a museum, only to find yourself in a "piggly wiggly" supermarket, full of paper products invented, coloured in and left on display by visitors.
Toward the end of my visit, a class of schoolchildren arrived, flushed with the excitement of an excursion. Three earnest girls, having run ahead, arrived before the rest of the class and stopped at the entry to the exhibition, pausing in confusion before the trompe l'oeil effects, the strange colours and forms, the flickering orange of flames in the windows of the closest house facade. One girl solemnly said to the others, "Guys, I think this is the art thing." Then the rest of the class descended and overran the space, loudly pointing things out, creeping up on one another and shrieking, chasing and running in and out of the rooms. Not the kind of behaviour usually associated with an art gallery, but perfectly at home in the theme-park air of this installation and the Children's Art Centre more generally. And it was soon clear they were an enthusiastic but tough crowd: "I don't get this", "Let's go into this one again! I like this one", "Yuck! That's gross!" (this referring to a large photograph of a greasy plate in the window of the Liberty Cafe), "Whoa! That looks real. It looks cool though!" and on it went. And I think they were quite right: Ghost World is gross, it looks real, it's cool, it's confusing – everything you might hope and expect that children might take from the whole "art thing".
Naomi Stead is a research fellow at the University of Queensland.