As a prelude to the 2013 National Architecture Conference, one of its keynote speakers, Jorge Otero Pailos, participates in a joint exhibition, Dirt, Dust and Ruin, with two Spanish artists (Daniela Ortiz and Xose Quiroga), and two Australians – photographer/filmmaker Tina Havelock Stevens and artist Elvis Richardson. Curated by Zanny Begg and Jennifer Ferng, the exhibition launches at Sydney's Tin Sheds Gallery in the evening of 14 March, and remains open until 31 May 2013.
Otero Pailos is an architect, historian and preservationist. As he cleans away the residues of pollution in his work, he also preserves it, treating it as part of the history of the buildings. His installation The Ethics of Dust: Carthago Nova, 2011 reflects on the role that pollution plays in the functioning of empires and in their legacies. Specifically, Otero Pailos is presenting nine latex casts of dust from a mine in the ancient Roman silver mining region of Carthago Nova (now part of Spain). The region is significant for producing the wealth that drove an empire, as well as some of the first atmospheric pollution that has been detected in core samples from Greenland. His work in this area is influenced by John Ruskin, for whom dust formed "time-stains" that provided an essential way of understanding the historical value of the buildings that make up a city.
In the same room is a collaborative piece by Daniela Ortiz and Xose Quiroga, 1st of May Camp, the photographic documentation of an intervention to a Peruvian mining town, Cerro de Pasco, which straddles an open-cut mine that has continuously operated for nearly 450 years. The "time-stains" here are so toxic it has been suggested that the entire town be relocated thirty-five kilometres away to spare residents the disruption of explosions and harmful pollution.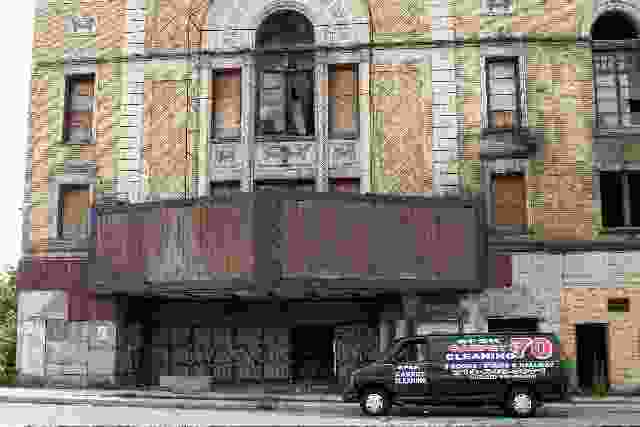 The Australian collaboration by Tina Havelock Stevens and Elvis Richardson is unrelated to mining, and offers a different take on "time-stains." Their work intuitively connects the architectural ruins of the American city of Detroit with a collection of Internet-sourced images of houses for sale in Australia for under $250,000. Their combined narrative encompasses the urban decay of a once-great modern city (Detroit) and the outskirts of Sydney offering so-called "affordable" entry into this punishing housing market, and tell a cautionary tale about the transience of urban landscapes.
Prior to the National Architecture Conference (beginning 30 May), Otero Pailos will be in Sydney to hold a workshop for graduates and undergraduate students of architecture at the University of Sydney.
Dirt, Dust & Ruins
15 March – 31 May
Tin Sheds Gallery
Related topics