There are two kinds of people: those who find clowns funny and those who see clowns as the devil incarnate. These groups are otherwise known, respectively, as children and adults. Of course, there are young people who quiver with fear at the sight of a clown but is a young person necessarily a child? Tales from Elsewhere, shown at the Australian Centre for Photography this year, presented various bodies of work by Australian photo-artist Polixeni Papapetrou, created since the birth of her daughter and muse Olympia. Wonderland, a body of work inspired by Lewis Carroll's Alice in Wonderland series and the curatorial inspiration for this exhibition, suggests childhood is more accurately a notion that bespeaks adult insecurities and cultural sensibilities than merely a fixed chronological period.
How telling is it that postmodern retellings of Alice in Wonderland riff on the darker tones of his stories? I don't think it's a stretch to describe Johnny Depp's Mad Hatter as drug affected. Arguably, one's coming of age as an adult is marked by the dawning of Weltschmerz: an understanding of the world as an inherently cruel place. Wonderland, to Alice's eyes, is a land of wonders. But, to an adult, talking cats and gargantuan mushrooms are the stuff of nightmares.
The Wonderland series employs the inverse of Carroll's technique of painting over photographs. Robert Nelson, Papapetrou's partner and Olympia's father, paints a 3 m × 3 m backdrop using the principles of anamorphic perspectival illusionism to recreate scenes from Carroll's stories. The backdrop is hung on a wall with the lower third cascading onto the floor creating a "space" for Olympia to perform. To the naked eye, details of the horizontal third appear elongated, but the camera lens acts as a corrective by aligning the planes to achieve the optical illusion of 3D space. In order for the focal points to line up, the camera is restricted to one position. If the scene was not what Papapetrou had in mind, Nelson would have to repaint sections or entire canvases in the pursuit of trompe l'oeil.
In the way that art functions to challenge our ways of knowing the world, playing dress ups is a childhood rite of passage that forms our identity by questioning it. In recent series Between Worlds and The Dreamkeepers alike, both strikingly filmic and governed by the magic realist tradition, we are confronted by the fantastical amid the real in strange alchemies that do not resolve. In the decidedly adult domain of a gallery, Between Worlds, with its tableaux depicting therianthropic creatures (Olympia, her brother Solomon and friends) frolicking in pastures, it would appear as if we are glimpsing an unsettling parallel world. But then, as posters in a kindergarten, they could readily become windows into an enchanting creative space. Asked how she would react to a kindergarten exhibiting her work, Papapetrou stated without hesitation, "I would love that."
It was at this point in discussing The Dreamkeepers with Papapetrou that a curious disconnect emerged between the artist's benign, young-at-heart quirkiness and my interpretation of this latest series as a meditation on the wretchedness of ageing. While the artist asserts that, "a lot of the work has arisen out of play [with her children]," in the light of films like Harmony Korine's haunting depiction of childhood squalor in Gummo, modern-day bandits in novelty masks, and the wash of sexual fetishisms available on the internet, Papapetrou's use of masks to create troupes of child-grotesques perambulating by the seaside takes on a darker resonance.
Magic realism stimulates a child's formative creative imaginary but unsettles the adult's reasoned way of thinking. A child accepts there is much to learn in the world and delights at encountering the new, whereas for an adult, the unknown threatens to undermine an established world view. But just as there are young people who quiver at the sight of a clown – perhaps their knowledge of the world has outpaced their years – there are a small number of grown-ups who revel in the magic of the unknown. It's this select group of adults we call artists.
Polexeni Papapetrou: Tales from Elsewhere was on display at the Australian Centre for Photography from 4 February to 12 March 2011.

Source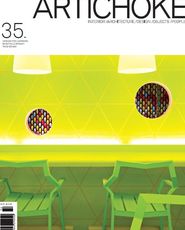 Issue
Artichoke, June 2011
Related topics