The Clock is a film about film, a work with staggering ambition that is at once shallow and deeply profound. Created by American video artist Christian Marclay, and having drawn huge crowds at the recently reopened Museum of Contemporary Art Australia in Sydney, the concept is simple enough. It's a twenty-four-hour film consisting of clips from film and television, almost all of which include an image of a clock, a watch or a reference to the time. And the wonderful thing about it is that it keeps real time, to the minute. If you happen to enter the film at 3.30 pm, there will be one or more clips that reference 3.30 pm, before it switches to 3.31 pm and so forth.
The film clips are numerous and diverse. Some films are returned to again and again – for example, in instances where the time is a major plot point in the story. Other films are so fleeting that you have only seconds to recognize them before it cuts to another. The sound from a clip sometimes morphs into the next clip but otherwise, this is a series of cut narratives, without resolution.
But as you watch the film, you start to realize that there are some connections after all. Marclay plays with the conventions of film. Usually in a film if a character turns quickly and looks up, the next shot will show the viewer what they are looking at, whereas in The Clock Marclay will cut to another film altogether. It also makes you realize how film uses time as a plot device, often to create tension. Some of the scenes are mundane, but most are tense, suspenseful, dramatic. In film, as in life, people tend to look at the time when they are bored, late, worried, disappointed. Films where there is a countdown for dramatic effect, such as High Noon (1952), appear in The Clock but here, time is distorted in a different way – the long drawn-out suspense of High Noon, shown in real time, loses its drama.
For Marclay, making The Clock was incredibly time-consuming. He hired six assistants to watch DVDs all day long, to find clips that were numbered according to the time and entered, with a brief description, into a spreadsheet. At the end of the day, as the clips began to gather, Marclay would edit them together – a task that took more than twelve hours a day for three years. With over ten thousand clips in the final work, the types of films he selected are interesting. Most are in the English language, though there are some European and other international films that pop up from time to time. Most are dramas or comedies, while there is little science fiction or horror, and no Bollywood. Bollywood films tend not to feature the time, which is interesting in itself.
Finding connections within the material became an obsession for Marclay, who linked subject matter, tone and intensity. Some themes came from the time of day – between 6 pm and 7 pm there are a lot of art openings, while between 1 am and 2 am, everyone is sad. The "witching hours" of between 3 am and 5 am were the hardest and there are a number of minutes for which no clips could be found. Instead, Marclay filled these with dream sequences and images of people tossing and turning in bed. Other themes were intentionally pieced together – between 7 am and 7.30 pm there are a series of women being disappointed by their husbands. At 7.14 pm, in Chloe (2009), the character played by Liam Neeson phones the character played by Julianne Moore, who's planned a party for him, to say he has missed his flight home. Then at 7.18 pm, Moore's character in Far from Heaven (2002) waits for a phone call from Mr Whitaker in her 1950s mansion.1
How you watch The Clock – the experience – is also part of the work. While Marclay was fastidious in his editing, he is as particular about how it is shown. The film cannot be shown outside, it must be shown inside with the audience seated comfortably. The type of sofa (three seater) and layout (in a grid) is also precisely dictated so visitors can sit comfortably for hours to view the work. In this sense it is not a film – it is an installation. The experience of watching it has been engineered, just as the film has been, to be a communal experience, comfortable for viewing, but on a sofa like you might find at home rather than on auditorium seating that you might find in a cinema.
And people do spend hours watching The Clock. It is a mesmerizing experience, similar to that of channel surfing. But it is also disorientating, perhaps because you are on the one hand being drawn into the story and losing all sense of time – as you do when you watch a regular film – but on the other hand the disjointed narratives and the presence of the actual time on screen keep jolting you out of your reverie.
The comparison to channel surfing also raises questions about the meaning of the work. For literary writer Zadie Smith, who wrote an essay on The Clock (reprinted as a catalogue by the Museum of Contemporary Art Australia), the experience of watching the work leads to a sense of the sublime, a realization that it is "maybe the greatest film you have ever seen."2 Meanwhile, art theorist Terry Smith responds to Zadie Smith: "While I, too, thrilled to the many delights of [Marclay's] surprising choices, intriguing repetitions and above all the sense of flow and change engendered by the interplay of sounds both within and between the clips … I am still searching for the bigger take-out, what used to be called meaning (and is still sometimes called 'criticality')."3
Despite Terry Smith's misgivings about this perceived lack of meaning, for me the experience of watching this work is wonderful. Even more, the concept itself of The Clock is astonishing in its originality. And what adds to this is the realization that The Clock is not just a film or an artwork, but also a timepiece. Despite its origins in commercial, popular culture – and the fact that it is really fun to watch – it is an important artwork that offers a deeply layered experience for viewers.
The Clock was at the Museum of Contemporary Art Australia, 29 March – 3 June 2012.
1. D. Zalewski, "The Hours," The New Yorker, vol 88 issue 4, 50.
2. Z. Smith, Christian Marclay: The Clock (Sydney: Museum of Contemporary Art, 2012).
3. T. Smith, "The Clock, The Tree Of Life: Contemporary Art Cinema," draft ms, 2012.
Source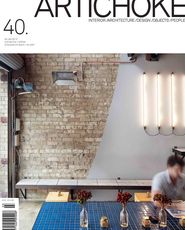 Issue
Artichoke, September 2012
Related topics