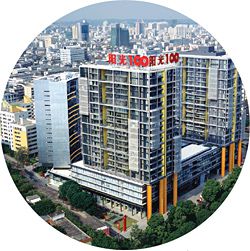 Australian architects have been increasingly involved in design, planning and consultancy in China due to rapid Chinese urbanization and political liberalization since 1980. Prominent projects include Denton Corker Marshall's Australian Embassy in Beijing and the Sunshine 100 projects in many cities, PTW's Water Cube (National Aquatics Centre for the 2008 Beijing Olympics) and Lab's SOHO Shangdu mixed-use development in Beijing, in addition to many faceless new towns dotted across China. How to characterize these projects designed by Australian architects in China? What has been transferred into China? What, if anything, has been absorbed into the Australian profession from China? Is it a one-way export or a two-way communication? How is design knowledge exported into an Asian country such as China? And how is this body of knowledge transformed in the process, when "alien" impacts are internalized? Are these impacts significant for the two sides respectively?
We may take Denton Corker Marshall's work in China as an example for a discussion on these issues. In the earliest days of China's opening up to the outside world, when Australia was establishing and expanding relations with this newly emerging Asian power, a new Australian Embassy was needed. Designed in 1982 and built years later, the new building was a walled compound with a symbolic formality (and dignity) resembling that of Beijing. It was a rigorous modernist interpretation of the courtyard typology found in the vernacular house and imperial palace of the Chinese capital. From 2000 onwards, however, Denton Corker Marshall's involvement in China – now a dynamic economy with massive housing demands for a large and fast-growing urban middle class – began to evolve in new directions. If Denton Corker Marshall's early design in the embassy engages a "symbolic" dialogue with the Chinese tradition of the courtyard typology, its current work may be characterized as a "real" and full-scale participation with a "dirty", messy world of big urban construction, with the brutal task of accommodating tens of thousands of residential units and associated functions. Both phases of Denton Corker Marshall's work in China are important, of course, but it is arguably in the second phase that we are witnessing a serious challenge and a much closer dialogue and interaction with the Chinese reality. What kind of dialogue is happening here?
Denton Corker Marshall's work in Australia may be characterized as modernist with a sophistication that accommodates richness, complexity and elements of sensuality. On the whole, however, its core aesthetic value may be considered modernist with an austere rigour and discipline. If this is the case, then Denton Corker Marshall's projects in China in recent years demonstrate a tension or pressure from which new elements of a broader modernism are emerging. These pressing demands in China include: (1) the scale or magnitude one has to work with at high speed; (2) the need to create an entirely new urban condition, based on either a tabula rasa or previous farmland or a very thorough renewal scheme; and (3) a populist taste demanding sensuality and iconic expression in one's design. Under these pressures, the more disciplined modernism of Denton Corker Marshall in Australia began to expand into a broader language that seems to have a lot of potentials and uncertainties. Modernism here is expanded and also challenged. We can find four cases in which such tensions occur.
Sensuality and figuration
Though there are some sensual elements in Denton Corker Marshall's work in Australia (such as the use of bright colours), the sensual and especially the figurative elements of the firm's language are noticeably expanded or dramatized in China. Bright colours are used in residential projects (such as the Sunshine 100 in Beijing, completed in 2004) and figurative forms resembling flowers are found in the Nanning Gateway of 2002. In the latter case, two "flowers" are erected on the two sides of a highway leading into the city. On one side a group of "petals" opens up, while on the other a group of petals is scattered along the side of the highway. It appears that a flower is being pulled together or apart when driving along the highway in each direction. Each petal is a giant metal panel of some fifteen to twenty metres high in bright red. Compared to the Melbourne Gateway, these two flowers are far more figurative. The appearance of a figurative form of a flower in Denton Corker Marshall's work is rare. It is an extreme moment of modernism (if it is still modernism) reaching a most iconic expression. It reveals a Chinese impact on Denton Corker Marshall or on modernism from Australia or the West in general, but also a Western modernism reaching out for new possibilities or its "self-destruction". Since the flowers are made up of giant metal panels, each in a standard abstract shape, they are, strangely, formal and figurative, abstract and literal. It is not clear if we are witnessing signs of a new language, but the pressure and the burst of new ideas at this moment in China are clear.
Magnitude and functionalism
Denton Corker Marshall's two recent projects, Euro-City Plaza (Nanning, 2007) and Sunshine 100 International New Town (Changsha, ongoing), involve a total floor area of 210,000 square metres and 690,000 square metres respectively. Even a "small" project (Hillside Gardens, Nanning, 2005) includes a total area of 120,000 square metres. If modernism has reduced its scale of design consideration in the West in the late twentieth century, construction in China now demands a revisit to some of the heroic ideas of Le Corbusier and the Smithsons, and a re-examination of certain postmodern criticism of mega-structures and modernist visions. These large-scale new towns in China also affirm a social and functional idea of "machines for living in" for the fast-expanding urban population. If these mega-projects are truly needed and if they do solve pressing needs for some of the largest countries in the world today, then "functionalism" must be reassessed from a critical but affirmative perspective. For Denton Corker Marshall from Australia, these large projects in China act as a critical challenge to a pervasive late-twentieth-century conservative value, and perhaps open up an outlook where earlier visions of modernity acquire a new relevance, at least for developing countries. Of course, Rem Koolhaas has already picked up this point in relation to Asia ("Singapore Songlines" in S,M L,XL, 1995, pp. 1009–87). Whether for Denton Corker Marshall or for OMA, Asia acts as a catalyst for a critical review of some dominant values in the West.
Urban typologies
It is well known that the heroic modernism of Le Corbusier has certain elements, especially that of "towers in the park", that are destructive to the urban fabric of streets and blocks and intricate spatial relations. In Denton Corker Marshall's large-scale new towns, although heroic scales are adopted, the destructive elements are avoided whenever possible. Laneways, streets, plazas and community courtyards are adopted to form urban spaces for these new "cities", as seen in Sunshine 100 (Beijing, 2004), Sunshine 100 Classical Times (Liuzhou, 2004) and Euro-City Plaza (Nanning, 2007). Here, European rationalism of the 1970s, which aimed to reconstruct urban typologies (squares, plazas, streets, blocks, parks), is employed. This move includes a double articulation: a rationalist compensation for a lack in heroic modernism, and a European urban typology for a Chinese "brave new world" of tabula rasa. For the latter articulation, the partial or wholesale destruction of the old fabric is happening anyway, and so the issue is what urban types should be used for the making of a new urbanity. And since there is a clearer urban and collective scale in the European typology (which has already been used in China since the 1910s in the case of parks and avenues), it is preferred. This is open to further test and debate. However, once again, China provides a pressure or challenge, for which a bold idea has to be put forward quickly with an open and creative mind.
Environmental design
There are various cases where Denton Corker Marshall has to design a total environment, including not only the main buildings but also surrounding spaces and the landscape. But the demand for environment design is more interesting in the case of the residential units of the Sunshine 100 series, for which maximum sun exposure of all units of the whole new town is guaranteed. Facing the south and south-east for maximum warmth and sun exposure for all housing units is a local Chinese obsession established in ancient times and in the twentieth century as well. Denton Corker Marshall's designs are therefore a modernistic interpretation of a local cultural-ecological tradition. Importantly, this suggests a generalization of this approach for China and anywhere else where modernism can be ecological and holistic.
In these cases, a certain austere modernism is expanded to include elements of a broader modernism or a new language yet to be defined. The interaction here is between a disciplined modernism from Australia and a wild dynamism on a large scale, with a different tradition, which is China today. The scale, the need for urban construction, the iconic demand and the local ecological tradition demand an opening up and a relaxation of the grip of rationality on established modernism, so that a broad modernism or aspects of a new language may appear. The Denton Corker Marshall case reveals a two-way dialogue: on the one hand, these wild mega-projects are given a disciplined form; on the other, disciplined modernism is questioned, enriched and exposed to new possibilities.
Jianfei Zhu is Associate Professor at the University of Melbourne. He is the author of Chinese Spatial Strategies and Architecture of Modern China and the editor of Sixty Years of Chinese Architecture (1949–2009).