South Australia's Government Architect has swung her support behind a 25-storey mixed-use tower proposed for Currie Street in central Adelaide, which is expected to to be approved by the State Commission Assessment panel on 23 May.
Designed by Hames Sharley, the tower at 62-68 Currie Street will feature a three-storey brickwork-and-glass podium and a singular tower form with an expressed concrete frame. It will house office space, a 198-room hotel, a ground-floor restaurant and café and a rooftop restaurant and bar.
The Government Architect Kirsteen Mackay offered her in-principle support for the proposal, praising its "simple singular expression that presents as a slender built form."
She did, however, suggest a "review of the design, detailing and materiality of the entry canopies to better reflect the simple extruded arch form, improve the visibility of the double height arches from ground level."
A planning department report on the project to the State Commission Assessment panel recommends approval for the project, noting it is consistent with the City of Adelaide Development Plan.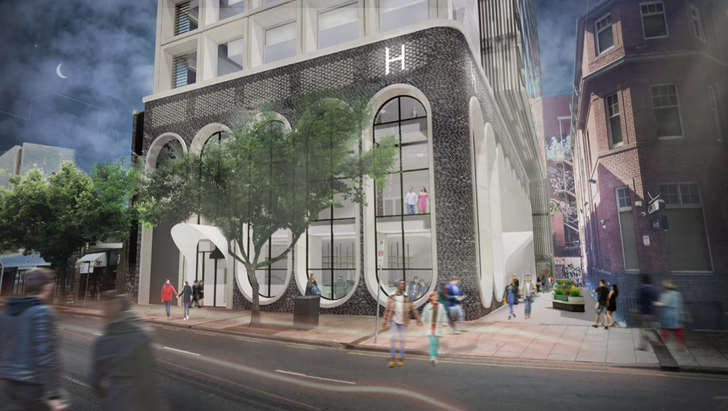 It its comments to the panel, Adelaide council notes that the adjacent Schrader Street would need updating to safely accommodate the change in traffic and pedestrian activity. The applicant, however, has not agreed, stating that "the vehicle movements associated with the loading dock and passenger and service loading areas are safe and convenient and that the upgrade of Schrader Street is not essential for this to occur."
In regards to the proposed building's interaction with adjacent heritage buildings, the Government Architect noted, "A three storey podium element is proposed to Currie Street with the intention to reflect the height of the adjacent Commerce House.
"The podium is characterized by brickwork, glass bricks and expressed arches to reflect the vertical fenestration proportions of the Local Heritage Place buildings in the immediate locality.
"I support the design approach to reflect the fine grain character of the area with a simple materially textured podium."
The Hames Sharley tower will be considered by the assessment panel just weeks after the panel approved a 28-storey tower for a nearby site at 51 Pirie Street. Designed by GHD Woodhead, that tower and the demolition of the 1927-built local heritage-listed former State Bank of South Australia were approved on 18 April.
Related topics