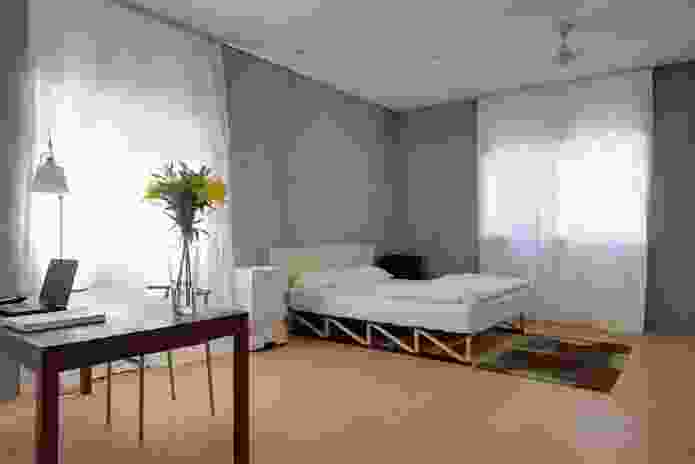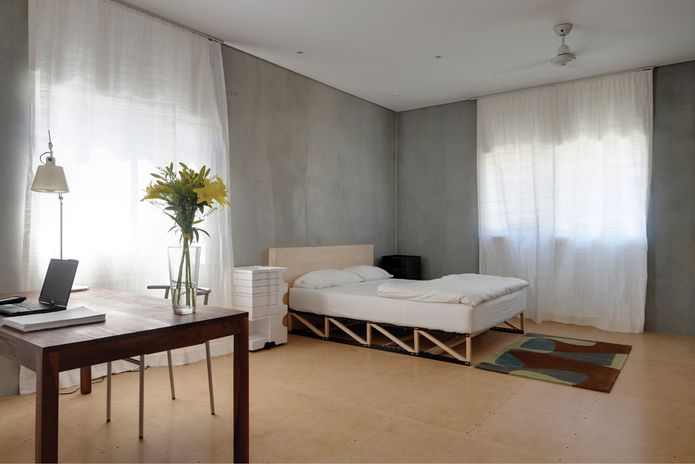 Many architects talk of building cheaply but few achieve it. The conventional approach to cost control is to reduce size and material/specification quality but, in many cases, the inability to strategically let go of what is normally understood as architectural culture or the aesthetic shaping of form, space and technique burdens the architectural house – even that which looks to industrial processes for inspiration – with a heavy cost penalty for the undeniable benefits of customization. Though one of the architect's core skills is the ability to make each space and element of the building fabric work harder and to glean more efficiency, utility and delight from less space and material, the price of a perfect fit to particular needs or opportunities can be measured through the traditional unit of construction cost per square metre – affordability of space, per se, inevitably suffers as soon as an architect becomes involved.
This measure of dollar value per unit of space is especially relevant to Simon Anderson's work, because instead of controlling cost by reducing size – a type of affordability enforced through existenzminimum, with all its ideological baggage of an elegant and ascetic life – Anderson aims to build the largest possible space for a given cost by deliberately letting go of conventional aesthetic preconceptions and employing observed industrial technology in a non-judgemental and even detached manner. To put it bluntly, this house was built for $1,400/m2 whereas even a modest, one-off architect-designed house of this scale might more normally cost $2,200 – $2,800/m2. How this has been achieved is a combination of judicious use of the architect's intervention in the process of building, and the careful thinking through of labour and site efficiencies.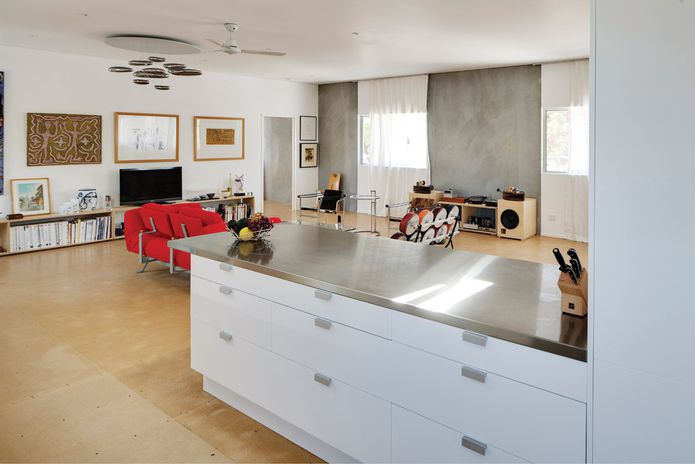 The construction methods utilized in this house are all found techniques, honed and refined by others over time to great efficiency, relative to a particular location and building economy. Anderson has researched these industrial and commercial techniques and developed his own rules of application at the scale of domestic building. The walls of the house are insulated double-skin concrete panels, cast on-site in a stack after first pouring a level ground slab, and then lifted into position. So immediately there are two perhaps unexpected restrictions which relate directly to factory typology: the ground floor slab must ideally be free of steps in level, and the panel sizes and the tolerance space needed to construct and handle them must fit easily within the site/slab area. The panels themselves provide a prefinished internal and external surface, waterproof and insulated, suitable for the Perth climate not only in performance but in method of fabrication.
There are a limited number of panel sizes, all full height and rectilinear. Openings are formed by leaving gaps of different widths between the concrete panels and then infilling these vertical gaps with alternating bands of lightweight spandrel framing and full-width window frames. In the lightweight framing runs all the cabling and services required between floors. Anderson has learnt from previous experiments in the application of this technique that even the slightest variation from basic (such as L-shaped window openings or services penetrations in panels) makes an enormous impact on the complexity, and hence the cost and time, of the project.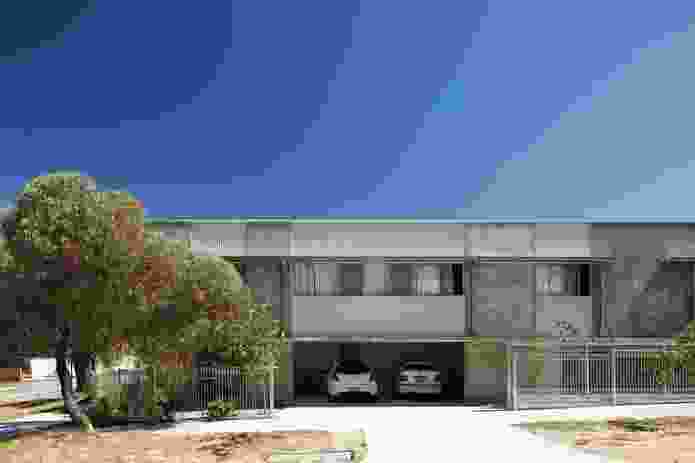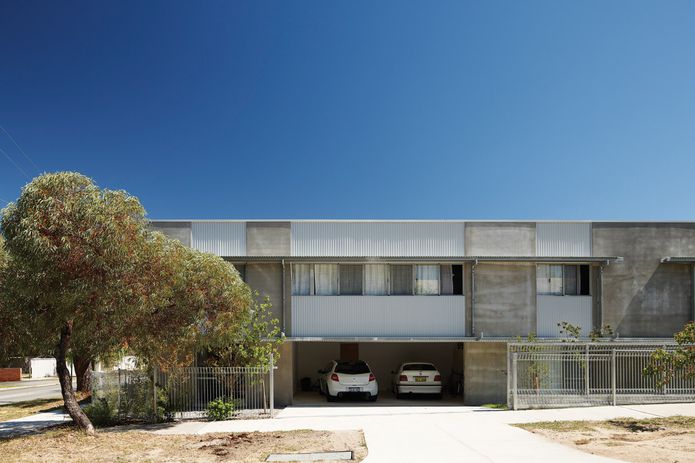 A critical part of this strategic approach to architecture is an accepting stance toward facts of the contemporary building industry in which the project takes place. So window frames, for example, are not "beautiful" in themselves or trying to achieve sizes or spans outside of the normal range. They are familiar, standard and readily available. The windows have been deployed and organized almost dispassionately, as a logical part of a system and are stripped of any particular expressive or extraordinary role. (Even though, of course, the final result of this organization has a very deliberate architectural expression.) In a similar manner, ceilings are flat, made of plasterboard and contain all services, as is typical in commercial and industrial architecture. Roof framing is lightweight steel, single span and single pitch across the whole enclosure, from which the upper-level ceiling is suspended. Floors are tongue-and-groove particleboard sheets, and this necessary working platform has not been covered but lightly sanded and sealed, accepting the imperfections produced during construction. The final result also exhibits a laconic poetry in its ensemble. Panels of strip window and white plaster between face concrete give a cool and breezy character to the interior, inviting us to slide the window open and linger there, in easy social contact with the street.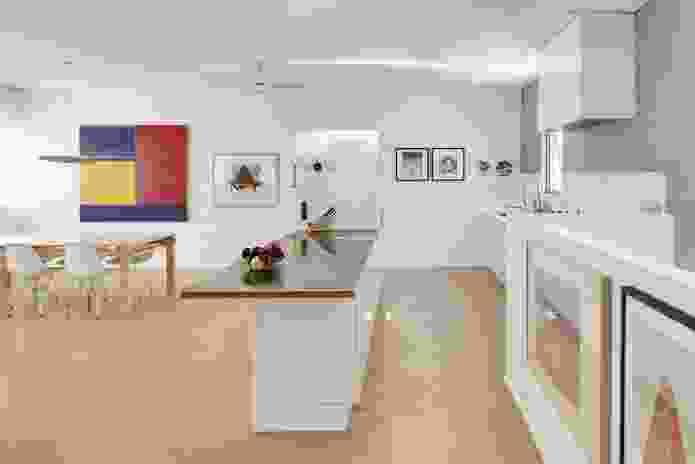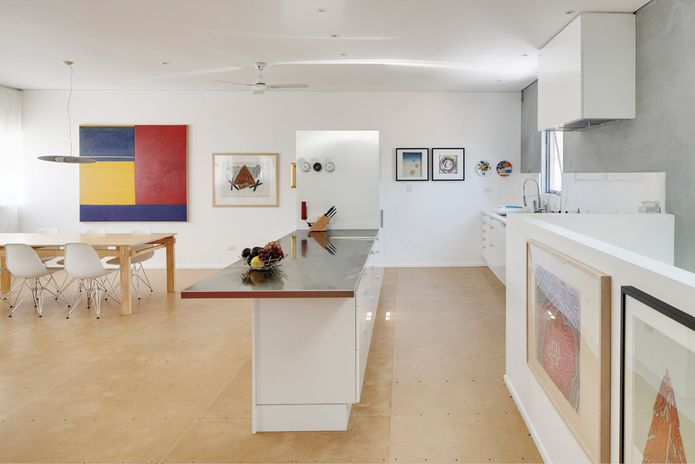 Affordability is also managed through the rejection of any notion of "interior design". The kitchen is from Ikea. The selection of other fittings and fixtures is left entirely in the hands of the client, who has imported items directly from Hong Kong and selected pieces at their own whim, at times seemingly incongruous with the architectural enclosure. This generous attitude and accommodation of difference is rare in architects but fits perfectly the notion of an industrial container to suit any flavour of occupant. Factories, storage warehouses and other robust but "B-grade" buildings are non-deterministic containers that can accommodate other uses and contents, and it is due to this tough but slightly neutral quality that they lend themselves so well to reuse, recycling and re-interpretation. By releasing design control over the minutiae of domestic life Anderson not only makes the architect's own time more efficient (and hence more affordable) but cleverly maintains his role in the project at a strategic level rather than as an arbiter of taste. This house is not a total work of art.
The same thinking applies to the spatial organization of the house. The plan is not highly wrought, figured or worked to exploit site conditions or any one set of circumstances or desires. On the other hand the arrangement and division of space is non-prescriptive – it is simple and direct, highly-efficient spatially, and inherently flexible. It is easy to imagine this building being reinhabited for other uses or for other combinations of living and working by future occupants. The current arrangement includes cars and three generations of family. There are multiple entrances and frontages, allowing flexibility in subdivision and access.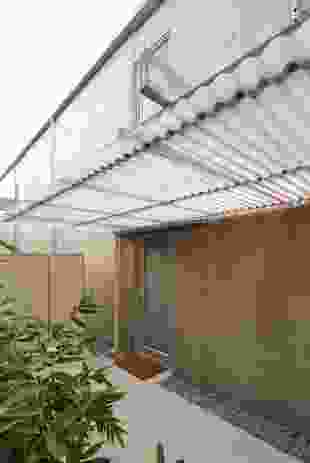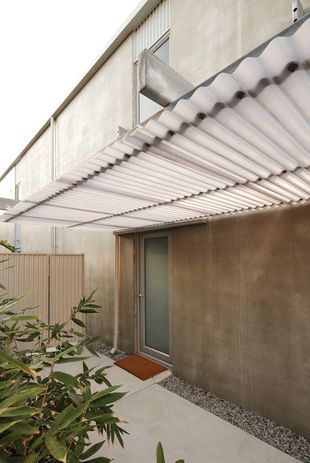 If architects are to find new ways of participating and remaining relevant in a highly mechanized and cost- and efficiency-driven construction industry we need to become more strategic in the application of our intelligence. This can have a direct effect not only on affordability but also on diversity in our suburbs, through providing the apparatus for future change and seriously addressing how to build in a way that can simply accommodate future reuse and social flexibility. At the same time, an increasing desire for customization and expression at the level of the individual means that we need to embrace and be accommodating of the need for change and the many small DIY contributions made outside of the architect or planner's knowledge and control. In this context, the type of strategies demonstrated in this house – such as researching and carefully reapplying highly efficient local methods of building; developing techniques for delivering more and more-flexible space; while decisively letting go of architectural assumptions at key points in these processes – are precisely what is required.
Credits
Architect

Simon Anderson
Architect

Simon Anderson

Project Team

Simon Anderson, Diana Goldswain, Sarah May, Domenic Trimboli,
Consultants

Builder Michael Bradshaw
Structural consultant Andreotta Cardenosa

Site details

Number of stories 2
Category Residential buildings
Type Residential

Project Details

Status Built

Source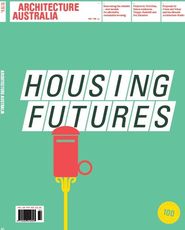 Issue
Architecture Australia, May 2011
Related topics