Although you might think it should be more common, it is a rare occasion when the architect of a residential project is fortunate enough to also be the developer and client. This scenario allows for a complete development of the project from conception to detail design. This is exactly what Vivianne Marston, principal of Marston Architects, has done with her new home on the shores of Fairlight, one of Sydney Harbour's most prized locations.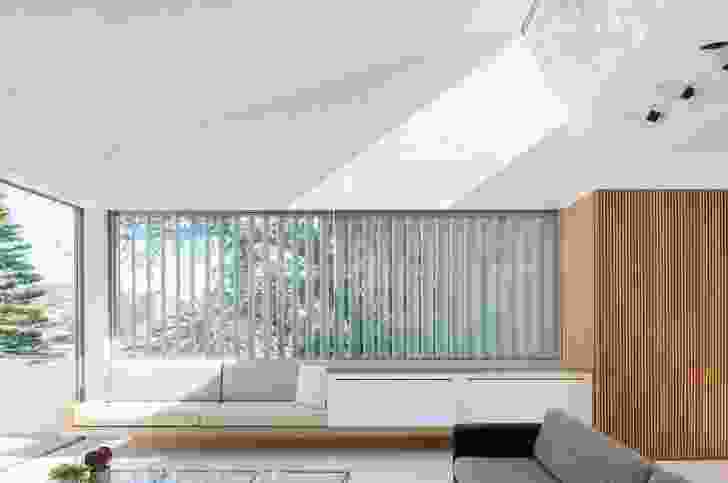 The backstory of this project is as interesting as the house itself and is worth recounting as a model of bespoke, designer-led development. Like most empty-nesters, Vivianne and her husband Andrew were left with a large house when their children moved out of home, in the leafy North Shore suburb of Castle Cove. Desiring a more urban and active life, Andrew had his sights set on a grittier existence in inner-city Redfern. During the search they decided to rent an apartment in Manly over the summer. One day while walking along the rocky shorelines of Fairlight they came across a single-storey home for sale and something immediately clicked. Vivianne approached a long-time friend – whose children had also flown the coop – and proposed that they pool their resources and buy the house, redeveloping it into two identical dwellings, one for each couple. Once they had secured the property the next challenge was to design a project that could accommodate two residences where once there had only been one.
Vivianne states that designing the houses with the "smallest possible footprint" was the driving force behind the initial stages of the project. Given the constraints of the site, this meant that each of the mirror-identical homes is lineal in nature, similar to nineteenth-century terrace house plots. The main difference between the typical dark and dingy terrace house and Vivianne's design is the way that light has been brought in and views embraced at every opportunity. This has been done in a twofold manner, firstly through the roof lanterns that give the exterior of the building its distinguished form, and secondly in terms of planning, through the incorporation of a central internal patio that breaks up the linearity, sectioning the homes into two well-balanced parts. Vivianne says, "People can't believe that it's on such a narrow footprint."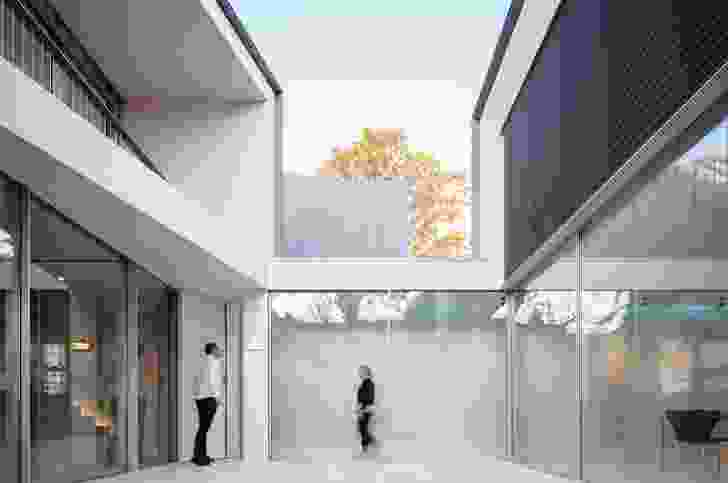 The rooms of the interior have been designed for dual functions determined by the position of large sliding wall panels – the kitchen/light box, the laundry/powder room, the walk-in robe/main suite. This design tactic eliminates the need for swing doors and allows all the spaces to be opened up or closed down according to visual and acoustic privacy needs. Each of the houses is designed for the general occupation of the respective couple – the default spatial configuration is open and flowing, rather than being locked into "guest mode," which so many houses unnecessarily seem to be.
Vivianne wanted to make everything "as light as possible" and worked to maximize every aspect of the site and interior. This is expressed in the slimness of elements such as "tall and thin" glazing systems, the finely crafted handrail and the audio speakers concealed behind the ceiling plasterwork. If it is not essential that an element be seen, it is detailed out of site. "Lightness" is not limited to the spatial aspects of the interior, it is extended to the way in which daylight is brought into the space and then manipulated. In every room in the house Vivianne has used the roof lanterns to capture views of the sky, opening up the interior and avoiding any chance of a gloomy corridor-like experience. The walls and ceilings of all the spaces are finished in waxed stucco that reflects and refracts light as if made of mother-of-pearl. This beautiful shimmering surface sparkles throughout the house, while also being extremely practical in terms of durability. Vivianne points out that every surface of the design, from the limestone floors and oak joinery of the interior to the zinc cladding and render of the exterior, was selected so that it would never need to be painted – an important consideration in a location so close to the wild ocean.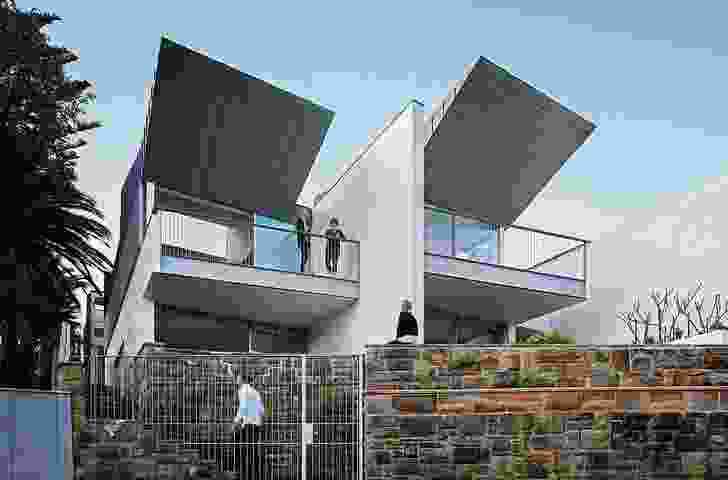 This project incorporates many of the design ideas that Vivianne has been testing for years on her other projects, and she has striven for perfection in light, materials and details. The architect has set out to demonstrate that a large footprint is not necessary for good living and she has achieved this with great skill. She has also shown that it is possible for architects to take the lead on development and deliver an outstanding environment for living.
Products and materials
Roofing

Rheinzink zinc roofing from Architectural Roofing and Wall Cladding, pre-weathered.
External walls

Rheinzink zinc cladding from Architectural Roofing and Wall Cladding, pre-weathered; sealed set plaster by One Coat Set Plaster.
Internal walls

Wax plaster by One Coat Set Plaster.
Windows and doors

Vitrocsa windows and doors in clear anodized finish; Fieger Louvre louvres.
Flooring

Artedomus Rocca Bianca limestone, honed.
Lighting

Kreon Diapason Cover On-Track lights; Otylight Pop recessed lights; Viabizzuno Candela di Vals pendant by Peter Zumthor and Roy Parete bedside lights by Mario Nanni.
Kitchen

Miele oven, fridge and rangehood; benchtop with integrated sink drainer in 'Super White' from Stone Italiana; Vola tapware; Coastline Kitchens joinery; custom American oak screens.
Bathroom

Agape bathtub and mirror; Omvivo vanity; Artedomus purpose-made stone vanity; Brodware tapware; Clearview sliding screens; Villeroy & Boch toilet.
Heating and cooling

Floor Heat Australia hydronic heating.
External elements

Custom tallowwood decking and Western red cedar fencing.
Other

Dining table and chairs from Cult.
Credits
Architect

Marston Architects
Sydney, NSW, Australia
Project Team

Vivianne Marston, Brad Swartz, Emily Maclaurin, Matthew Argent, Pip Marston, Bridget Allen
Consultants

Builder Lisney Construction
Engineer Benvenuti Structural Consulting
Joinery Coastline Kitchens
Landscaping Secret Gardens

Site Details

Location Sydney, NSW, Australia
Site area 630 m2
Building area 180 m2

Project Details

Status Built
Design, documentation 12 months
Construction 18 months
Category Residential
Type New houses

Source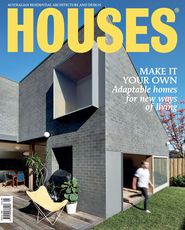 Issue
Houses, February 2016
Related topics