The Falls Creek Alpine Resort might be in the mountainous ranges of north-eastern Victoria but there's a distinctly European-ski-village feel about it. As the only "ski-in, ski-out" village in Australia, the Falls Creek resort allows guests to ski right up to their chalet door, after either a long day of skiing or a short day of falling over.
Design studio Büro North, whose diverse wayfinding portfolio has garnered awards and praise over its short life, was commissioned to complete a new signage system for the resort. As part of preparation, the team spent a week on site, immersing themselves in the environment as well as interviewing different stakeholders and village users. What soon became apparent was the immense number of challenges in store for the team in creating an efficient signage system for an Australian ski village.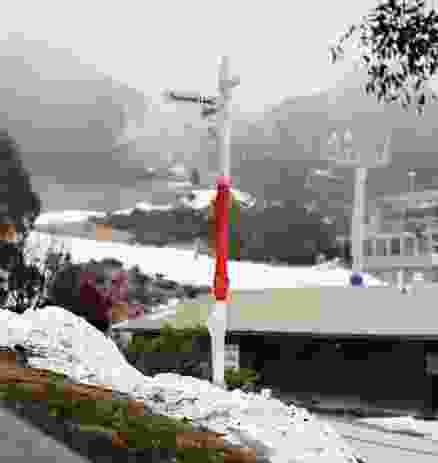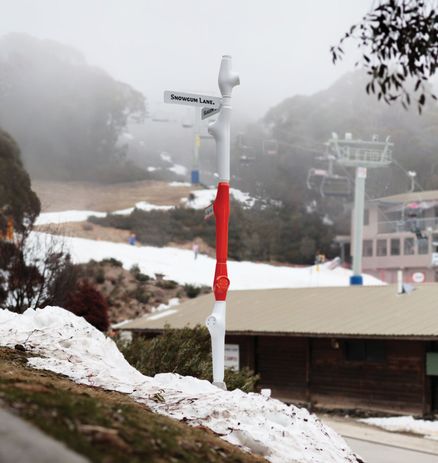 The first challenge was the variable terrain, conditions and seasons. The system would need to be strong enough to withstand the chill of winter and the occasional category-two wind, but also the summer sun. The signage also had to be clear enough to direct village guests around the small but complex site, which in many cases meant zigzagging to climb up the mountain, going west in order to reach an eastern destination. During summer and winter, different facilities would open and close, therefore the system would have to be able to easily adapt to these seasonal operational requirements. Finally, the system had to take into account a diverse range of users. Unlike wayfinding for a retail space or hospital where users are essentially behaving the same way, the ski village consisted of a mix of local residents, non-English-speaking tourists, maintenance staff, once-off visitors and seasoned regulars. On top of that, these users were divided into skiers, snowboarders, mountain bikers and bushwalkers.
The resort's previous system was antiquated, using several poles at an intersection, which was both inefficient and confusing. Büro North's system wished to consolidate these multiple poles into one, as well as providing a lot of information at an apposite height for reading. Proving its efficiency, twenty-six new poles have been put up across the ski village, replacing more than forty in the old system.
The resultant signage poles are made up of two aluminium modules – one short and one tall. The modules are hollow, sliding over a standard street pole and locking together. A typical pole might include three tall modules and two short ones to reach a four-metre height. Rectangular signs branch out from the modules' joints, giving it a tree-like figure.
The blaze-orange colour choice, while unusual and audacious, was curiously not based on its high visibility virtues, but is in fact the result of a lack of choices. Reds and yellows associated too much with danger and hazards, while blues and greens blended with the trees and the corporate branding. While the colour was a concern, when mixed with white modules and with the orange modules only appearing at eye level, the overall colour scheme draws a person's attention and is bold at the same time.
With this ski village signage system, Büro North's design process was exceptionally rational, each decision based on reason and context rather than style. While this approach runs the risk of creating something ugly, the end result is beautiful and distinct for what it is and where it is.
Credits
Project team

Büro North
Melbourne, Vic, Australia
Project Team

Soren Luckins, Finn Butler, David Williamson, Tom Allnutt, Ante Ljubas
Project team

ID/Lab
Melbourne, Vic, Australia
Consultants

Engineer Michael Blair
Manufacture Schiavello

Site Details

Location Falls Creek, Vic, Australia
Site type Rural

Project Details

Status Built
Design, documentation 12 months
Construction 3 months
Category Education, Landscape / urban
Type Public / civic

Source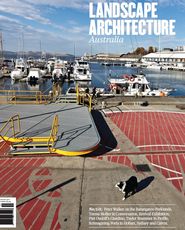 Issue
Landscape Architecture Australia, August 2011