By the time you read this I'll be gone. Well, kind of.
As many of you know I have resigned as editor of Architecture Australia. My last day on the job coincides with the release of this issue, but print magazines have long lead times and I am working madly on the next one as I write (plus an issue of Architecture New Zealand which has been thrown in for good measure!). So, this one is my penultimate issue – although there will still be traces of me in the July issue, which I have commissioned, but will not be involved in making.
So, what to say? I have loved working on Architecture Australia. Editing the national magazine of the Australian Institute of Architects is an honour and a privilege. This is due to you, the readers. The magazine has a large audience with many and diverse expectations – this brings with it great opportunity and great responsibility. Continually negotiating between the two is part of the thrill and the challenge. Thanks.
There are still many things to do in the ongoing development of the magazine – ideas to test, issues to push, coverage to expand – but after ten years of working on the magazine, and more than seven as editor, I have decided that this is now a job for someone else. The editors before me left the magazine in great shape for me to build on, and I hope the next editor will find new opportunities to push the magazine in other, exciting directions.
But of course I have not made the magazine alone. Ian Close and Sue Harris taught me how to make magazines in the beginning and Sue particularly has provided insightful comment and support ever since. Susannah Buckley has subedited Architecture Australia almost as long as I have been editor. Her attention to fine detail is truly remarkable, and the magazine is much better for the great care with which she does her job. Recent issues have been made with Peter Davies, managing editor, who brings with him a wonderful lightness of prose, keen intelligence and a calm forbearance of the chaos of magazine making. Before him Melanie Joosten brought her wit and dry humour to bear on the magazine (and me!). Other editorial colleagues at Architecture Media, past and present, have contributed to a strong collegial environment within which the magazine is produced. But my biggest acknowledgment must go to Katelin Butler, assistant editor on Architecture Australia from 2006 to early 2010. Katelin is a delight to work with, intelligent, tough-minded, amusing and seriously committed to architecture and to thoughtfully presenting and representing it in a magazine context. Together we made some excellent issues and I believe Australian architecture will see a lot more of her in coming years.
I have always enjoyed the collaborative nature of the magazine – the fact that it is produced in the space between the editorial team, the many contributors – photographers, writers, architects – the readers, the publisher, the Institute and the broader architecture community. I have enjoyed great support from many, which I have appreciated enormously.
I have also had two daughters in the time I have edited Architecture Australia, so it has been a huge juggle. Many of you will have seen me rushing around with a baby/toddler/child in tow. Architecture Media made it possible for me to do this by providing a very flexible workplace, while my partner, Paul Walker, has been juggling furiously too. Paul has also been a fantastic and important unofficial sounding board on the magazine, as well as an excellent contributor.
There is lots more to say, but I am at the end of the page! I hope many of you will hear from me in the future in other capacities. In the meantime I'll keep tweeting about architecture and other stuff at twitter.com/JustineClark. But for now, goodbye!
Source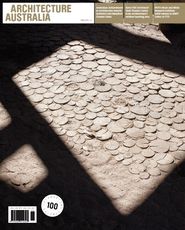 Issue
Architecture Australia, March 2011
Related topics