What is the future of fashion retail? This question opens up a complex discussion, one that is embedded in a broader consideration of the retail sector. Some of the best and brightest minds across the globe are hard at work trying to answer it, project by project, event by event, and brand by brand. Emerging out of this collective expenditure of creative energy appears to be a transformation of the retail space into an experiential, multidimensional form of theatre.
Retail's shifting character is being led by necessity and threat on the one hand and opportunity and innovation on the other, seemingly in equal measure. The outcomes are as diverse as the brands themselves and may be as permanent as the restoration and occupation of a historic building or as fleeting as a three-day-only stay in a contemporary art gallery as part of an ongoing "retail tour" – the ultimate here-today-gone-tomorrow pop-up.
This article is an attempt to work through these issues as they pertain to fashion retail. Artichoke spoke to a range of professionals operating in fashion retail in Australia, from interior designers to visual merchandisers, from top-line brand sales-people to marketing strategists. Their responses point to exciting futures, but it is apparent that the transformative opportunity needs to be seized as a matter of urgency, if we are to see fashion brands retain and expand their "tribes" of brand-loyal consumers or, for that matter, even survive.
Necessity and threat
Much of the discussion about retail's future in Australia (and indeed around the world) centres on the threat online shopping poses to traditional retail operations, in fashion as well as other sectors. While predictions about the impending death of the physical boutique are undoubtedly exaggerated, there is no denying the raw numbers. Change is happening now and it is happening rapidly. As of January 2013 Australian online spending is up 27 percent compared to one year ago, whereas bricks-and-mortar retailing has grown by merely 0.4 percent. This latter figure is in fact higher than that predicted.1
At the same time, we are seeing the rise of the "smartphone shopper": the customer who is able to find a better deal, and even search stock availability at competitors, while in a store. In Australia, 52 percent of the population now owns a smartphone, a 40 percent increase on the figure from one year ago.2 Google's collated figures show that 94 percent of those smartphone owners have researched a brand or product on their phones.3
In this context, the point of having bricks-and-mortar retail premises is being questioned and the stakes for fashion retail are high. Trend-whispering agency LS:N Global even asks, as one of its three key questions about the future of retail: "[W]hy should you even bother with a store?" Its other two questions are equally informative: "[W]hat is the point of your store?"; "[N]ow your once-faithful clients are only one click away from your competitors, how can you create loyalty?"4
Opportunity and innovation
From our discussions with industry experts certain common threads emerged. The most common theme in relation to the future of fashion retail was the idea of the store becoming less about the transaction and more about the "experience" or "theatre" of the brand. Our research into global trends backs up this local perspective. Entertainment is the key word and boredom is the enemy. As such, many in the industry see the store of the future as a carefully curated showroom and entertainment venue. Indeed, one of our interviewees mused on the convergence of hospitality and retail, imagining a fashion space operating and feeling more like a hotel lobby, cafe or bar than a salesroom.
Matthew Keighran, managing director of Hugo Boss Australia, says that while the online sphere is important, "at least in the near future the impact and experience of the physical world [will remain] necessary to cement the brand and speak to the customer in a way that cannot be matched online." He sees the physical shop as becoming a "theatre, delighting all the senses," while transactions are increasingly application-based: stock is delivered directly from remote locations to the customer's preferred address rather than taken out of the store.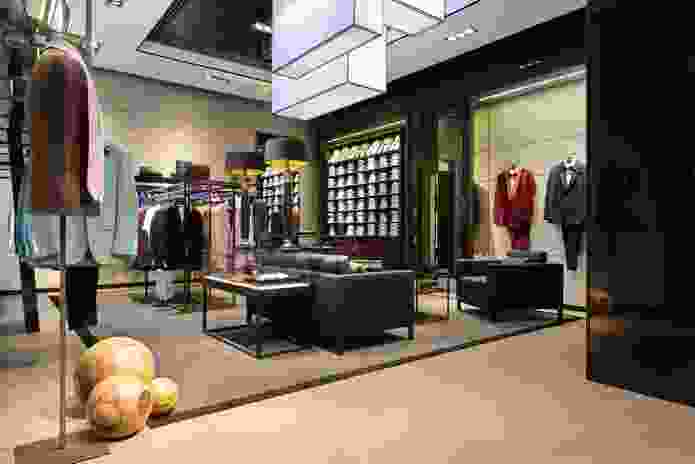 Mark Simpson of DesignOffice in Melbourne largely concurs and describes the fashion retail environments of the future as "layered stage sets: structure, scenery and props." He points to the need for seasonal adjustment of different elements, at different points in time, to provide fresh reasons for customers to visit a physical store. He is keen to point out, however, that the online world is not a threat to these aims; instead, smart retailers are looking to the potential it opens up to communicate with customers in different ways. In this schema, the physical store becomes a great opportunity to present a perfectly curated brand essence, providing a physical and emotional experience for the customer that they simply cannot get online.
In addition to the concept of entertainment, "customization," "editing" and "curation" were touched on by a number of our interviewees. Customization of the retail offering is already emerging as a strong trend in various global brands. One notable high-end example is Burberry, which provides a bespoke tailoring service linked to its catwalk shows, delivering customized product to the customer complete with a smart chip embedded in the garment, which unlocks multimedia content relating to the "journey" of the piece from sketches through manufacture to finished product. Each garment carries the owner's name beautifully embossed on a small gold tag.
The reader will no doubt be familiar with websites such as Pinterest, which allow users to post their favourite products onto online pinboards. Other services such as Nuji and StyleOwner go even further, explicitly empowering members to curate their own online stores, complete (in StyleOwner's case) with a seamless checkout and purchasing process integrated with the site's branded online experience. In an innovative feature, the member who has curated the online store gets a cut of any purchases made through "their" store.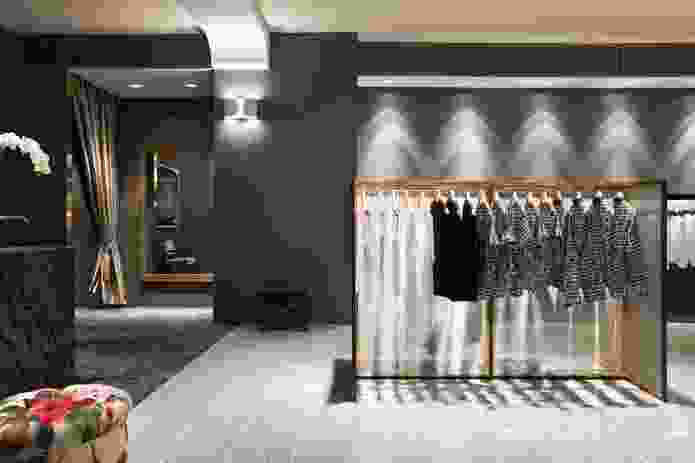 Returning once more to the real world, designer David Hicks agreed with others in that he sees an increasing trend towards detail and quality, and the use of special materials, to create a "bespoke" feeling in fashion retail interiors. He speaks of "tactile, rich materials such as lacquered veneers, silk carpets and honed marbles and metals" providing a luxury, signature experience. Combined with moving and static digital imagery, illuminated signage and theatrical lighting, the fashion boutique in Australia is starting to catch up with global standards. Such stores symbolize a brand and even seek to make unique architectural statements for a general public that appears to have become more au fait with design and with quality in general.
Looking to the future: the renaissance of the local
Given the centrality of retail to urban planning in Australia, and the importance of fashion as a sector of retail, some pundits have pointed to an impending transformation of our urban retail centres. They argue that this transformation will occur as the creation of singular, luxury flagship stores in premium locations becomes more important than having many stores geographically dispersed, thus allowing a concentration of resources on the choreography and curation of the major venues. This centralization could be supplemented by so-called "untethered fashion retail": the pop-up shop, the "squat-space" venue (fashion sellers borrowing or "squatting" in other businesses' spaces out of hours) or other forms of temporary retail.
As the big fashion brands consolidate into fewer, more theatrical, curated flagship stores in central locations, smaller fashion stores may disappear from the high street (or, in Australia, the mall or shopping strip). In the wake of such a trend, should it occur in other sectors as well as fashion, rents in non-flagship retail locations may drop, and this vacuum may give rise to smaller, local enterprises, exciting new brands and businesses nimble enough to take advantage of the opportunities presented by local settings. Ryan Russell of Russell and George certainly sees this interest in the local and authentic emerging now, and a subsequent polarization of retail into the big global brands serving large populations centrally on the one hand, and the local, craft-like brands serving a small geographical constituency on the other, with nothing in between.
Whatever the future brings, it is clear from our discussions and our research that the seeds of that future are sprouting in the present. The sectors servicing the fashion industry in Australia are ready for the challenge, albeit with one eye on the global and one eye on the local. If our discussions with members of the industry are any indication, the next time you enter the world of fashion, expect – even demand – not to be bored.
1. "Online Retail Sales Index: In Depth Report – January 2013," NAB Business Research and Insights website, 4 March 2013, (accessed 8 April 2013).
2. "Smartphone Ownership Increases: Google," Retailbiz.com.au, 16 May 2012, (accessed 8 April 2013).
3. "Smartphone, App Shopping Least Favourite Choice," Retailbiz.com.au, 28 May 2012, (accessed 9 April 2013).
4. "The Tomorrow Store," LS:N Global, 10 October 2011, staging.lsnglobal.com/trends/view/4595 (accessed 9 April 2013).
Source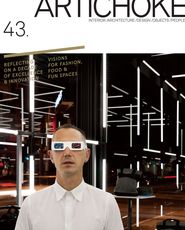 Issue
Artichoke, June 2013
Related topics