Artichoke Night School No. 7 explored the ways in which interior designers create a common thread between fashion brands and their retail stores.
Three speakers shared their experiences of working in business, design and social enterprise. The first speaker Jenny Mills drew on her experiences working for Dolina Fashion Group, Review Australia, Bendon and Pacific Brands, and spoke of the importance of an effective and engaging fitout in an increasingly digital retail world. Mills gave invaluable advice about working with clients on branding, and also presented inspiring examples of pop-ups, interactive apps, merchandising and shop windows.
Interior designer Mark Simpson from Melbourne studio DesignOffice used his own experiences in retail design as case studies. He shared inspiring examples of effective retail design for Marcs, James Cameron and My Catwalk. Perhaps most fascinating was Simpson's process – the development of brief and brand, and the collection of inspiring images as a visual ideas palette before the interior design had even begun.
Grace McQuilten and Tamara Veltre talked about the challenges of setting up a retail/cafe/studio space with a tight budget and a social conscience. The Social Studio's budget was less than $10,000 and required creative solutions to create three distinct spaces on a small site in Fitzroy, Melbourne.
The panel discussion explored brand ethos and the importance of a point of view in creating a shared passion for a project. The emergence of pop-up stores and the pressing need for the integration of the digital and physical brand provided an insight into the future of fashion retail.
The Artichoke Night School series is presented by Artichoke magazine in partnership with Space Furniture. Night School No. 7 was held at the Space Melbourne showroom.
Source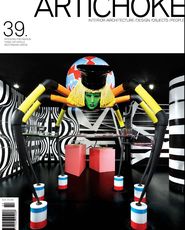 Issue
Artichoke, June 2012
Related topics