In the fickle Melbourne food landscape where fine dining has been declared dead, exceptions are guaranteed when it comes to Heston Blumenthal. Serial slashie (chef/scientist/gastronomer/rule-breaker) Blumenthal temporarily closed the doors to his flagship restaurant The Fat Duck in Bray, England, to complete renovations there. In the meantime, he relocated all of his staff to Melbourne for a six-month stint at Crown.
Architecture firm Bates Smart was given the task of designing The Fat Duck Melbourne and the brief was a lesson in balancing politeness and playfulness.
On entering the restaurant, guests travel more than ten metres up a gently sloping ramp in a dark corridor. Bates Smart director of interior design Jeff Copolov used his background in set design to play with perspective in this long and narrow entry space. Due to tricks in the flooring, the space seems to compress as guests walk up the ramp. This compression of space is heightened by a cunning "doorway" at the furthest end. The doorway shows a busy kitchen in action, but as guests approach closer it becomes clear the doorway is in fact a small television screen playing footage of the kitchen staff at Bray. The ramp journey concludes with a door sliding open to reveal the host desk and dining room.
While it is most definitely rich and sumptuous, the fifty-five-seat The Fat Duck Melbourne is decidedly dark, playing on the idea of chiaroscuro – the art of contrasting light and dark. In the dining room, clothed tables have been purposefully downlit to emphasize the dining experience. The effect is best viewed at night, where the tables seem to hover in the space. Chairs have been upholstered in a deep-purple velvet, to match the carpet.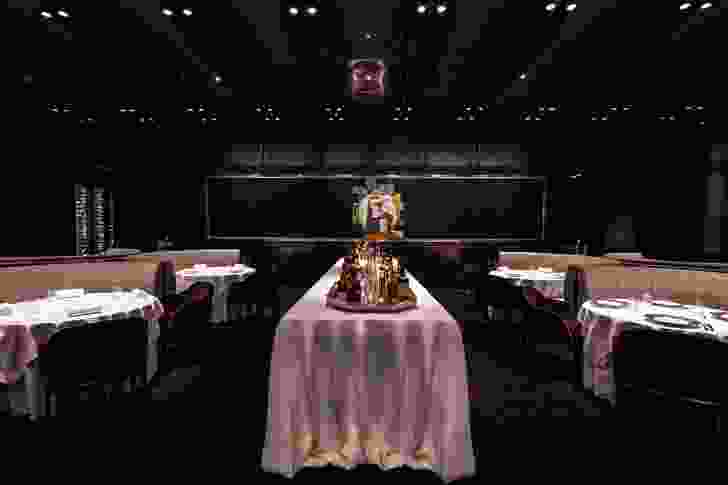 "The decor had to be restrained but plush, with rich decor. It's deliberately very played back but also harks back to its English roots," says Copolov.
At the centre of the dining room is an expansive sommelier table. Made from foam-coated resin, the table has undulating vertical waves, replicating the folds of a tablecloth.
But not everything at The Fat Duck Melbourne is about decorum. In true Blumenthal style, a giant, custom-designed pocket watch counts down the days until The Fat Duck returns to Bray in August. And the back wall is flanked by an in-progress jigsaw puzzle of Blumenthal himself. At the end of their fifteen-course, six-hour culinary stay, lucky diners receive a piece to add to the puzzle. By the end of the six months, the mural is complete.
The Fat Duck Melbourne may only be around for six months, but Blumenthal fans need not despair. Bates Smart has already completed much work on the venue's next iteration, the 150-seater Dinner by Heston Blumenthal, with a lounge bar, one private dining room and wine storage already hiding behind faux walls.
Related topics