Here are a few of our favourites from this year's Denfair show: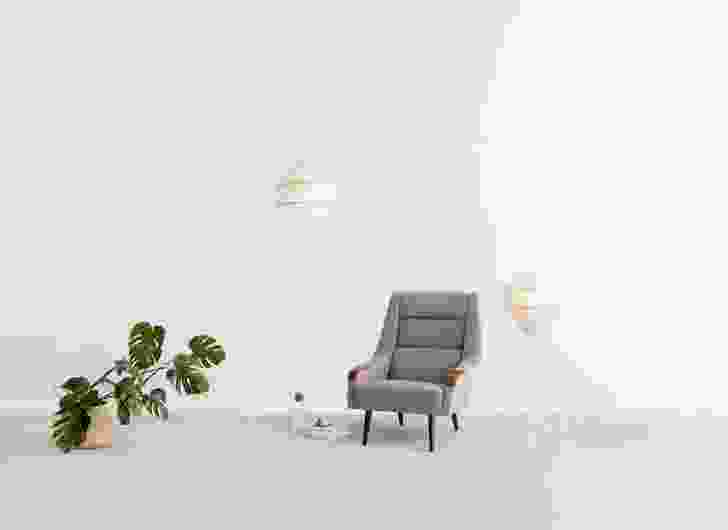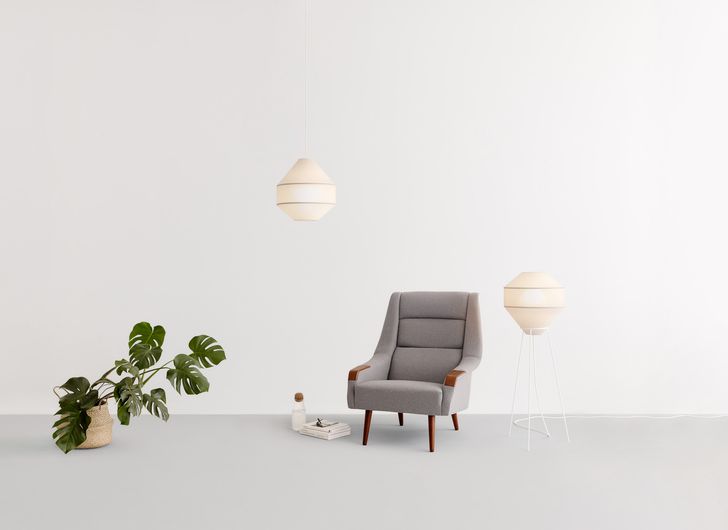 Mayu by Coco Flip
Glowing with a welcoming allure and foreign beauty, the Mayu collection by Coco Flip is an exploration of sculptural forms inspired by the beauty of Iceland's otherworldly landscapes. Distinctive and delicate, each piece is hand crafted using traditional shade making techniques to provide a warm glow from cosy lounge rooms to lofty stairwells.
To find out more, visit Coco Flip's website.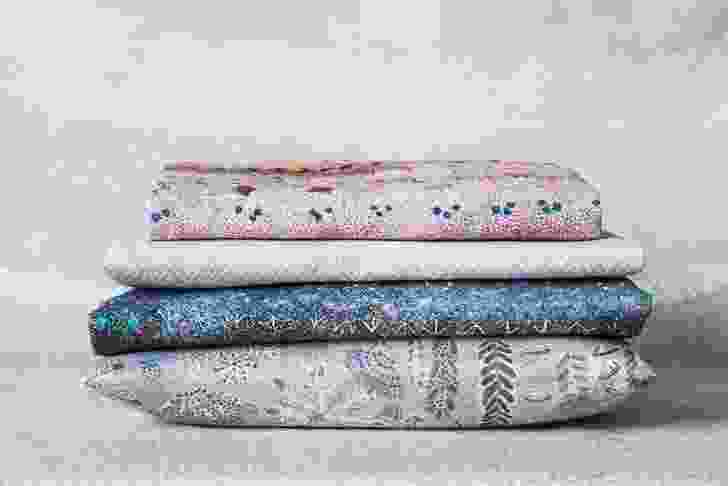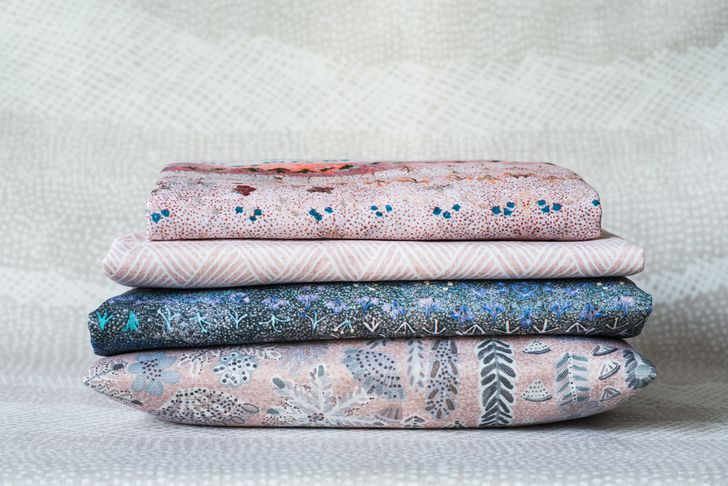 Ampilatwatja Collection by Willie Weston
Australian textile brand Willie Weston has launched the Ampilatwatja Collection – a new range of commercial grade furnishing fabrics featuring original artwork by two Australian Indigenous artists from Ampilatwatja [Um-bludder-watch], a remote desert community northeast of Alice Springs.
Willie Weston works with Indigenous artists to create curated collections of digitally printed furnishing fabrics for use in commercial and domestic design settings. Artists and their communities are paid for each metre of fabric produced, ensuring ongoing revenue streams outside their main art practice. Artwork is digitally printed in limited runs, maintaining the integrity of the artists' work and ensuring the exclusivity of Willie Weston fabrics.
To find out more, visit Willie Weston's website.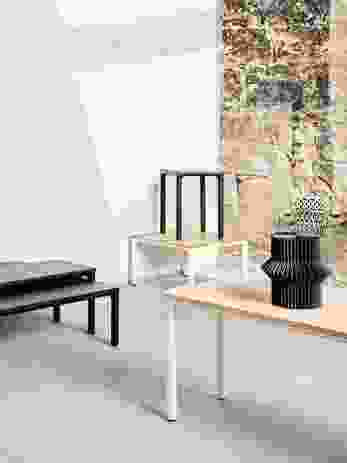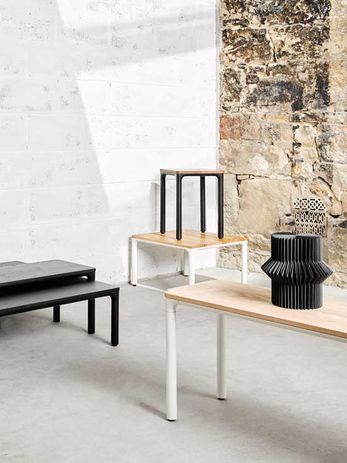 Molloy Modular Collections from Cult
Originally a series of timber pieces, 2016 sees Adam Goodrum extend the Molloy collection with the launch of the Molloy Modular range, a contemporary take on the original designs using powder-coated aluminum legs in place of timber. The use of aluminum means each piece can be individually customised in length, height and width, and can also be assembled on-site, easing the transport and installation process.
To find out more, visit the Cult website.
Seed to Seat from American Hardwood Export Council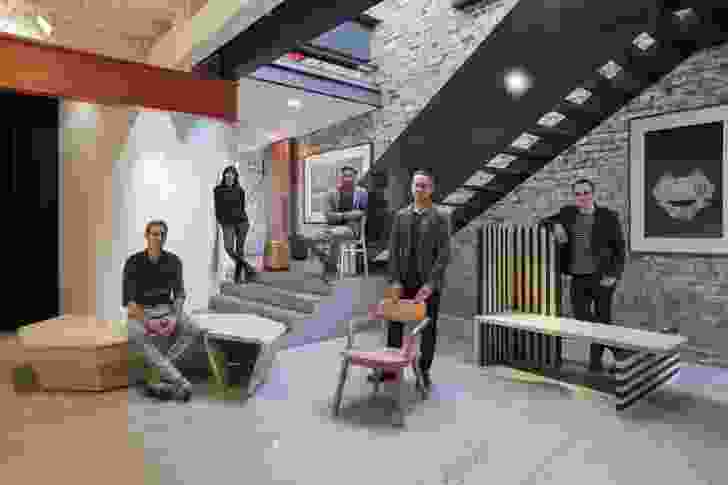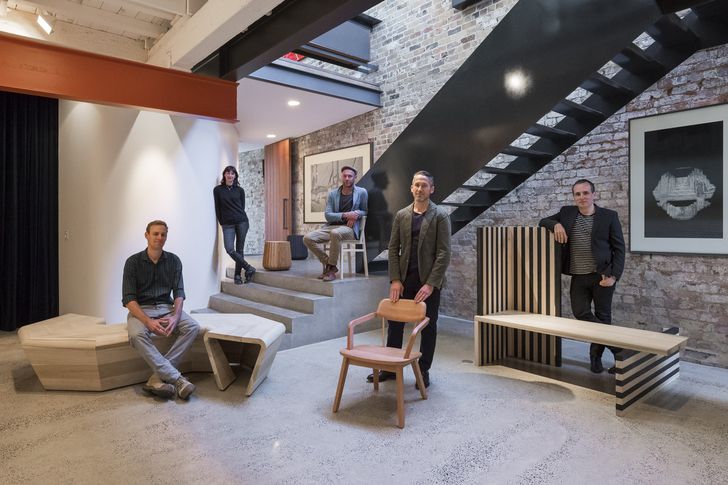 Seed to Seat asks, "What is the true environmental impact of design?" The American Hardwood Export Council has collaborated with six of the most prominent and exciting designers in Australia and New Zealand – Adam Goodrum, Greg Natale, Anne-Claire Petre, Ben Percy, Todd Hammond and David Trubridge – to demonstrate that sustainability can have substance. The designs have been unveiled this week at Denfair. In response to a open brief for "something to sit on' made from American hardwood lumber, each designer has created a piece made from American cherry, tulipwood or red oak and, in Trubridge's case, thermally-modified American ash. The full environmental impact of each completed design has been calculated.
Both Evostyle in Sydney and David Trubridge in Whakatu, who manufactured the pieces, collected data on all inputs in terms of materials, energy usage, transport and wastage. From this information, AHEC is producing a profile for each design drawing on data from their Life Cycle Assessment research for 19 hardwood species. Life Cycle Assessment is a scientific tool that helps industry to establish environmental frameworks that have real meaning and assess true sustainability. The result will present the cradle-to-grave impact of creating each product across six categories. The most topical impact category is global warming potential (GWP), or carbon footprint.
To find out more, visit the Seed to Seat website.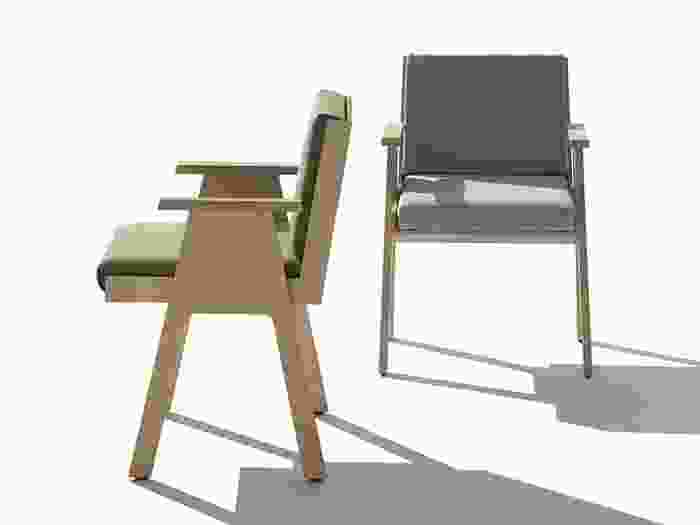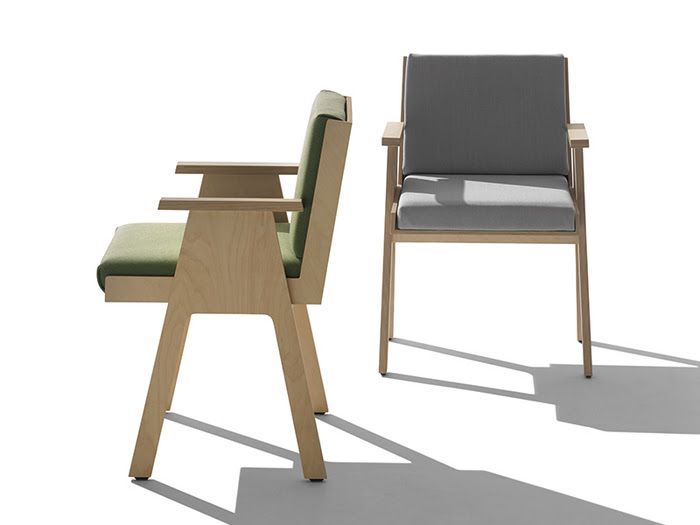 Mangiarotti Furniture Collection from Artedomus
Artedomus introduces Agapecasa to Australia, launched at Den Fair. The first collection in this remarkable range of Italian made furniture centres around design ideas and classic prototypes from the archives of architect Angelo Mangiarotti, one of the leading exponents of 20th-century Italian design. This is a diverse collection with pieces represented from the 50s onwards, yet it remains outstandingly modern and consistent despite being designed across a fifty-year time span.
To find out more, visit the Artedomus website.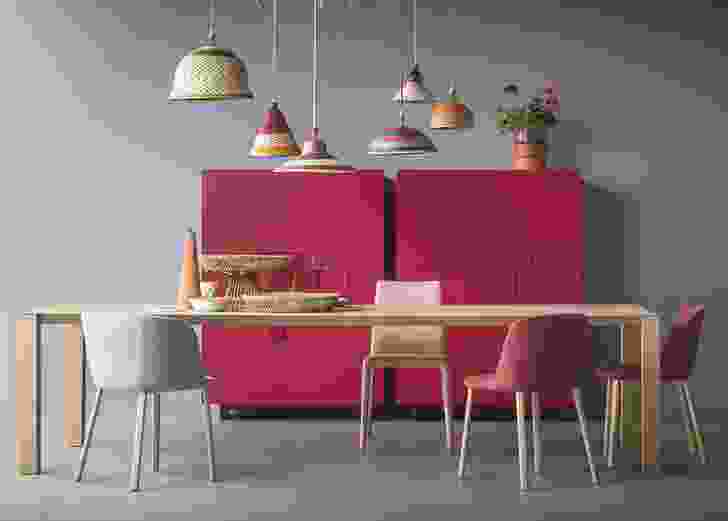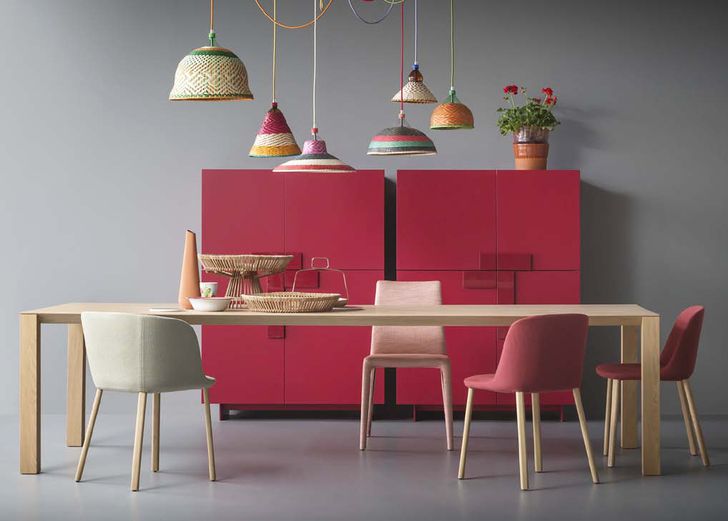 Esse chairs from Meizai
The family of Esse upholstered chairs designed by Philippe Tabet for Pianca consists of a chair, an armchair and an armchair with a swivel base. Launched at Salone Internazionale del Mobile in 2015, Esse recalls an iconic, continuous sign, the "S", visible in the seat profile; creating a welcoming, curvaceous and harmonious design. Solid ash legs support the Esse shell, available in Pianca's wide range of fabrics and leathers.
To find out more, visit Meizai's website.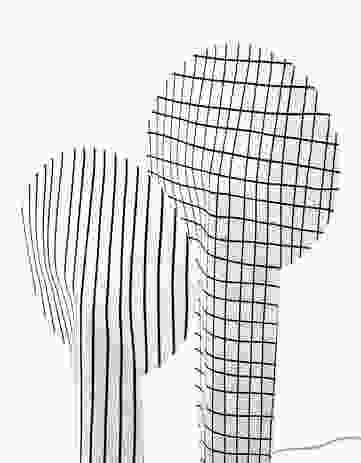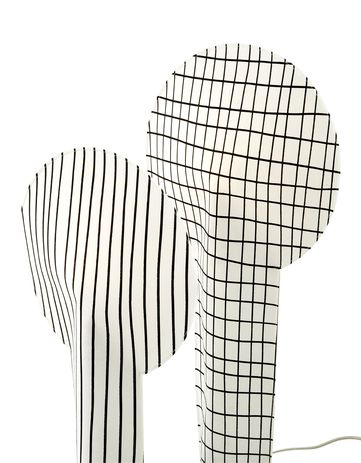 Paper Lamp from Domo
Designed by Rene Barba, the Paper Lamp features an unwoven lampshade made from polyester and polyamide. It is available in two sizes, with the smaller version featuring a striped print and the larger version with a grid print.
To find out more, visit the Domo website.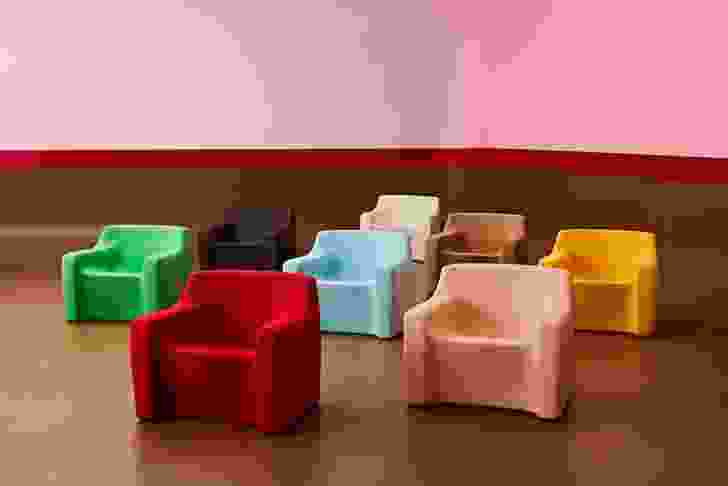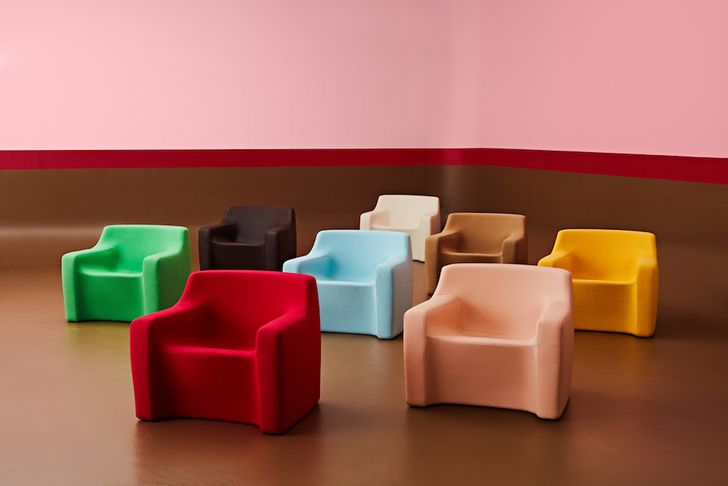 First Bite collection from Didier
Didier's First Bite Collection is inspired by the dreams of fine food, colour bursts and fine dessert extravagance. Proceeds from the collection go SecondBite, an organization endeavouring to provide all Australians access to fresh food.
To find out more, visit Didier's website.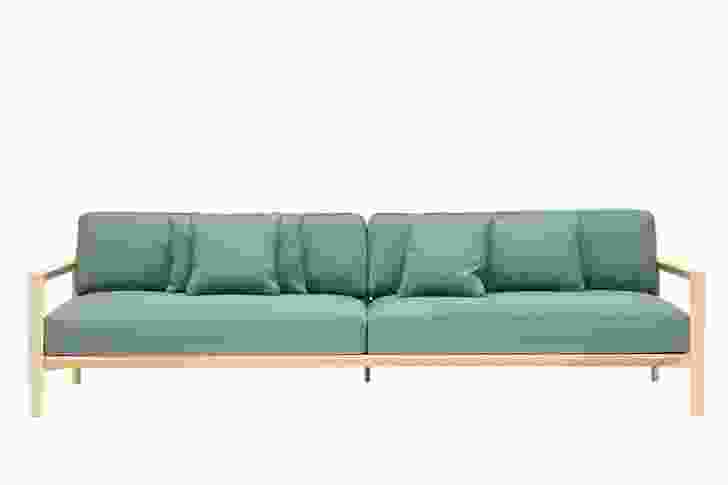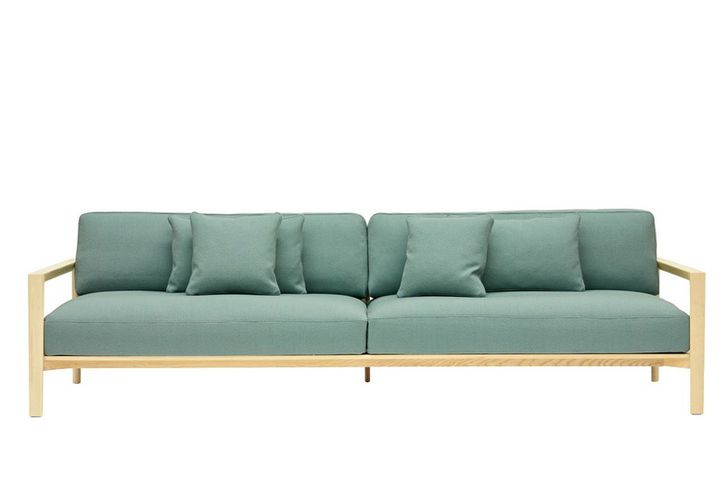 SP01 from Space
SP01 from Space Furniture has launched a new furniture collection featuring chairs, sofas, armchairs, tables and coffee tables which feature solid ash timbers, sculpted hand finished wood and an extensive range of detailed upholstery. The brand was conceived in Australia, designed by the Milan-based studio Fattorini + Rizzini + Partners and produced by Italian manufacturers.
To find out more, visit Space Furniture's website.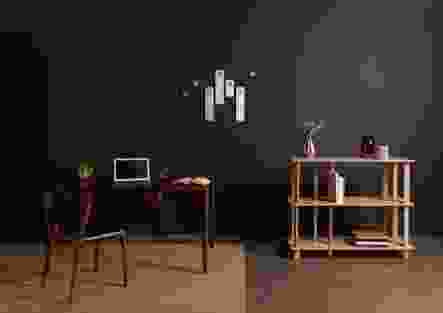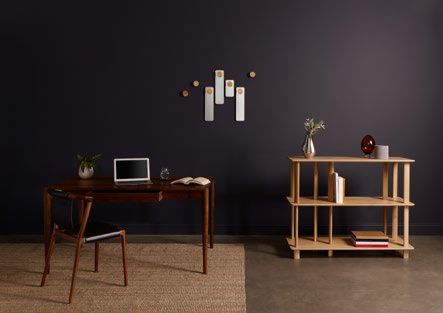 The Pieman collection by Dessein
Teaming up with Tasmanian timber company, Hydrowood, and four leading Australian furniture designers (Simon Ancher, Nathan Day, Tom Fereday and Marcus Piper), Dessein Furniture is excited to present its all-new furniture range, the Pieman Collection. Designed and produced in Australia, the collection is the first range made using new Australian specialty timbers sustainably sourced from the lakes of Tasmania. The collection encompasses a full suite of chairs, tables, shelving and accessories for residential and commercial settings.
To find out more, visit Dessein's website.
Related topics