A collection of iconic furniture by famed Australian designer Grant Featherston was recast and relaunched at the Australian Centre for Contemporary Art (ACCA) in a one-night only event in Melbourne last week.
The Featherston 2016 project is a collaboration between Gordon Mather Industries, Mary Featherston and Grazia and Co. The collection brings back 17 of Grant's designs, 10 of which have been out of production since the 1970s.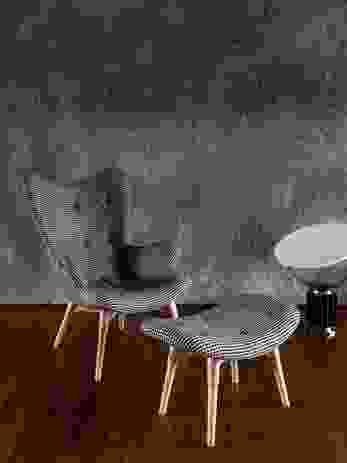 Born in Geelong in 1922, Grant Featherston was a self-taught designer who became a household name through his furniture designs, particularly the Contour chair (1951).
"When Grant Featherston died in 1995, […] the Contour chair was a well established design icon for young Australians searching for design heritage that includes beauty and sophistication," wrote Denise Whitehouse, in Mid Century Modern: Australian Furniture Design, a book published in 2014 which accompanied an exhibition at the National Gallery of Victoria.
The Contour chair took inspiration from American modernists Charles and Ray Eames, whose moulded plywood chairs toyed with the pliability of materials.
Mary Featherston, Grant's wife and collaborator, recalled, "He was so skilled as a form maker and so intelligent in his research, so rigorous."
Grant Featherston was heavily influenced by sustainability, or its less popular cousin, frugality. "That really drove him," Mary said. "How can you [design something] with minimum amount of materials because you don't want to waste?"
The Contour chair arose out of an ambition to use the least amount of materials possible. "Every piece was about using the minimum materials to get the maximum comfort," Mary said.
And in resolving the design, Grant made a breakthrough. "When playing with a tram ticket, he discovered a method for bending two sheets of plywood to shape the simple compound curve shell that he would develop into the Contour chair, which he patented in May 1951," Whitehouse wrote.
The form-fitting chair, made with plywood and thin upholstery and tapered legs represented an unprecedented approach to furniture making.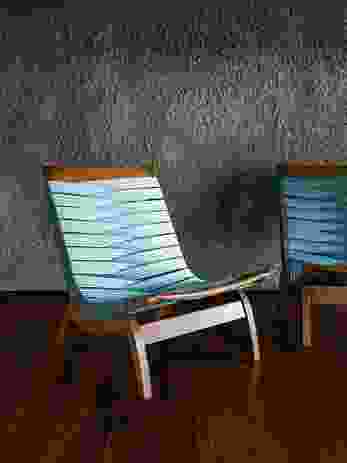 Grant Featherston's very first furniture range was launched in November 1947, a mere two years after the end of World War Two. The post-war period heralded a sense of optimism and an interest in technology and contemporary design. The Relaxation chair, part of the 1947 range, epitomized this new, modern approach.
In contrast to the upholstered armchairs of an earlier era, the Relaxation chair was made from a plywood frame and inter-laced cotton webbing. As Grant explained in Australian Home Beautiful in 1948, the chair was designed to support the human body in different seating positions as well as for manufacturing efficiency.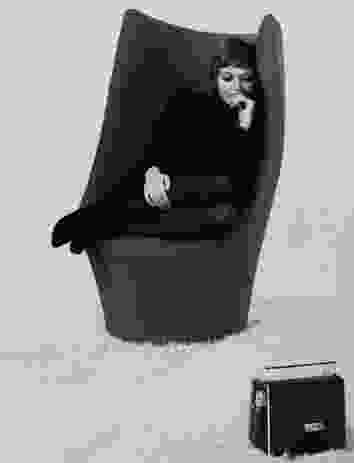 Mary Featherston recalled Grant had a great deal of empathy for the user – a quality he shared with architect Robin Boyd for whom, Mary and Grant designed the Expo '67 Talking chair, commissioned for the Montreal Expo in 1967.
"So Robin said, you're walking through an international fair, you're absolutely exhausted, so let's design them something comfortable to sit in and a shag pile carpet. Can you imagine!" Mary exclaimed.
Made from polystyrene with speakers that provided audio information about Australia set into the tall curving backrest the Expo chair was, again, an exercise in material and design innovation.
"It was a huge success because it was novel but it was a simple idea: comfortable chair, with bit of information in your ears," Mary said.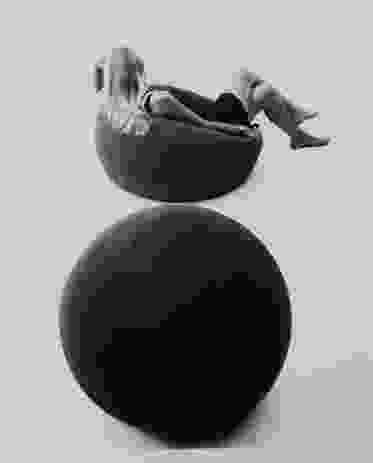 Grant and Mary's last significant chair, was the Obo chair (1974). Like a love-child of the Swiss ball and a bean bag, the chair is spherical in shape and made from a moulded polyurethane shell filled with polystyrene balls and upholstered in fabric.
The Featherston furniture range is not just iconic, it's also ubiquitous. Grant's consultancy with contract furniture manufacturer Aristoc Industries produced a body of mass-produced work that would have been seen across schools, offices and institutions. The furniture for Aristoc "used industrial processes to create good design that was really affordable," Mary said. "But they're not known, because they were much more anonymous. They were simpler, more neutral design. And that's the point I wanted to make. The real production was in the industrial stuff."
The Scape chair (1960), originally made by Aristoc is also part of the Featherston 2016 range.
The Featherston 2016 collection is available from Grazia and Co.
Related topics