The spirit of playful invention and curiosity about the human condition are still palpable in the home that Robin Boyd designed for Grant and Mary Featherston in Ivanhoe, Melbourne (1967–69). This memorable dwelling comprises a series of connected platforms that hover within a singular, triple- height space and is topped with a translucent polycarbonate ceiling. Garden and nature are celebrated both internally and externally, imbuing the home with a subtle and calming atmosphere. What is not so widely published or well known is the granny flat that adjoins the Featherston House, which was built for Mary's parents. As Mary explains, "These were two self-contained dwellings by the same architect, with two very different briefs. For the granny flat, [Robin Boyd] was really skilled in the way he met the needs of older, more conservative clients. As Tony Lee [founder and former CEO of the Robin Boyd Foundation] said, 'It was a good Boyd project home.'"
After being leased for many years, this granny flat, the Featherston Studio, has recently been altered to suit the contemporary needs of the next generation's "granny." Mary's son Julian and his young family intend to move into the main house and Mary has recently moved next door, taking the tally to four generations of the one family to have lived on the site. Knowing it would be difficult for his mother to leave such a special home, Julian completely reconfigured the second dwelling. He is not an architect by training, but given his experience as a technical consultant in the building industry and following his father's self-taught ambitions, he decided to take on the project himself in collaboration with his wife Vicky and his mother. The design trio spent many hours finessing the brief, which included issues of ageing in place, capturing the spirit of the natural setting and creating a calm and simple atomosphere in which to work and live.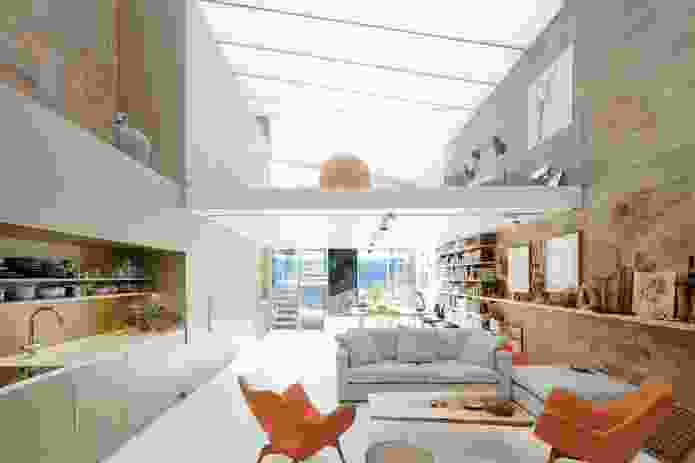 When speaking about her aspirations for her new home, Mary regularly refers to Boyd's way of thinking about design. In particular she speaks about the philosophy set out in his book Living in Australia (1970): "The object of a design, in architecture, as in anything else, is to say or do the essential thing as simply and directly as possible … the essential thing is the higher quality of living for which the building provides, the something more that turns a building, however slightly, into an expression of the human spirit." The resulting renovation by Julian and Mary is essentially a completely new studio, set within the original brick walls. However, the spirit and visual amenity of Mary's previous home have been brought into this new, more compact dwelling. "We knew that Robin's attitude was to do it better, simpler and to use new technology. So I have no doubt that he would have been supportive of our approach," says Mary.
With all internal walls removed, the entire space is privy to uninterrupted sightlines into bushland through new, double-height glazed walls. A mezzanine bedroom level hovers within the space, also open to the framed landscape views. The incredibly slender steel framing of the windows and doors gives some understanding of the team's commitment to the building's detailing, but it's the toughened glass stair (which allows views through) that demonstrates the highest level of care. Although the engineer initially told Julian that his design vision for the stair might not be achievable, together they persevered to produce a uniquely sculptural form that has become a focal point in the enchanting space.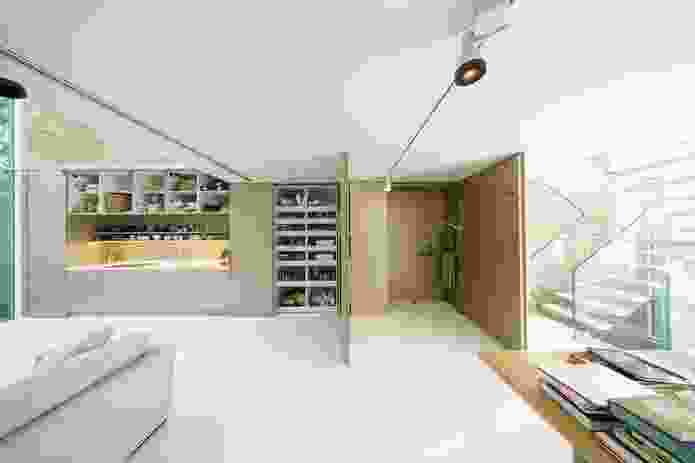 Inventiveness and experimentation with technology didn't stop with the stair. Julian has created his own automated climate-control system that tracks the weather forecasts and hourly temperature to ensure that the home stays within Mary's comfort zone. "Our approach to sustainability was to make it active – we've made this home into an intelligent greenhouse," Julian says. A series of solar sensors tracks the building's heat load and when the level is too high, translucent external blinds slide down, mechanical vents open and a fan switches on. Reverse-cycle heating and cooling is used only as a last resort. At night, this system is localized to the bed area to reduce energy consumption. Julian is now eager to see this system used in other buildings.
In response to Mary's desire for a simple and clean space, the planning is rational and ordered. Services and storage are contained within the western wall, including what Julian describes as "the smallest toilet, but the biggest shower." A large pivot door opens the narrow bathroom to the main living area, which means you essentially shower in the main space (with the door providing privacy from the entry). This amenity wall also provides ample storage space on both levels, including everything from the kitchen pantry to Mary's fascinating natural history collection.
The rationality of the planning takes possible future accessibility requirements into consideration. The ground floor is large enough to add in a bed, should it be required – with a view to a carer sleeping on the mezzanine level above. There is a warmth to this studio space that comes from a combination of the original exposed brick walls, the impressive and dynamic quality of light throughout the day and the delightful way that Mary has inhabited her home.
The studio deliberately makes reference to the spatial qualities of Mary's original home next door, without trying to replicate it. Simultaneously, the spirit of simplicity is celebrated and new technology is embraced to create a robust studio for living now and in the future. Like Mary's home designed by Robin Boyd, her new space is idiosyncratic and perfectly responds to her needs and desires.
Products and materials
Roofing

Palram Sunpal polycarbonate panels in 'Opal' from Palram; Hopley's steel trusses.
External walls

Palram Sunpal polycarbonate panels in 'Opal'; Hopley's steel trusses.
Internal walls

Custom matt metallic joinery.
Windows

Custom steel frames in Dulux Metalshield 'Matt White'; Viridian EnergyTech glazing.
Doors

Custom aluminium doors.
Flooring

Pulastic Accoustiflor self-levelling urethane flooring; Tretford goat-hair carpet in 'Double Cream'.
Lighting

Reggiani LED track spot; Flos halogen wide spot.
Kitchen

LG induction cooktop; Grohe boiling water mixer; Blum Servo Drive hardware; custom rangehood.
Bathroom

Grohe tapware.
Heating and cooling

Shadefactor custom Ziptrak blinds; custom mechanical ventilation; Mitsubishi split-system airconditioning.
External elements

3M Nomad walk-off matting.
Other

Conset height-adjustable desks.
Credits
Designer

Two Feathers
Vic, Australia
Project Team

Julian Featherston, Vicky Featherston Tu, Mary Featherston
Consultants

Builder Leeda Projects
Engineer Perrett Simpson Stantin
Heritage architect Frontier Architects for Heritage
Joiner Kitchens by Peter Gill

Site details

Location Melbourne, Vic, Australia
Site type Suburban
Site area 950 m2
Building area 100 m2
Category Residential buildings
Type Houses

Project Details

Status Built
Design, documentation 20 months
Construction 22 months

Source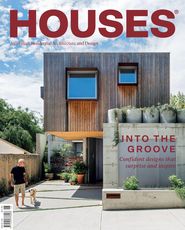 Issue
Houses, December 2018