This issue of Landscape Architecture Australia addresses the issues arising out of the sixth International Festival of Landscape Architecture: The Square and the Park, held in Melbourne last year. The creative directors of the festival, Jillian Walliss, Cassandra Chilton and Kirsten Bauer, are the guest editors for this issue, and the articles collected within these pages summarize some of the festival's key discussions around the future of the square and the park and present new ways of thinking about the design and management of open space in evolving urban conditions. They offer both a record of past practice and a platform from which to build a future discourse.
I would like to thank Jillian, Cassandra and Kirsten for initiating this issue and taking on the guest editor's role, bringing together their recent international experiences and academic and practice-based knowledge to the task at hand. I also extend my thanks to the issue's collaborating contributors – academics and practitioners, from Australia and across the globe – all of whom have contributed considerable time and effort toward the making of this issue. Time is a potent lens through which to reevaluate work – and designing and reflecting are reciprocal activities. The mix of critical reflections with future speculation presented in this issue argue for a reorientation and reconceptualization of future practice. This is a timely and thought-provoking issue that evokes what might lie ahead for the discipline as it continues to grapple with the immense and extended challenges of the Anthropocene.
– Emily Wong, editor
In this issue:
The Square and the Park. The creative directors of the 2019 International Festival of Landscape Architecture, Jillian Walliss, Cassandra Chilton and Kirsten Bauer, introduce this issue's theme.
The Future Park. The Future Park competition opens up possibilities for landscape architects, designers and the wider public to rethink the meaning of parks and how they might find new and expanded ambitions in the twenty-first century. Article by Jacky Bowring.
Engaging the past: Dyeworks Park. Melbourne's Dyeworks Park is an early example of landscape architects creatively responding to the transformation of inner-city post-industrial sites. Article by Jo Russell-Clarke.
Reclaiming the river: Perth waterfront schemes. A series of proposals for Perth's waterfront produced during the nineties provokes reflection on climate change, contested histories and potential futures. Article by Julian Bolleter.
An ecological negotiation: Sydney Park. Sydney Park is an ongoing demonstration of landscape architecture's role in recalibrating human-nature relations. Article by Catherine Evans.
Maintaining gestures: Rosny Park. Three decades after the completion of Hobart's Rosny Park development, its landscape illustrates how projects evolve in response to maintenance regimes and changing values. Article by Jerry de Gryse.
Transforming identity: Garden of Australian Dreams. Canberra's Garden of Australian Dreams challenged the aesthetics and sensibility of Australian landscape architecture. Article by Anna Chauvel.
A unified future: River Torrens Linear Park. A milestone in Adelaide's park history, River Torrens Linear Park offered an integrated model of ecological and social infrastructure. Article by Rebecca Connelly.
A paradoxical nature: Roma Street Parkland. Despite its popular success, Brisbane's Roma Street Parkland reinforces the need to continue examining nature, landscape and social justice in landscape practice. Article by Claudia Taborda.
Valuing the civic. As the city around Melbourne's Federation Square continues to evolve, the fundamental value of the square, as the city's main public, civic and cultural gathering place, must be maintained. Text by Tania Davidge.
Zaryadye Park: A new ecological heart for Moscow. A new park in Moscow's centre draws Russia's diverse landscapes into the city and creates an open and democratic space for cultural gathering. Review by Jillian Walliss.
Models without numbers: The landscapes of Günther Vogt. The Swiss landscape architect's austere, experiential work makes a case for engaging with the real, physical landscape, beyond models or representation. Profile by Julian Raxworthy.
Design for Nature. In an era of ecological collapse, a series of projects in
the United States is placing nature centre stage. Words by Adrian Marshall.
2019 Landscape Student Prize. Presenting the winners of the 2019 Landscape Architecture Australia Student Prize.
Source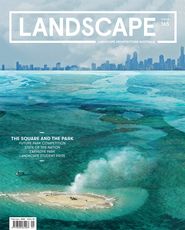 Archive
Published online: 5 May 2020
Words: Emily Wong

Issue
Landscape Architecture Australia, February 2020