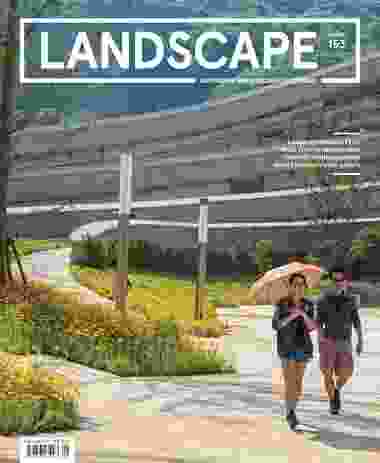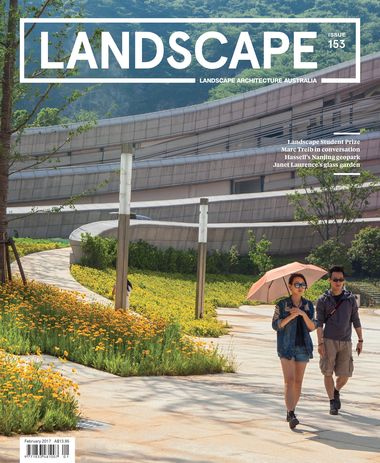 The project on the cover is most striking for its fluid integration of building and landscape. This unity has been so deftly achieved that it appears that neither the structure nor the landscape could exist without the other. While this suggests a story of tight collaboration between landscape architect and architect, in reality the outcome was produced by "two separate, parallel strengths," driven by a shared respect for the site's unique history and geology. In this issue we chat with Hassell principal Angus Bruce about this remarkable "geopark" in Nanjing, China. We also present reviews of Janet Laurence's Medicinal Maze Inveiling Glass project in Sydney, Brisbane's new ferry terminals by Cox Architecture, Aurecon and Lat27, and the key events of 2016.
It's been a busy year and we have some exciting initiatives to announce. We have launched a new website, LandscapeAustralia.com, where you'll find quality, curated content from an expanded field, encompassing professional discourse ranging from planning, urban design and landscape architecture to garden design and history. We have introduced planting lists to our project reviews – a contribution toward elevating plant interest and knowledge in Australian landscape architecture. We have grown our network by forging partnerships with the International Biennial of Landscape Architecture and Landscape Architecture Europe, and recruited a team of contributing editors. And we are incredibly excited to be presenting a one-day conference in Sydney this May. Visit LandscapeAustralia.com/conference for details.
We are busy preparing our upcoming issues: in May we will explore new directions in planting design and in August we will look at the complex issues facing regional Australia. Share your thoughts and article ideas – email me at landscape@archmedia.com.au
– Ricky Ray Ricardo, associate editor
In this issue:
BIM: A matter of time. Building information modelling (BIM) is a requirement on many large-scale projects. Do landscape architects know enough about the playing field? Article by Jela Ivankovic-Waters.
The New Urban Agenda: Ten things you need to know. Lucinda Hartley dissects the United Nations' New Urban Agenda, released at the UN Habitat III conference.
Landscape Student Prize. The 2016 Landscape Architecture Australia Student Prize.
Marc Treib: Attending Place. Fiona Johnson interviews noted American historian and critic of landscape architecture and architecture, Marc Treib.
Terra Antiqua. Landscape Architecture Australia speaks with Hassell principal Angus Bruce about the Nanjing Tangshan Geopark Museum public realm.
History and Herbs. A review of Janet Laurence's Medicinal Maze Inveiling Glass project at the Novartis Pharmaceuticals headquarters in Sydney. Review by David Whitworth.
Going with the Flow. A review of the Brisbane Ferry Terminals project by Cox Architecture, Aurecon and Lat27. Review by Sue Kyte.
Climate Calamity Along Australia's Gulf Coast. In the latest instalment of our Field Trip series, Norman Duke reports on the massive dieback of mangroves in the Gulf of Carpentaria.
Landscape Architecture and Digital Technologies. Catherin Bull reviews Jillian Walliss and Heike Rahmann's latest book on reconceptualizing design and making.
Tomorrow Landscapes. Charles Anderson reviews the 9th International Biennial of Landscape Architecture. Review by Charles Anderson.
Conference as Eschatology. Rhys Williams reviews the 2016 International Festival of Landscape Architecture.
Follow Landscape Architecture Australia on Twitter, Facebook and Instagram.
Source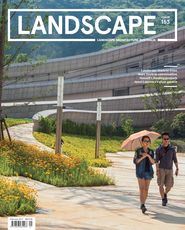 Issue
Landscape Architecture Australia, February 2017