Prime Minister Malcolm Turnbull has announced the federal government "will build the Melbourne Airport Rail Link" through a $5 billion funding commitment in the next federal budget. It also expects the Victorian government to match this funding dollar for dollar.
"We want the Victorian Government to partner with us in a true 50:50 funding partnership to build and own this iconic piece of infrastructure," Turnbull said. "We also welcome the involvement of the private sector.
"Talk about a rail connection to the Melbourne Airport is as old as the airport itself.
"The time for talk is over. There have been countless reviews, reports and recommendations but Melbourne is still waiting for a service almost all of the world's great cities take for granted.
The Age reports that, of the federal government's $5 billion contribution, "The plan would use the $2 billion Victoria will get from selling its share of the Snowy Hydro scheme."
It also reported that the Victorian government was not made aware of the federal government's proposal before it was announced to the media.
In its 2017/18 budget, the federal government committed $30 million toward the development of a business case for the Melbourne Airport Rail Link. This money will be used in part to refund work done by the Victorian government, which announced $10 million in funding for a business case study in the its own 2017/18 budget. The business case, which is expected to indicate preferred route, is due in September 2018.
The proposed airport link would connect Melbourne's CBD to the airport in Tullamarine. The Herald Sun reports that the federal government, as part of its announcement, produced four possible options for the route.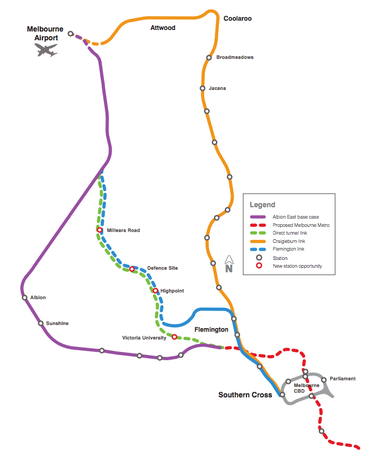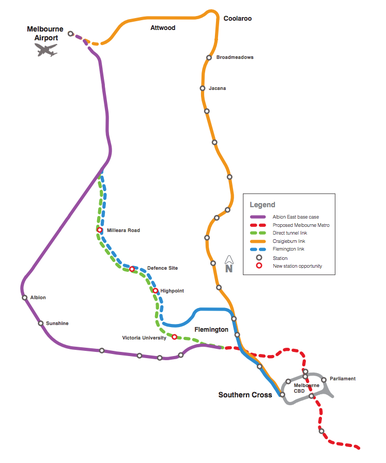 The slowest but simplest option would be to add a spur to the existing Craigieburn line after Broadmeadows station, which would result in 13 stops between Southern Cross Station and the airport.
Another option, which would be the least direct, would travel west to Sunshine on the existing Sunbury line before travelling north to the airport.
Likely the most expensive option would involve significant tunneling and travel via Victoria University and the Maribyrnong defense site that the federal government plans to sell for housing development. The last option is similar, but would follow sections of the existing Flemington line, without a station at the university, and be less direct.
Three of these would use the City Loop, while the Sunshine route would use the under-construction Metro Tunnel.
The four routes are very similar to the options identified the last time the Victorian government commissioned a study into a possible airport rail link in 2012.
The Victorian government, which has committed to the construction of an airport link, has long complained of an alleged bias in Sydney's favour when it comes to large-scale infrastructure spending by the federal government. In March, the state government reacted with fury to the federal government's announcement that it would fund a new north-south railway line in Sydney's west that will connect the yet-to-be-built Badgerys Creek airport with surrounding areas, criticizing the decision to commit $7 billion on a "train line to an airport in Sydney that doesn't exist."
Related topics