Federation Square has released refreshed designs of the proposed Apple flagship store, which have been significantly altered following workshops with Fed Square Management, the Victorian Government, the City of Melbourne and Apple.
The Victorian government's initial decision to demolish the Yarra Building at Federation Square to make way for the Apple flagship store, designed by Foster and Partners, drew wide-spread backlash.
A number of concurrent petitions against Apple Fed Square plans on Change.org have collectively amassed nearly 100,000 signatures.
The City of Melbourne also received 800 submissions to a motion to call of the Victorian government to "commit to a significant redesign of the Apple Global Flagship Store at Federation Square."
Karres and Brands, the original landscape architect for the square was also critical of the initial design. In a statement it said, "In our opinion the proposal for the Apple store does not fit in the characteristic design approach. Federation Square could have been the place for the most unique Apple Flagship store. A store that reflects Australian culture above brand image and is respectful of the city."
However, the Apple flagship store had the support of Federation Square's original architect Donald Bates of Lab Architecture Studio and the Victorian government architect Jill Garner.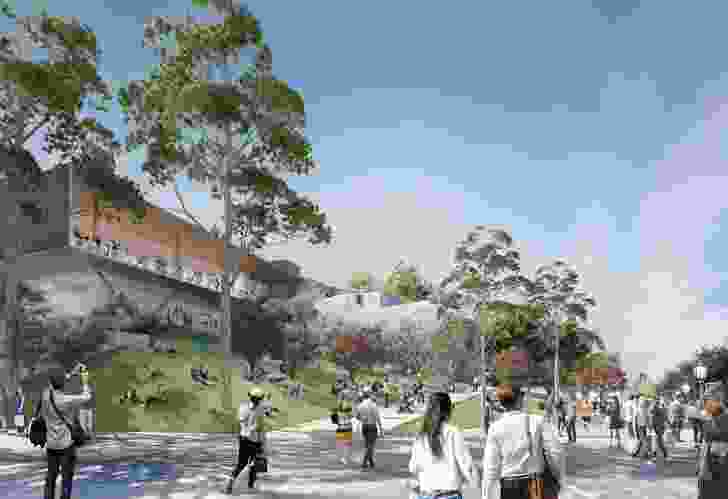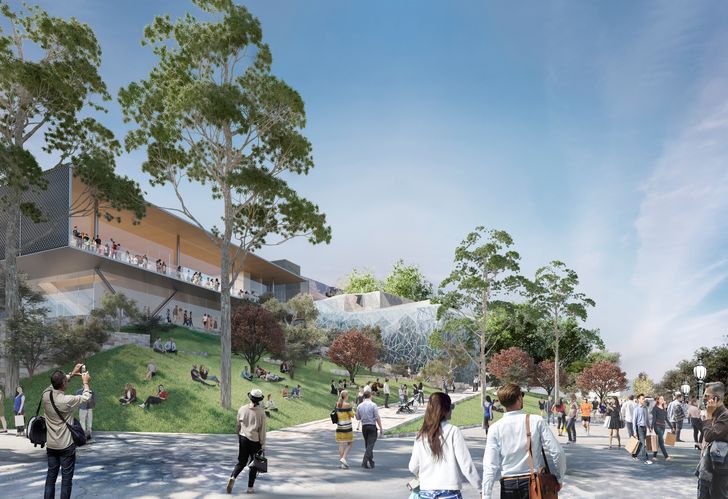 The government formed a steering committee in February 2018 to supervise the design development of the new building "in response to the issues raised by the City of Melbourne." The steering committee included representatives from the City of Melbourne, the Office of the Victorian Government Architect, Federation Square and the Department of Environment, Land, Water and Planning.
The committee developed a set of guidelines for the refinement of the design, including that it should acknowledge and respond to the design cues of the existing Federation Square context, including references to its non-orthogonal planning, geometry, layered and varied facade and bespoke materiality.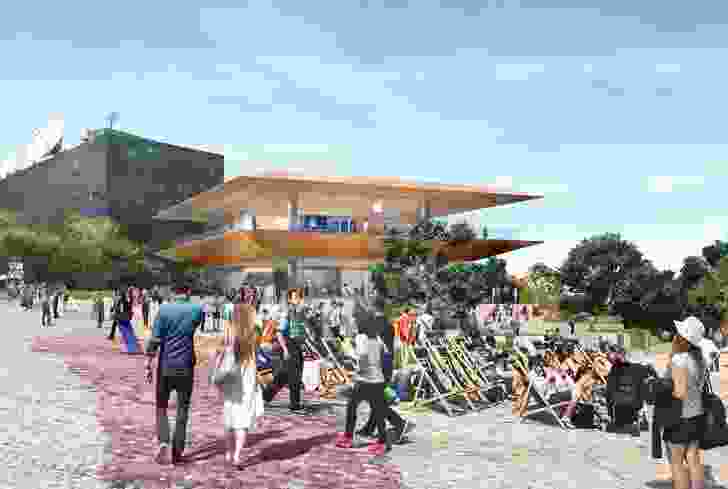 In a statement following the release of the refreshed design, Federation Square said, "The refined designs complement Fed Square's existing buildings and include a new roof design to allow for solar power as well as new solar shading design feature that enhances the energy efficiency of the building."
However, the National Trust of Australia (Victoria)'s CEO Simon Ambrose was critical of the redesign. "While it is encouraging to see Apple is open to redesigning its Federation Square store, it does not respond to the fundamental concerns that were proposed earlier about the demolition of a significant building in our city's town square," he said.
The Citizens for Melbourne group, which formed in reaction action the Apple store proposal for Federation Square, described the refreshed proposal as "a big iPad."The redesign of the Apple store at Fed Square doesn't address the key problem with the proposal: the complete disregard for the Victorian people in shaping our public square," said president Tania Davidge. "Victorians would not support a giant iPad in the Botanic Gardens or at the National Gallery of Victoria. Why does the Government think that Victorians would be happy to sell out what makes Melbourne great?"
Related topics