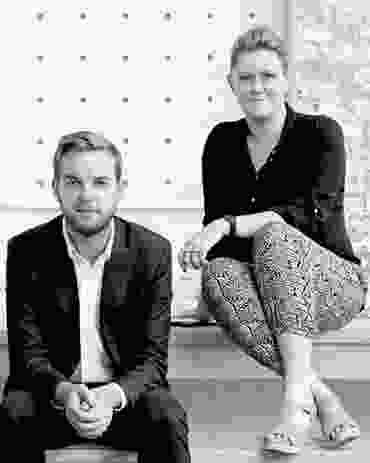 A conversation with the two directors of emerging practice Stewart Hollenstein inevitably winds its way through vigorous ideas about urbanism, community and the desire to interrogate the premise and future of every project. Felicity Stewart from Canberra and Matthias Hollenstein from Auckland, New Zealand met during their studies at the University of New South Wales and launched Stewart Hollenstein as an independent practice in 2010.
Making a dramatic entry into Sydney's competitive architectural scene, the Green Square Library and Plaza competition-winning proposal (March 2013) done in collaboration with Colin Stewart Architects has given Stewart Hollenstein an incredible opportunity to implement new visions for urban design. The duo brings rigorous critical thinking and youthful energy to their new practice and this landmark urban development in Sydney.
Stewart Hollenstein is in the unusual situation of having built only a small number of works before securing a large-scale urban project. Two past projects include an artist's studio in the NSW Southern Highlands and a boutique shoemaker's store in Sydney's Potts Point, Cobbler Caballero, which explores and celebrates the notion of craftsmanship today. Its crisp yet tactile interior displays tools for shoe and watch repair, engraving and key cutting in a continuous plywood joinery wall. Stewart Hollenstein talks about this small project raising big questions, such as the changing nature (or decline) of craftsmanship, the desire to expose the craftsperson's skills and put them "on show," and the creation of a nostalgic space that is at once contemporary and familiar.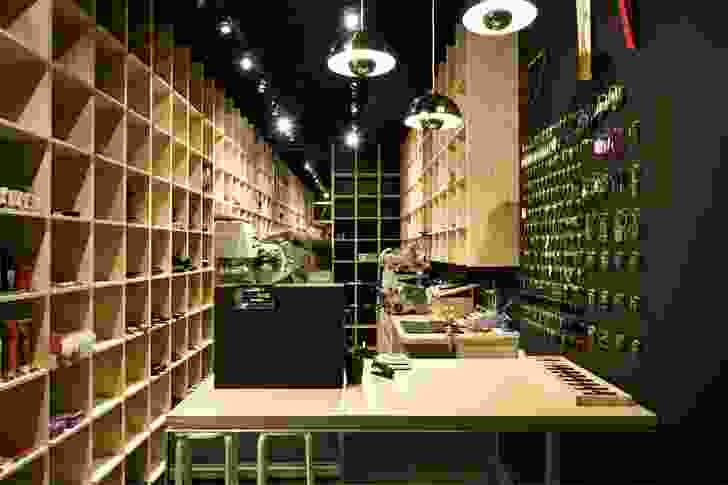 After graduating in 2008, Stewart and Hollenstein independently undertook travel, study and work at a range of firms of different scales. Their time abroad allowed them to return to Sydney with a critical approach and an inclination to rethink the conditions of the city. The Green Square Library and Plaza competition appeared at the perfect time, allowing an in-depth questioning of the project brief and the future of the precinct, and the demonstration of a distinctive approach to the creation of a community or, more specifically, how to allow one to evolve organically. They strike a balance between diverse past project experience and a certain idealism characteristic of emerging practitioners, without excess "project baggage." This manifests itself in their Green Square scheme in the bold move of putting the majority of the library building underground, a challenge to the very idea of placing a library in the plaza.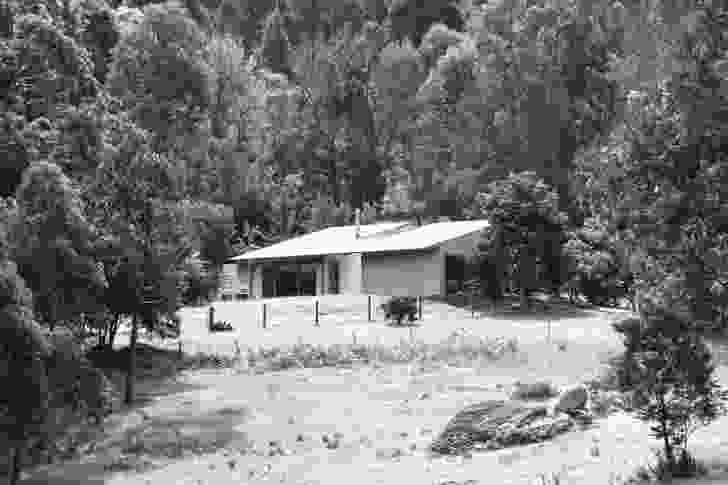 Stewart Hollenstein recognizes a spectrum of influences in its work and the Green Square project was an opportunity for both reflection and self-invention. The practice was concerned not only with the creation of a progressive library program, but with an analysis of what the nature of that public space could be. By perceiving the future community of the precinct as critical to the project, Stewart and Hollenstein understand that "architecture doesn't exist alone, it only exists through habitation." The drive to facilitate intuitive and flexible habitation of the space became crucial, the intention being to provide a multitude of opportunities for use, and to invite evolution.
By seeking to create an intimate relationship between the project and the community – with the community "ingrained in the architecture" – Stewart Hollenstein presents concepts for public use where "the creative life of the building" spans the construction stages to its final operation. With an intuitive design that can become a readily familiar part of residents' lives, the practice embraces the fact that one cannot control reactions to public space, and is aware that the possibility for adaptation must be facilitated. The open-ended use of both the library and plaza thus became critical.
The awarding of Green Square to Stewart Hollenstein with Colin Stewart Architects signifies a possible shift in the tendency for larger and more established firms to have a monopoly over cultural and public projects in the city. Stewart Hollenstein promotes the importance of a broad mix of parties in the making of public space, something that should be proactively considered as development shifts from the CBD towards the west.
This shift is catalysing new urban environments where, as Hollenstein says, "there is an opportunity for a new kind of public space in Sydney that doesn't rely on a harbour view." The duo explains: "Sydney is very good at certain types of public space, but we struggle with inland urbanism." Moving away from the picturesque harbour and its iconic foreshore, we need to be able to adapt urban strategies to suit different conditions. In an effort to transfer successful waterfront conditions, Stewart Hollenstein drew inspiration from Bondi Beach, which it describes as "the most interesting public space in the city." The devoted public custodianship of this sand-plaza and its perceived provision of freedom provide insights into what public space might offer. Stewart Hollenstein considers whether these conditions can be transplanted, asking, "What are the implications of a public space like Bondi Beach, and can we bring these themes inland?"
It is the questioning nature of this approach that delivered the distinctive winning scheme for Green Square. By regarding architects as creative agents in the built environment, Stewart says, "it is the architect's responsibility to imagine the city and the way it could be." And by acting on these imaginings we might make new propositions, and in turn effect change.
Stewart and Hollenstein recognize many important mentors in their careers and valuable experiences gained at Durbach Block Jaggers, Nation Viney and the NSW Government Architect's Office (Hollenstein) and Dunn and Hillam, Bates Smart and Hassell (Stewart). They have invaluable support through the collaboration with Colin Stewart Architects and describe their recent employers (Hassell and the NSW Government) as working passionately to improve the city, calling them "incubators of new architects for the city" and highly supportive of the Green Square competition win.
Stewart Hollenstein offers an inspiring precedent as a young practice, precisely because it is so difficult, and yet so important, for young practitioners to play a part in city-making and innovation within diverse project typologies. It is valid to question the outcomes for a city if there is no mechanism for young practitioners to contribute to the discourse shaping that city. Green Square has given this practice an incredible freedom to find its own approach and to apply fresh energy to the public realm of Australian urbanism. Stewart Hollenstein is actively demonstrating its belief that the city needs a cross-section of vision and experience in city-making and that a multitude of voices, not a monopoly, will be critical to determining the city's future.
Source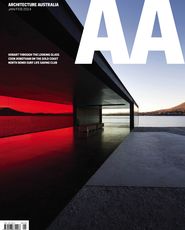 People
Published online: 8 Apr 2014
Words: Lucy Humphrey
Images: Courtesy Stewart Hollenstein
Issue
Architecture Australia, January 2014
Related topics