Preliminary designs by Fender Katsalidis have been revealed for the first stage of the redevelopment of a part of central Hobart that includes the historic Odeon Theatre as a new "cultural precinct." The precinct covers a 6,834-square-metre slice of the city.
The development is being undertaken by Darklab, a subsidiary of Hobart's Museum of Old and New Art (Mona), and property developer Riverlee. Riverlee secured development approval to demolish the Odeon building in 2015, but has since made the decision to instead pursue a collaboration with Darklab that will see the building preserved.
Leigh Carmichael, director of Darklab, said, "It's rare to find developers prepared to consider investments that benefit the community as well as the bottom line, so we hope the project is given the support it deserves."
Darklab works on "creative projects and developments that sit outside the normal scope of Mona."
The project marks the latest in a string of Mona-related projects for Fender Katsalidis, beginning with the museum itself, its Pharos extension and a proposed hotel and casino.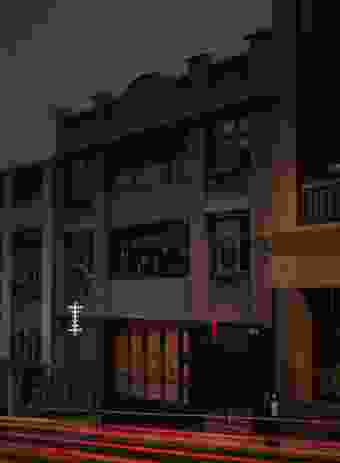 The first stage will surround the theatre and involve the adaptation and use of adjoining properties fronting Liverpool, Watchorn and Murray Streets.
This stage includes a new hospitality venue dubbed "In The Hanging Garden" – a title that references a song by The Cure. This will include an outdoor dining and beer garden, with "rotating pop-up kitchens with local vendors." A new bar and live music venue – called the Altar – will be located on the ground floor of the former Tattersalls Hotel, with a nightclub called the High Altar positioned on the floor above. The Odean Theatre itself will continue to operate as a live music venue.
The shape of future stages has yet to be nailed down. In a statement, the developers said that they anticipated capital investment "to exceed $200 million," and that the precinct could eventually become home to residential, commercial and hotel buildings.
The venue will open for the museum's Dark Mofo festival in June and continue to operate on a permanent basis thereafter.
A media statement from the developers stated that they were "currently working on [a] planning framework for Hobart City Council, and will be liaising with Council and the State in the near future."
Related topics