Brisbane City Council has approved the transformation of two existing office buildings in central Brisbane into a single commercial tower by Fender Katsalidis, with interior architecture by Hassell and landscape architecture by Lat27.
The 26-storey Midtown Centre will join and enlarge the existing towers of the Health and Forestry House Building on a 3,670-square metre site that fronts both Charlotte and Mary Streets. The new tower would be six storeys higher than the existing buildings.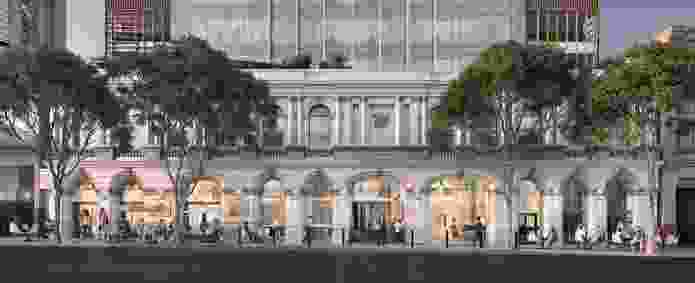 The proposed building will also retain the facade of the heritage-listed Walter Reid Building, which was designed by architect George Cowlishaw and built in 1883. Most of the building was demolished in 1980 to make way for the office towers, with the surviving facade significant as an example of the Victorian Academic Classical style of architecture.
The new building will comprise a six-storey podium including the Walter Reid Building facade, with a public laneway that will connect Charlotte and Mary streets at ground level. A landscaped outdoor terrace will top the podium, which the architects said, "addresses the surrounding heritage places and presents a fresh identity to the street," in a design statement.
Above the podium will sit on a "highrise" section comprising the existing Health and Forestry House towers, connected by a "living, breathing, porous" infill.
The transition between the existing structures and the six-storey vertical extension will be marked by a double-height "sky garden" based around a glazed atrium.
Completion of the building is expected in 2020.
Related topics