Fender Katsalidis has contributed pro-bono architecture and interior design services to a new early intervention and crisis services centre on Melbourne's King Street.
Operated by the Melbourne City Mission, the now-open Frontyard centre comprises 18 crisis accommodation units for young people currently sleeping rough in the city, as well as on-site mental health, drug and alcohol and disability expertise. The mission describes it as a "one-stop-shop" for young people between the ages of 12 and 25 who are homeless in the city.
Clients are also offered all-day breakfasts, shower facilities, clean underwear and access to legal advice, internet access and a "sensory room."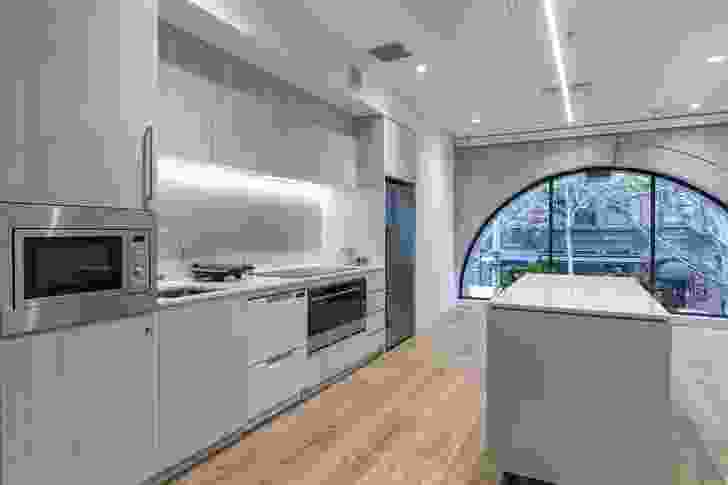 The Fender Katsalidis team comprised associate directors Jessica Lee and Wuff Keeble, and interior designer Zhodi Tesfa. Lee said the 18 units were "not a big number, but it's a good start.
"When MCM came and told Fender Katsalidis about the reality of what they do, we realized how a project like this can help others, and we just wanted to do the best job possible."
The design for the centre needed to balance the exacting requirements for its intended use with the need to conform to building standards.
"The key design intention for the redesign was to create an environment in which both the young people and staff felt calm, relaxed and comfortable," said Tesfa. "We created this feeling through a highly considered palette, maximizing the use of natural light from the existing windows and using soft colours.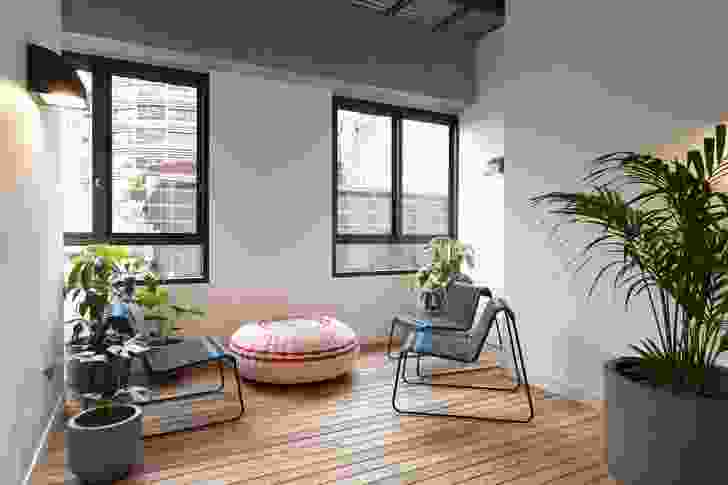 "The nature-inspired finishes selected was a combination of soft timber textures, neutral hues, layered with forest greens and highlights of colour through the furniture and fixtures.
"We felt it was essential to introduce plants into the living areas as well to create a space which made people feel safe and at ease."
Much of the new structure was custom-made for the project.
"What makes the Frontyard design unique is its adaptation of the new King Street space and the extent of bespoke joinery within the centre," said Tesfa. "This level of customization ensured that the design appropriately responded to the programmatic needs of the young people and staff, as well as the spatial limitations of the existing site. In particular, the reception space features a circular modular seating unit, designed to provide moments of privacy for the young people while maintaining lines of visual connection."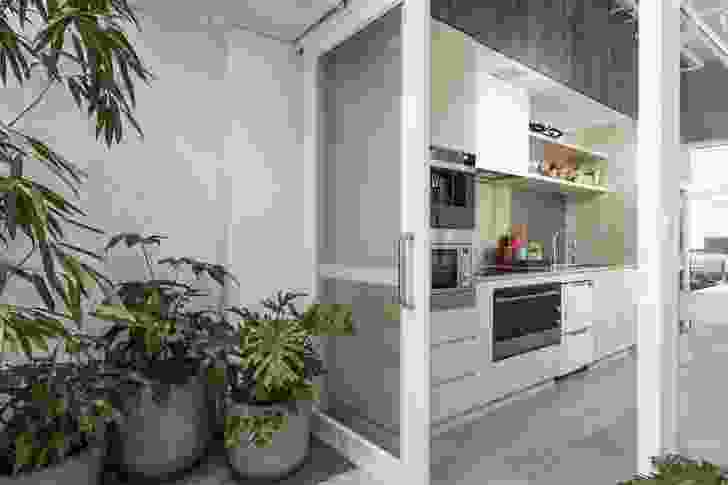 Other pro-bono contributors to the project, organized by the Property Industry Foundation, include Ashurst, Case Meallin, Slattery, Urbis, NDY, Wood and Grieve Engineers, Hendry, Equitable Access Solutions, Irwinconsult, and Built. Suppliers who have donated materials to this project include Harvey Norman, Highbury Plumbing, Haydens Ceiling and Partitions, Signorino Tiles and Taubmans Paint.
Related topics